A lawsuit filed against Hawaii utility companies alleged that power lines that were brought down in high winds triggered the spread of a devastating wildfire that destroyed much of Lahaina, Maui.
The lawsuit, filed over the past weekend against four power companies, is alleging the firms "failed to deenergize their power lines prior to the fire, despite warnings days before that high winds from Hurricane Dora would create a 'high fire danger,'" according to a news release from a law firm representing victims and survivors of the fire. The four companies named in the lawsuit include Maui Electric Company, Hawaiian Electric Company, Hawaii Electric Light Company, and Hawaiian Electric Industries.
"These power lines foreseeably ignited the fast-moving, deadly, and destructive Lahaina Fire, which destroyed homes, businesses, churches, schools, and historic cultural sites," the lawsuit alleged, according to multiple reports.
Officials have not yet determined the cause of the wildfire that left at least 96 people dead and scores more missing. The National Weather Service previously issued a warning that winds from Hurricane Dora could trigger fire weather conditions.
Hawaiian Electric Vice President Jim Kelly told news outlets that the firm has a policy that "we don't comment on pending litigation." However, he added that the firm doesn't have a formal shutoff program in place.
"Our immediate focus is on supporting emergency response efforts on Maui and restoring power for our customers and communities as quickly as possible. At this early stage, the cause of the fire has not been determined and we will work with the state and county as they conduct their review," Mr. Kelly said, adding, "Electricity powers the pumps that provide the water needed for firefighting."
On Monday, shares of Hawaiian Electric dropped more than 35 percent following the lawsuit.
Wells Fargo lowered its price target on the utility's stock to $25 per share, down from $35 on Sunday, according to CNBC.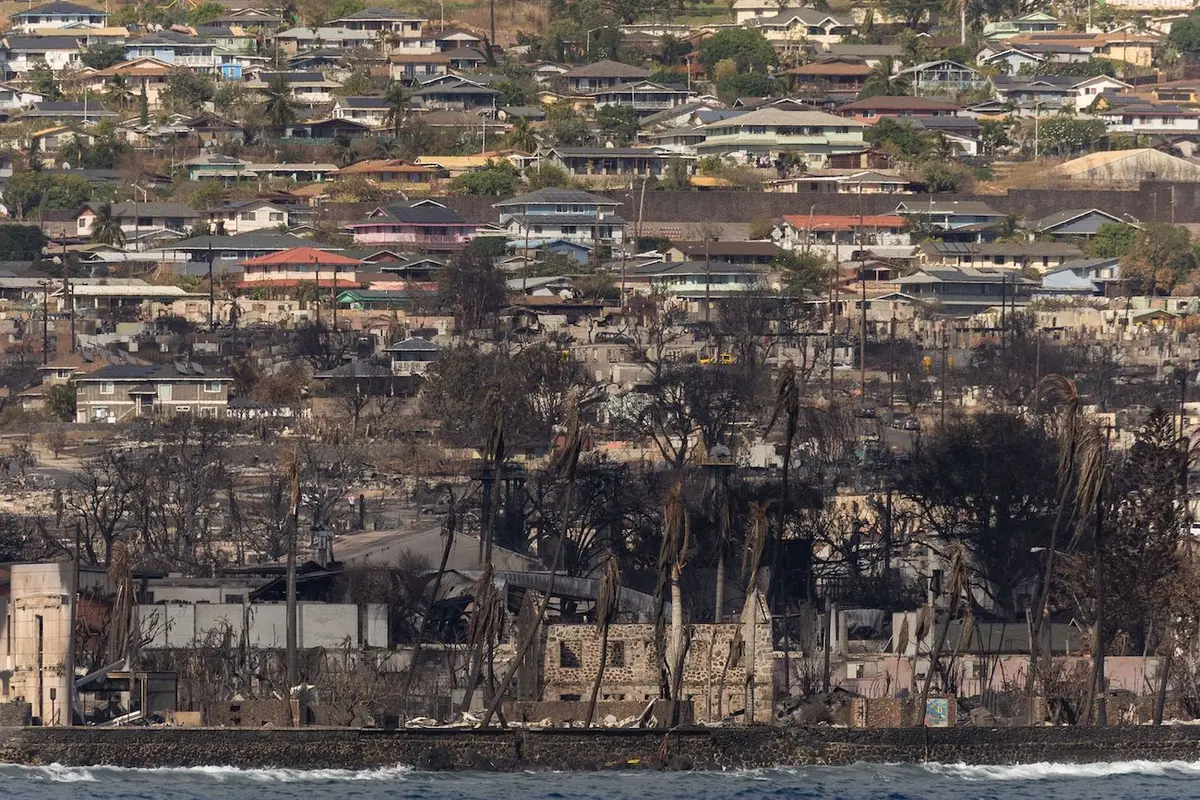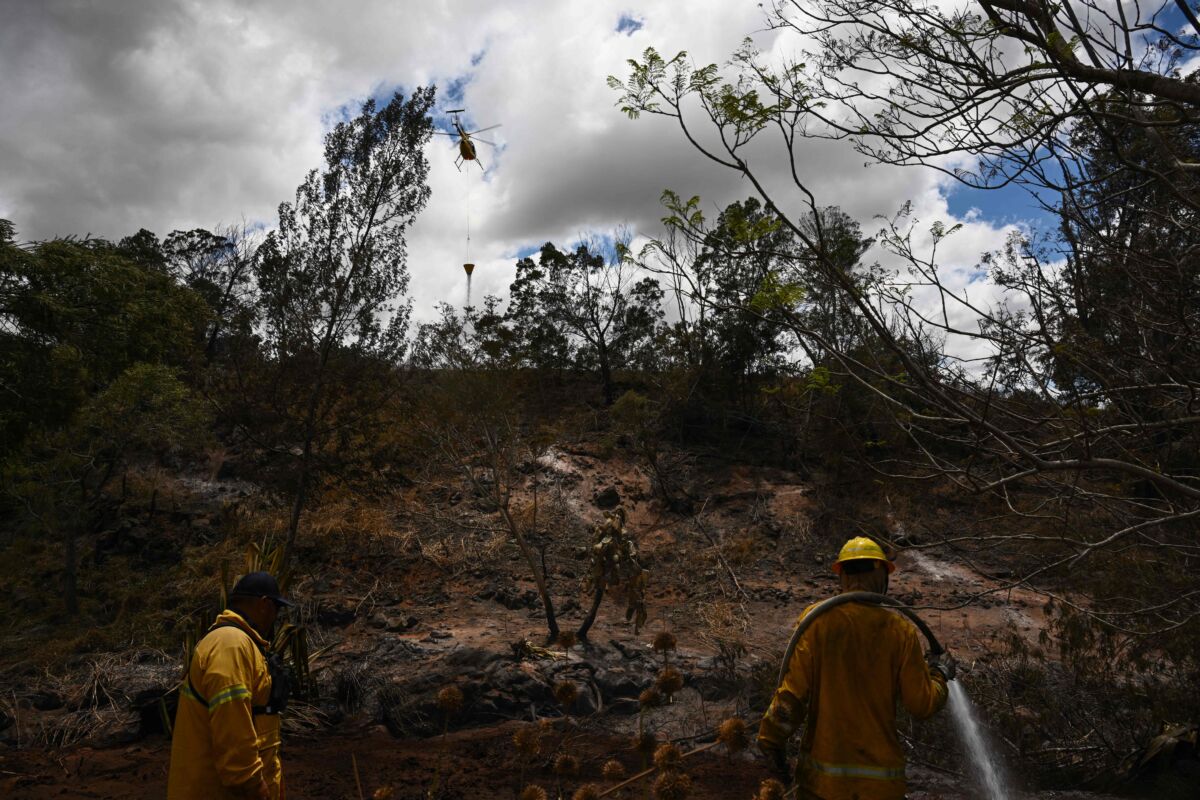 "While it remains unclear if any of HE's equipment directly caused any of the wildfires, we believe it prudent to account for the risk given recent wildfire-related claims in CA, CO & OR that have all exceeded $1B, HE is already being scrutinized and our understanding of HI's liability standards," Wells Fargo analyst Jonathan Reeder wrote in a note Monday.
Hawaiian Electric's liability could revolve "around a reasonableness of care when determining negligence, a lower burden for plaintiffs to prove than say a gross negligence standard," Mr. Reeder wrote.
Meanwhile, Hawaii Attorney General Anne Lopez last week announced an investigation into the causes of the devastating wildfire and any possible shortcomings by agencies and officials.
"My Department is committed to understanding the decisions that were made before and during the wildfires and to sharing with the public the results of this review," Ms. Lopez said in a statement. "As we continue to support all aspects of the ongoing relief effort, now is the time to begin this process of understanding."
Other Updates
It comes as Hawaii's governor warned that scores more people could be found dead following the Maui wildfires as search crews go street by street through neighborhoods where the flames galloped as fast as a mile a minute across the landscape.
"We are prepared for many tragic stories," Gov. Josh Green told "CBS Mornings" in a recorded interview that was aired Monday. "They will find 10 to 20 people per day, probably, until they finish. And it's probably going to take 10 days. It's impossible to guess, really."
As cellphone service has slowly been restored, the number of people missing dropped to about 1,300 from over 2,000, Mr. Green said. Twenty cadaver dogs and dozens of searchers are making their way through blocks reduced to ash.
The blaze that swept into centuries-old Lahaina nearly a week ago destroyed nearly every building in the town of 13,000, leaving a grid of gray rubble wedged between the blue ocean and lush green slopes. That fire has been 85 percent contained, according to the county.
Another blaze known as the Upcountry fire has been 60 percent contained, officials said.
"There's very little left there," Mr. Green said of Lahaina in a video update Sunday, adding that "an estimated value of $5.6 billion has gone away."
Even where the fire has retreated, authorities have warned that toxic byproducts may remain, including in drinking water, after the flames spewed poisonous fumes. And many people simply have no home to return to. Authorities plan to house them in hotels and vacation rentals.
Meanwhile, Hawaii officials urged tourists to avoid traveling to Maui as many hotels prepared to house evacuees and first responders.
Mr. Green said 500 hotel rooms will be made available for locals who have been displaced. An additional 500 rooms will be set aside for workers from the Federal Emergency Management Agency. Some hotels will carry on with normal business to help preserve jobs and sustain the local economy, Green said.
The Associated Press contributed to this report.
From The Epoch Times