President Donald Trump told Asian leaders gathered for the annual APEC summit held in Vietnam that the United States won't tolerate trade abuses against the United States anymore.
Trump said that while the United States over the years opened its economy to foreign countries with few restrictions, other countries have not opened their markets. This has led to large trade imbalances.
America's largest trade imbalance is with China. While the United States exported $115 billion in goods to China, it imported almost $462 billion in goods, causing a trade deficit of $347 billion.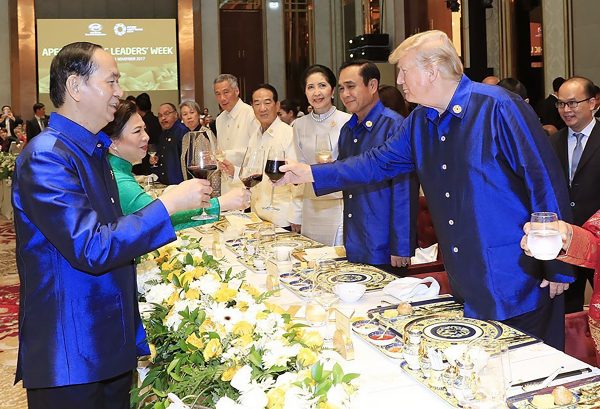 But China is hardly the only country. With this year's APEC host nation, Vietnam, for example, the United States had a trade imbalance of nearly $30 billion last year.
With Malaysia the United States has a trade imbalance of $17.5 billion, with Thailand $15 billion, and Indonesia $10 billion.
"We adhered to WTO principles on protecting intellectual property and ensuring fair and equal market access. They engaged in product dumping, subsidized goods, currency manipulation, and predatory industrial policies," Trump said.
The president said these practices hurt jobs, factories, and industries in the United States as well as in other countries.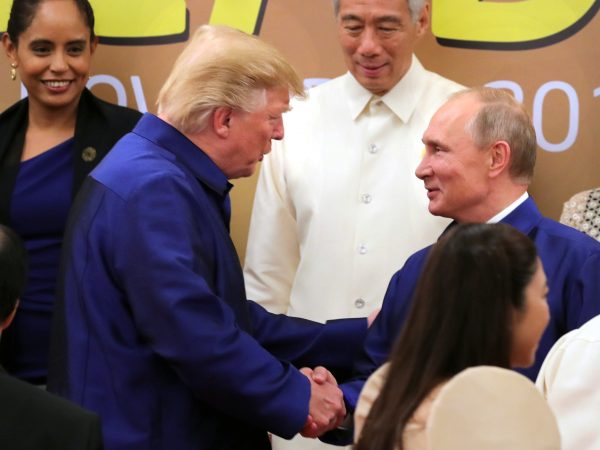 "Despite years of broken promises, we were told that someday soon everyone would behave fairly and responsibly. People in America and throughout the Indo-Pacific region have waited for that day to come. But it never has," Trump said.
Trump said the United States will no longer tolerate the "chronic trade abuses," and said that the current trade imbalances are not acceptable.
However, he did not blame the Asian countries for having taken advantage of the United States.
Instead, he blamed previous U.S. administrations for not doing anything about it.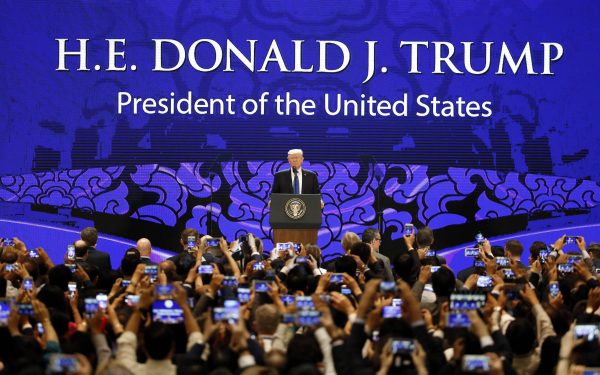 "If their representatives are able to get away with it, they are just doing their jobs. I wish previous administrations in my country saw what was happening and did something about it. They did not, but I will," he said.
Trump said that from now on trade will be on a fair and equal basis, and the United States won't be taken advantage of anymore.
"I am always going to put America first the same way that I expect all of you in this room to put your countries first," he said.
Trump said he is open to make a bilateral trade agreement with any Indo-Pacific nation that will abide by principles of fair and reciprocal trade. Such deals would be on a basis of "mutual respect and mutual benefit."
"We will respect your independence and your sovereignty. We want you to be strong, prosperous, and self-reliant, rooted in your history, and branching out toward the future," Trump said.
In his speech the president praised Asian nations for their political and economic developments in recent years and decades.
He called for a peaceful, prosperous and free Indo-Pacific region.
"We will be blessed with a world of strong, sovereign, and independent nations, thriving in peace and commerce with others," he said.
Trump also called on the nations to chose a future of patriotism, prosperity, and pride.
"Let us never forget the world has many places—many dreams, and many roads. But in all of the world, there is no place like home," he said.
"For family, for country, for freedom, for history, and for the glory of God, protect your home, defend your home, and love your home today and for all time."
From The Epoch Times