President Donald Trump visited Arlington National Cemetery on Dec. 15 to honor fallen soldiers despite the rainy weather.
The Washington area saw steady rain throughout the weekend, with at least one inch falling from Friday afternoon to Saturday afternoon, WTOP meteorologist Somara Theodore said. The National Weather Service said on Sunday that Reagan National Airport saw 3.41 inches of rain from the weekend storm.
Trump made the unannounced visit to the cemetery around 2:20 p.m., holding an umbrella and walking among the graves on Wreaths Across America Day.
The day features volunteers across the country laying wreaths on the graves of veterans.
Trump stepped out of his vehicle wearing a dark suit and brown waterproof boots and holding a black umbrella. He was greeted by two military men in camouflage fatigues and a woman in a green raincoat and gray hat.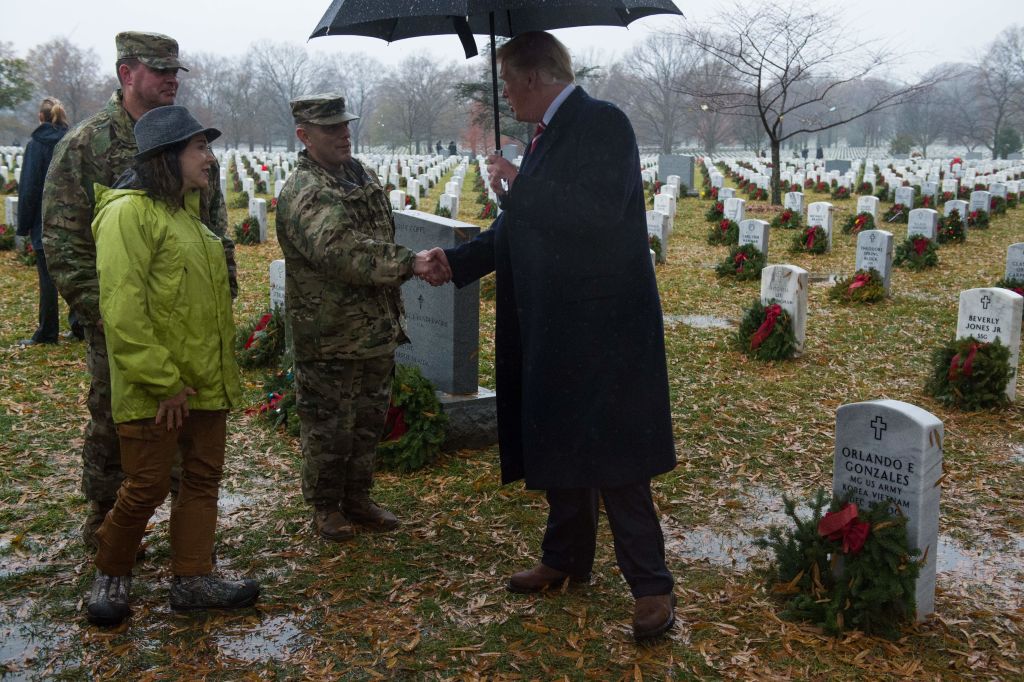 The four walked along a row of tombstones that were decorated with wreaths, talking out of earshot of reporters.
"They're doing a great job," Trump said at one point.
He also told his guide that he was looking at expanding the cemetery by acquiring land in the area.
Trump's visit came after he said in November that he should have attended a ceremony at the cemetery on Veterans Day.
"I should have done that. I was extremely busy on calls for the country. We did a lot of calling, as you know," Trump told Fox News. "You know, in retrospect, I should have and I did last year and I will virtually every year."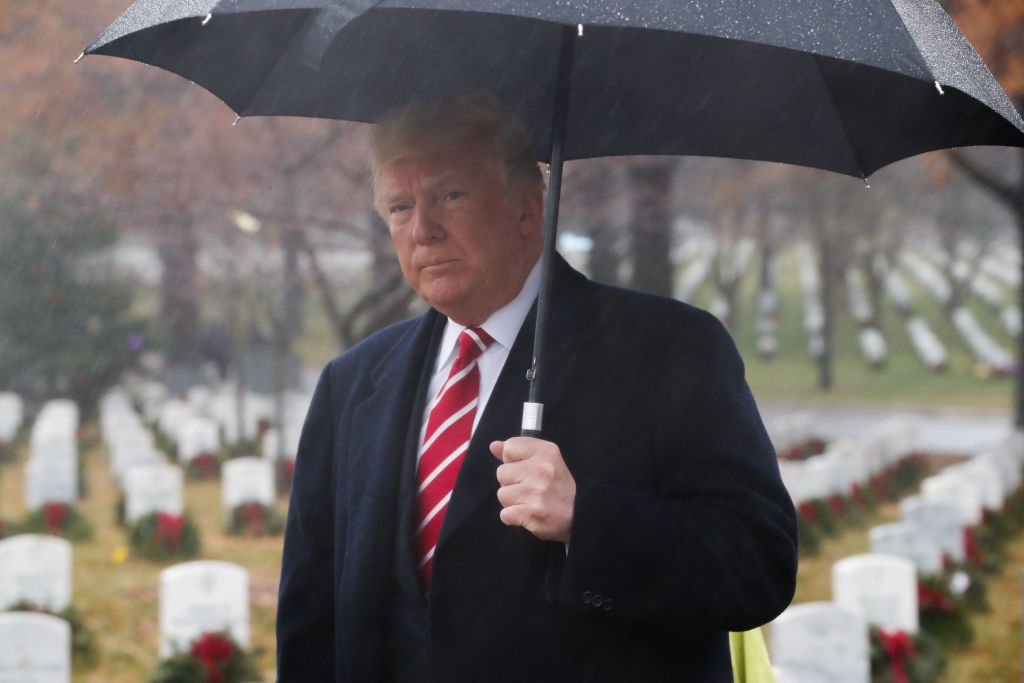 The president noted that he arrived back in the country late the previous night from France and he had visited the American Cemetery in Paris to honor the Americans soldiers who lost their lives during World War I, on the anniversary of the armistice that ended the Great War.
"I really probably assumed that was fine and I was extremely busy because of affairs of State—doing other things," Trump said. "But I would have—I would have done it."
Trump also said during the interview that he will visit troops serving in the war zones in Iraq and Afghanistan in the future.
"There are things that are being planned. We don't want to talk about it because of—obviously because of security reasons and everything else," he said.
"I don't think anybody's been more with the military than I have, as a president. In terms of funding, in terms of all of the things I've been able to get them, including the vets. I don't think anybody's done more than me. I've had an unbelievably busy schedule and I will be doing it. On top of which you have these phony witch hunts. On top of which—I mean, we've just been very busy. But I will be doing that."