Beijing-based private property firm China Oceanwide Holdings was ordered to wind up its operations and was suspended from trading by a court in Bermuda on Sept. 25.
The suspension will remain in place until further notice, according to a Hong Kong exchange filing, Nikkei Asia reported.
The Bermuda court officially accepted a winding-up petition made in May 2022 against the company on Sept. 22.
The petition was issued by China Oceanwide's lenders and was related to its real estate development project in New York. The petition demanded the company repay over $175 million. The development has been under receivership since May.
China Oceanwide is registered in Bermuda, a known tax haven. The company operates out of mainland China, while its shares are listed in Hong Kong.
Liquidators Appointed
Three joint provisional liquidators, or JPLs, were appointed by the Bermuda court on Sept. 22. Two JPLs are in Bermuda, and one is in Hong Kong. No subsequent actions or proceedings are allowed unless sanctioned by the court under Bermuda law.
On top of its liquidation order, China Oceanwide faces several legal issues, including a separate pending winding-up petition.
The petition was issued last month in a Hong Kong court, relating to a commercial complex project in downtown Los Angeles, suspended in October 2020.
The project was suspended due to several problems, including the impact of the COVID-19 pandemic and liquidity issues faced by the company, resulting in over $200 million in lawsuit liabilities, Bloomberg reported.
China Oceanwide reportedly saw zero revenue in the first two quarters of this year, compared with around $3.6 million in the same period the year before. The company recorded a net loss of over $90 million during this time, slightly lower than the year before at just under $95 million, according to Nikkei Asia.
Liabilities stood at just over $2 billion and exceeded the company's cash and cash equivalent which were recorded at less than a quarter of a million as of June.
China Oceanwide is owned by Chinese billionaire Lu Zhiqiang, who operates several businesses in the sectors of real estate, finance and technology in China and abroad.
Once considered one of the wealthiest tycoons in mainland China, his net worth was estimated at over $2.5 billion as of April 2021, according to Forbes.
The collapse of China Oceanwide has also raised concerns in China's financial sector as the company is a major shareholder of China Minsheng Bank, of which Mr. Lu is the non-executive director.
One of the large second-tier lenders in mainland China, it reportedly agreed to extend the repayment deadlines of three loans totaling nearly $690 million (5.02 billion yuan) through friendly negotiations, according to the filing by China Ocean's Shenzhen-listed parent Oceanwide Holdings, as reported by Nikkei Asia.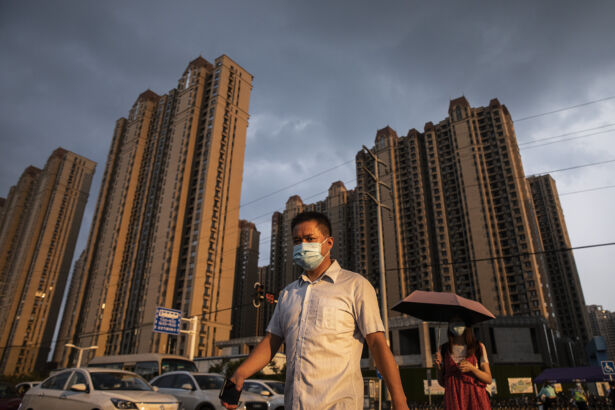 Other Chinese Property Firms
A number of Chinese property developers have faced an array of problems in recent months, among them Guangzhou-based China Aoyuan Group, which resumed trading on Sept. 25, following its suspension in March 2022, after it failed to meet various listing obligations.
The company fulfilled all obligations set by the Hong Kong Exchange by Sept. 22, but its shares dropped around 75 percent during the early morning session.
China Evergrande Group was also dealt a big blow when Hong Kong-listed shares dipped by nearly 25 percent from Sept. 22 to Sept. 25.
One of its core domestic subsidiaries, Hengda Real Estate Group, is under investigation by the Chinese securities regulator for being "unable to meet the qualifications for the issuance of new notes under the present circumstances," the company said on Sept. 24.