Federal authorities on Tuesday charged FTX co-founder Sam Bankman-Fried for making "tens of millions of dollars in illegal campaign contributions" to influence policies and laws around cryptocurrency.
Damian Williams, the U.S. Attorney for the Southern District of New York, told reporters Tuesday that Bankman-Fried—sometimes known as SBF—faces charges of wire fraud, conspiracy, and campaign finance violations.
"From 2019 until earlier this year, Bankman-Fried and his co-conspirators stole billions of dollars from FTX customers," Williams said. "He used that money for his personal benefit, including to make personal investments and to cover expenses and debts of his hedge fund, Alameda Research."
Elaborating, the FTX founder was also charged with violating campaign finance laws "by causing tens of millions of dollars in illegal campaign contributions to be made to candidates and committees associated with both Democrats and Republicans," he said, adding that his team's investigation into alleged fraudulent FTX activity and sister company Alameda Research is moving quickly.
"And all of this dirty money was used in service of Bankman-Fried's desire to buy bipartisan influence and impact the direction of public policy in Washington," Williams said. Reports have indicated, however, that Bankman-Fried made more donations to Democrat candidates than Republicans.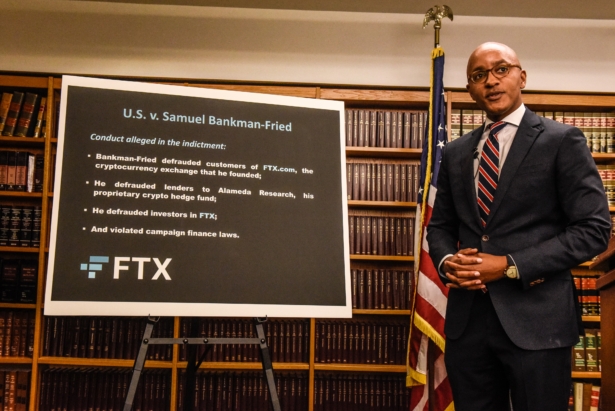 In an indictment, prosecutors alleged (pdf) that Bankman-Fried made donations to campaigns under other people's names. That allowed him to illegally donate far in excess of the $25,000 set by U.S. campaign finance laws, according to an unsealed indictment Tuesday.
Bankman-Fried and at least "one or more" associates agreed to make contributions to candidates and committees in New York while using the name of another person, which is illegal, officials said.
Bankman-Fried faces a maximum sentence of 115 years in prison if convicted on all eight counts, prosecutors said, though any sentence would depend on a range of factors.
Williams declined to say whether prosecutors would bring any charges against other FTX executives and whether any FTX insiders were cooperating with the investigation.
Bankman-Fried made a court appearance on Tuesday in the Bahamas, where FTX is based and where he was arrested on Monday at his gated community in the capital, Nassau.
A lawyer for Bankman-Fried requested that his client be released on $250,000 bail. Bahamian prosecutors have asked that Bankman-Fried be denied bail if he fights extradition.
"Mr. Bankman-Fried is reviewing the charges with his legal team and considering all of his legal options," his lawyer, Mark S. Cohen, said in an earlier statement.
In a letter Tuesday to Judge Ronnie Abrams, a prosecutor in the U.S. attorney's office wrote (pdf) that the government "expects that the evidence will show that the defendant defrauded FTX customers by misappropriating their funds for his personal use, including to invest for his own account, to make tens of millions of dollars of political contributions."
Meanwhile, the U.S. Securities and Exchange Commission (SEC) and the Commodity Futures Trading Commission on Tuesday alleged in lawsuits that Bankman-Fried committed fraud.
When asked Tuesday about whether President Joe Biden would return campaign donations from Bankman-Fried, White House press secretary Karine Jean-Pierre said that she is "limited on what I can say and anything that's connected to political contributions from here, I would have to refer you to the [Democratic National Committee]."
Several lawmakers including Sens. Kirsten Gillibrand (D-N.Y.) and Dick Durbin (D-Ill.) as well as Reps. Dutch Ruppersberger (D-Md.), Salud Carbajal (D-Calif.), Jesus "Chuy" Garcia (D-Ill.), and Kevin Hern (R-Okla.) have publicly said they'll return donations from Bankman-Fried.
Reuters contributed to this report.
From The Epoch Times