Authorities have reportedly used tear gas and other countermeasures to disperse a march of protesters opposing the building of a police and firefighter training center, named "Cop City" by critics.
Protests against the $90 million Atlanta Public Safety Training Center, a first responder training center still under construction, have been ongoing for more than two years. The facility in the area of DeKalb County, on the outskirts of Atlanta, called the South River Forest site was announced by former mayor Keisha Lance Bottoms in 2021.
According to a Nov. 13 statement posted to X by the DeKalb County Police Department, the platform formerly known as Twitter, protesters marched along Constitution Road toward the future site of the Atlanta Public Safety Training Facility. From 10:30 a.m., the large group was blocking two of the four traffic lanes.
"Protesters were informed via loudspeaker that they were obstructing the roadway & that they would not be permitted to proceed," the police statement said.
"The protesters ignored the commands by DeKalb County Police & began to force their way through a line of 30 DeKalb County Police officers."
Footage widely shared on social media shows hundreds of people gathered for the protest. In one video, a line of protesters can be seen holding a "Defund the Police" banner, which they use to push into police wearing riot gear.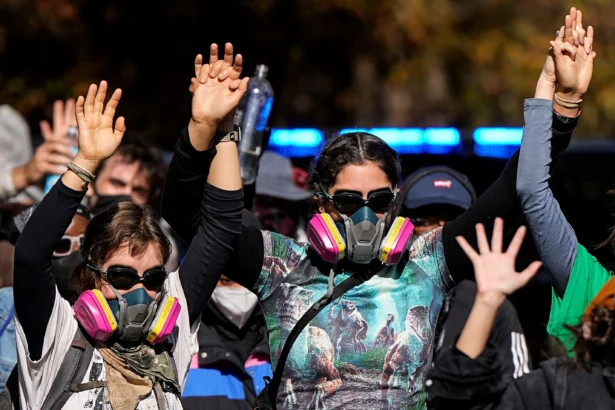 According to authorities, DeKalb County Police officers deployed tear gas canisters to disperse the protesters. By 11:45 a.m., protesters had retreated back toward Gresham Park. At this stage, no injuries have been reported. No arrests have been made either, at least according to the DeKalb County Police.
Atlanta Police Chief Darin Schierbaum held a press conference following the incident and said that while initially, the people involved were there for a legitimate peaceful protest, he claims it became apparent that some were not. He claims police observed what they believed to be makeshift weapons being distributed, along with people wearing gas masks and other coverings.
"We saw individuals doing things that we knew were indicative of what professional protesters and anarchists do prior to encountering police efforts to disperse an unruly crowd, a dangerous crowd," Chief Schierbaum said.
"We knew these individuals were likely anticipating that law enforcement would be forced to use chemical agents to disperse a crowd that was posing a danger to the site."
Chief Schierbaum stated that when the crowd was asked to leave the area, his officers were met with aggressive behavior from some.
Toward the end of the news conference, Chief Schierbaum displayed handmade spades used for tree planting that he alleged were intended as weapons, along with other confiscated tools.
Protesters Seek to Disrupt Construction
Ahead of the latest protest march against the Atlanta Public Safety Training Facility, Kamau Franklin, the founder of a group called the Community Movement Builders, told the crowd they had a duty to practice civil disobedience against the project.
Civil disobedience is a refusal to obey the demands or commands of authority figures or law enforcement without resorting to violence, although many incidents in the past have seen clashes with law enforcement devolve into violence. Generally, it's a tool used in the hopes of causing enough chaos to force concessions from governments.
"Now is not a time for cowardice. You are either with the oppressed or with the oppressors. You cannot stand in the middle. You cannot be on both sides. You cannot close your eyes to the terror of policing in this world," Mr. Franklin said.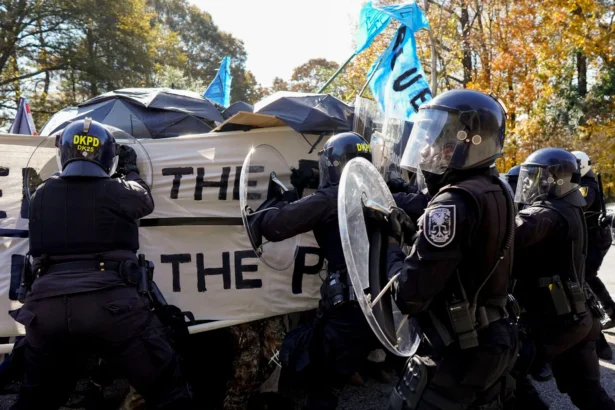 Groups opposing the first responder facility and other critics backing the "Stop Cop City" effort have expressed environmental concerns over the training site and claimed it could lead to greater "militarization" of police.
Another activist group that is against the facility, Defend the Atlanta Forest (DAF), said on its website the group has a mission to "Stop Cop City."
"The Atlanta Police Department seeks to turn 300 acres of forest into a tactical training compound featuring a mock city," the activist website says.
Long List of Incidents Over Facility
Despite not being open yet, a long list of protests and other violence has directed at the project. Back in June, a group of protesters entered the construction area and threw rocks, bricks, fireworks, and Molotov cocktails at officers. Multiple pieces of construction equipment were also destroyed by fire and vandalism. The incident led to 35 arrests.
Recently, 61 people connected to protests against the Atlanta Public Safety Training Center were arrested for alleged racketeering, and other alleged crimes. Another three had been previously arrested on allegations of money laundering and charity fraud.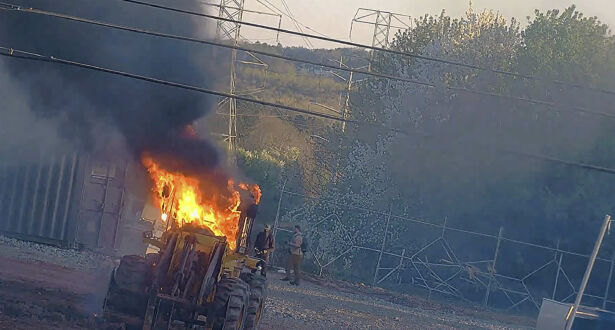 Last year, a small group of activists spent months camping at the construction site until police moved them out in January. During the police operation, one of the protesters, Manuel Esteban Paez Terán, known as Tortuguita, was fatally shot by police.
Authorities say Mr. Paez Terán had a firearm and wounded a police officer, forcing them to defend themselves. The trooper was transported to a local hospital, where he underwent surgery.
In the wake of the fatal shooting, anti-police protests and rioting gripped Atlanta on Jan. 21, leading to the arrest of six people on charges that included "domestic terrorism."
From The Epoch Times