Public sector workers went on strike in Paris on Thursday, shutting down half of the city's subway system as part of broader strikes nationwide seeking wage increases.
Several subway lines were closed in Paris, and only some rush hour lines were active. Parisians used bikes, walked, or used buses to commute.
Besides subway employees walking off the job for the day, there were also protests and walkouts nationally from train drivers, teachers, and other public employees.
The protesters were seeking higher salaries, as they say their salaries were not keeping up with inflation. Union activists and college students marched through Paris and other cities in support of the action.
Victor Mendez, a student at the University of Nanterre near Paris, marched from eastern Paris to the plaza outside the ornate Opera Garnier.
"We all feel personally affected," Mendez said. "Families are having a hard time buying a carton of eggs, or bread or even meat. That's not possible in France," one of the world's richest economies, he said.
The strike affected tourists who found themselves inconvenienced, with many going online to exchange information on how to go from one place in the city to another. Tourists who chose to rent a car found themselves in worse-than-usual traffic jams.
Inflation
Europe has seen a series of strikes over soaring inflation, which has driven up living costs. Nurses, pilots, postal workers, and railway employees in Europe have protested in recent months, seeking higher wages.
French inflation hit 6.2 percent in October, which was the lowest among the 19 countries that use the euro currency, according to the European Union's statistics agency Eurostat. In comparison, Estonia saw consumer prices soar 24 percent in September compared to a year earlier, while the Netherlands' rate was 17 percent and the eurozone's average was 10 percent.
Long lines of cars have been seen for weeks across France in the past months as drivers waited—sometimes for hours—to fill up. Many gas stations had temporarily closed while awaiting deliveries.
In a bid to assist French society deal with the effects of inflation, the government has capped natural gas prices and has been giving benefits to those on a lower income.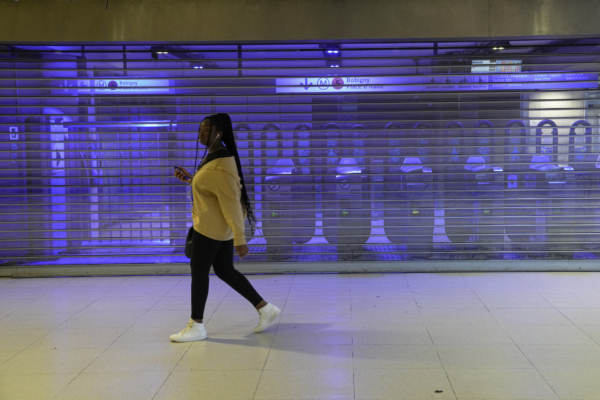 Thursday's strikes built on multiple union actions in recent months. Last month, a strike by oil refinery workers caused nationwide fuel shortages that disrupted lives and businesses. The French government intervened to force them back to work.
According to the Interior Ministry, over 100,000 people marched on Tuesday in multiple protests in French cities. Thousands also took to the streets on Sunday to march against rising prices.
Europe Under Strain
Elsewhere in Europe, labor unions also have organized street protests to pressure governments to do more to ease rising bills, even as European leaders have passed energy relief packages.
Nationwide general strikes over cost of living increases caused by inflation and higher energy costs linked to Russia's invasion of Ukraine snarled traffic through much of Belgium and shut down public services in Greece on Wednesday.
According to trade unions in Belgium, gas prices have gone up by 130 percent in just one year, electricity by 85 percent, and fuel by 57 percent. Food prices have also gone up.
Belgium has set up a system of wage indexation guaranteeing that if the cost of living goes up, salaries, pensions, and benefits also increase. But unions have been arguing that the next indexation—which won't take place before January for hundreds of thousands of workers—does not take into account higher fuel prices specifically, so there is always a loss in purchasing power.
Thousands protested in Prague twice in September partly about high energy prices, while airline workers have gone on strike in Germany and Sweden to demand higher pay.
In the United Kingdom, 100,000 civil servants voted on Thursday to go on strike over pay and working conditions. This comes on the heels of an announcement that teachers in Scotland have voted to strike as have UK nurses and train drivers over pay issues, reported the BBC.
The Associated Press contributed to this report.