Russian President Vladimir Putin signed a bill Thursday to allow Moscow to pull out of a longstanding nuclear testing ban treaty amid heightened tensions in Ukraine and the Middle East.
State-run media reported that the Russian leader signed the measure into law after it was passed by Russia's Parliament, or Duma, last month. The Comprehensive Nuclear-Test-Ban Treaty (CTBT) was initiated in 1996 and Russia ultimately signed it, although the nuclear-armed countries of United States, India, Pakistan, and China, among others, did not ratify it.
The CTBT bans all nuclear explosions anywhere in the world, but the treaty was never fully implemented.  Mr. Putin noted in October that signing of the measure would "mirror" Moscow's "relations with the United States."
The Kremlin also recently denied that it intended to carry out nuclear testing after it ended the agreement. "The president was primarily referring to the need to bring the de facto situation to a common denominator [with the United States]," Kremlin spokesman Dmitry Peskov told reporters in October.
There have been concerns, however, that Moscow would again start resuming the testing of nuclear weapons to try and prevent the United States and other Western countries from continuing to back Ukraine in its war against Russia, which erupted in February 2022. Many Russian officials have signaled that testing should again resume, but Mr. Putin and other Kremlin officials have not publicly stated whether it's needed.
Meanwhile, Mr. Putin has noted that some experts argue for the necessity of conducting nuclear tests, but he's said he hasn't yet formed a strong opinion on the issue. The United States, meanwhile, has not officially carried out a nuclear weapons test since the early 1990s.
Russian Deputy Foreign Minister Sergei Ryabkov said last month that Moscow would continue to respect the ban and will only resume nuclear tests if Washington does first.
"Never say never. Tests may resume under certain circumstances. I believe that such a development would be negative for the modern world, for maintaining stability," Mikhail Ulyanov, a Russian envoy to the United Nations, also told Russian state media last month. "We have enough turbulence in international relations and wouldn't want another powerful factor added."
After Russia's announcement this week, Secretary of State Antony Blinken criticized Moscow again. The top U.S. diplomat, in a statement, said it sends the wrong message and is a step in the wrong direction.
"We are deeply concerned by Russia's planned action to withdraw its ratification of the Comprehensive Nuclear-Test-Ban Treaty," Mr. Blinken said in a statement. "Unfortunately, it represents a significant step in the wrong direction, taking us further from, not closer to, entry into force," he added.
U.S. officials, he added, have reiterated "our commitment to our zero-yield nuclear explosive testing moratorium, which has been in place for 30 years," according to the statement. "It is essential that we preserve the global norm against nuclear explosive testing."
Nuclear Activity?
In October, Russia completed the test of what was described as a long-range, experimental missile that is nuclear-powered, said Mr. Putin. Known as the Burevestnik cruise missile, it has a range of up to 14,000 miles, he stated at an event.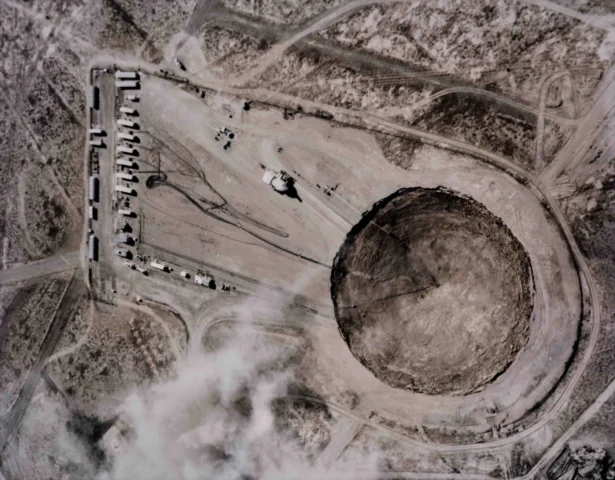 Mr. Putin added that Russia's strategic forces would "soon" move towards mass-producing another nuclear-capable missile called the Sarmat, which was placed on "combat duty." He said that "experts say that this is a new weapon and it is necessary to make sure that the special warhead will work without failures, and tests must be carried out."
Since the start of the Ukraine war, a number of Russian officials have signaled that the conflict could go nuclear if Western powers get more involved. Days after the Russian invasion, the Kremlin placed its nuclear forces on elevated alert.
Also last month, the U.S. Department of Energy confirmed it conducted a "subsurface chemical explosion" at the Nevada nuclear test site in recent days in what officials said was a bid to test detecting of low-level nuclear blasts.
"The experiment will help validate new predictive explosion models and detection algorithms," a news release said. "Measurements were collected using accelerometers, seismometers, infrasound sensors, electromagnetic sensors, chemical and radiotracer samplers, and meteorological sensors."
Last week, the Department of Defense said it would pursue the development of a nuclear bomb but first needs congressional approval.
"Today's announcement is reflective of a changing security environment and growing threats from potential adversaries," Assistant Secretary of Defense for Space Policy John Plumb said in a release. "The United States has a responsibility to continue to assess and field the capabilities we need to credibly deter and, if necessary, respond to strategic attacks, and assure our allies."
However, the Pentagon said in the release that the proposed development of the B61-13 nuclear gravity bomb has nothing to do with recent world events, including the Israel-Hamas conflict or the Ukraine-Russia war.
"The fielding of the B61-13 is not in response to any specific current event," the release stated. "It reflects an ongoing assessment of a changing security environment."
The Associated Press contributed to this report.
From The Epoch Times