Russian President Vladimir Putin asserted on Sept. 12 that the indictments against former President Donald Trump are politically motivated and show the fundamental corruption of the U.S. political system.
Mr. Putin made the remarks at the Eastern Economic Forum held in Russia's Pacific Coast city of Vladivostok, indicating everything that is currently happening to Mr. Trump is good from Moscow's point of view.
"As for the prosecution of Trump, for us what is happening in today's conditions, in my opinion, is good because it shows the rottenness of the American political system, which cannot pretend to teach others democracy," Mr. Putin said during the event.
"Everything that is happening with Trump is the persecution of a political rival for political reasons," he added. "That's what it is. And this is being done in front of the public of the United States and the whole world."
President Trump, widely considered the frontrunner for the GOP nomination in the 2024 presidential election, is facing trials in four different criminal proceedings that were filed against him, one each in Florida, Georgia, New York, and the District of Columbia.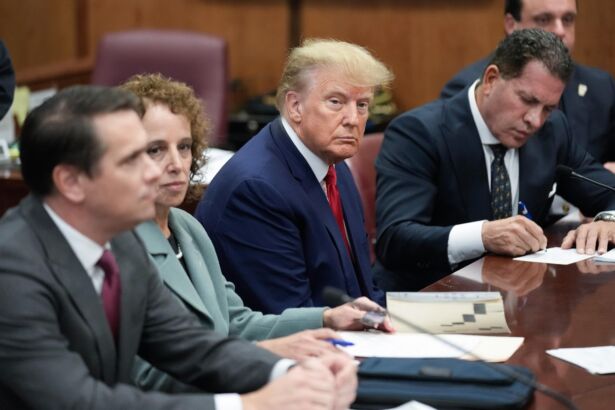 President Trump has repeatedly denounced all criminal proceedings against him, describing the charges he faces as political persecution and part of "yet another attempt to rig and steal a presidential election."
US-Russia Ties
Addressing the U.S.-Russia relationship, Mr. Putin expressed skepticism when asked if the next U.S. president could significantly improve the currently strained ties between the two countries.
"What to expect from the future, no matter who the president is, it's hard for us to say, but it's unlikely that anything will change radically," he said, suggesting that President Joe Biden has instilled a strong bias against Russia and "it will be very difficult for them to somehow turn this whole ship" in the other direction.
Relations between Moscow and Washington, which were already strained during Trump's presidency, have plunged to post-Cold War lows under President Biden following Mr. Putin's decision in February 2022 to send tens of thousands of troops into Ukraine, triggering sweeping Western sanctions and Western military aid to Kyiv.
President Trump has said on multiple occasions that if he is elected, he could end the war in Ukraine within 24 hours by starting negotiations between the warring sides.
"I know Zelenskyy well, I know Putin well. I would get that ended in a period of 24 hours," President Trump remarked in May. "It would be easy, that deal would be easy."
Responding to the remarks, Mr. Putin said the Kremlin heard President Trump claim he would "solve pressing problems" in a matter of days, including the Ukrainian crisis, saying the former commander-in-chief's intentions are good and can only bring happiness.
Putin Expects Long War
However, the Russian leader also indicated that Moscow is bracing for a long war in Ukraine, saying Kyiv could use any ceasefire to rearm and Washington would continue to see Russia as an enemy no matter who won the 2024 U.S. election.
While President Trump, who has vowed to fire "warmongers" in the U.S. State Department and the military if he is elected back to office in 2024, has called for renewed peace negotiations between Russia and Ukraine, President Biden has continued to arm Ukrainian forces, including with controversial cluster bombs and depleted uranium munitions Moscow has said might prolong the war but they would not change its ultimate outcome.
Speaking for several hours at Tuesday's economic forum, Mr. Putin said Ukraine's counteroffensive against Russian forces had so far failed and the Ukrainian army had sustained heavy losses of 71,000 men in the attacks.
Russia controls about 18 percent of Ukrainian territory, including Crimea which it annexed in 2014, and a swathe of eastern and southern Ukraine which it seized after invading Ukraine in what it called a "special military operation."
The war has sown devastation across cities and the countryside, and killed or injured hundreds of thousands of combatants and civilians.
Reuters and The Associated Press contributed to this report.