Chinese leader Xi Jinping and Russian President Vladimir Putin deepened their "no limits" partnership during talks in the Kremlin on March 21, signing a series of agreements furthering the two countries' "strategic cooperation."
The two leaders signed a joint declaration on deepening the nations' "comprehensive strategic partnership," and an agreement on economic cooperation after Tuesday's meeting, according to China's state broadcaster CCTV.
The agreements solidify Beijing and Moscow's growing de-facto alliance since Putin and Xi declared a "no limits" partnership a month before Putin's invasion of Ukraine. Since the war, China has become Russia's most important trade partner helping Moscow stay afloat amid crippling sanctions from the West.
Washington has criticized Xi's visit to Moscow amid the ongoing Ukraine war as providing "diplomatic cover" for the isolated Russian leader.
Economic Support
Xi said the two countries should push for further cooperation and that "the early harvest of the cooperation" have already shown, according to China's state media.
Putin said Russia is willing to support Chinese companies to replace Western business that had left the country over the Ukraine war. They also discussed the "Power of Siberia 2" project, the second pipeline that could double the gas exports to China, Putin said.
The Russian leader also said the two countries should encourage businesses to use their own currencies.
The two neighboring countries have deepened their trade ties since the start of the Ukraine war, with China's overall trade with Russia hitting a record high of $190 billion in 2022.
On Tuesday, Russian state-owned energy company Gazprom announced that it had "set a new historical record for daily gas supplies to China." The Russian oil giant had inked a 30-year deal with state-owned China National Petroleum Corporation (CNPC) in February last year.
Russia also overtook Saudi Arabia as China's top oil supplier for the first two months of this year, importing a total of 15.68 million tonnes in the two-month period.
Xi is the first leader in the world to sit down with Putin after the International Criminal Court (ICC) issued an arrest warrant for the Russia president last week, accusing him of "war crimes of deportation of children from Ukrainian occupied territories into the Russian Federation."
After landing in Moscow on Monday, Xi and Putin had a four-and-half hour "informal" talk before enjoying a state dinner, during which the two leaders called each other a "dear friend."
Prior to the start of their Tuesday talk, Xi held talks with Russian Prime Minister Mikhail Mishustin. According to China's state-run media, Xi invited the prime minister to visit China and called for regular meetings between Chinese Premier Li Qiang and Mishustin.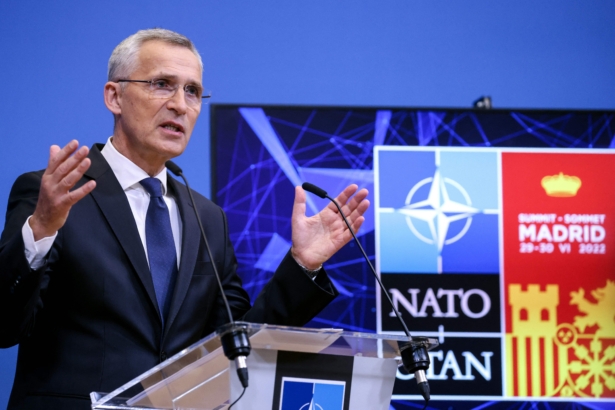 As Putin and Xi were meeting in Moscow, the North Atlantic Treaty Organization (NATO) warned the Chinese regime against providing lethal aid to Russia.
"We haven't seen any proof that China is delivering lethal weapons to Russia, but we have seen some signs that this has been a request from Russia, and that this is an issue that is considered in Beijing by the Chinese authorities," NATO Secretary General Jens Stoltenberg said in a press conference in Brussels.
"China should not provide lethal aid to Russia, that would be to support an illegal war."
The U.S. administration has warned that Beijing is considering providing military aid to Russia but has not confirmed that China has taken those steps. But trade data has shown that the regime has supplied Moscow with "dual use" equipment that can be used to aid its military efforts.
China's Proposal
The two leaders also discussed Beijing's proposal for a ceasefire in Ukraine, a plan largely dismissed in the West as a ploy to buy Putin time to regroup his forces and consolidate his front lines.
The Chinese regime released a "12-point" peace plan on the one-year anniversary of Moscow's invasion as part of the effort to portray itself as a neutral broker to mediate an end to the war. The document called for an end to the war and the commencement of peace negotiations, but offered few concrete plans.
Kyiv insists the withdrawal of Russia's troops from its soil is a precondition for any peace talks.
The United States has warned Beijing's ceasefire plan could be a "stalling tactic."
"The world should not be fooled by any tactical move by Russia—supported by China or any other country—to freeze the war on its own terms," Secretary of State Antony Blinken said at a March 20 press conference.
"Calling for a ceasefire that does not include the removal of Russian forces from Ukrainian territory would effectively be supporting the ratification of Russian conquest," Blinken told reporters.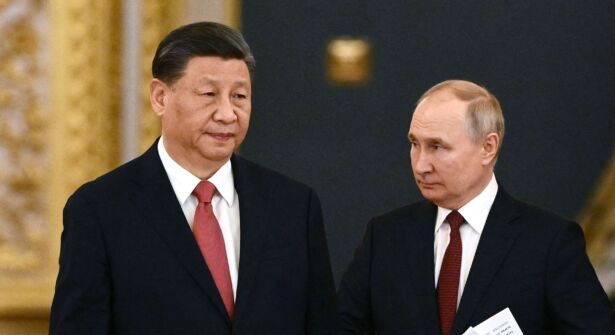 According to China's state media, Putin and Xi agreed "the legitimate security concerns of all countries" must be respected and voiced their opposition to unilateral sanctions, Chinese Communist Party mouthpiece People's Daily reported.
Throughout the war, the Chinese regime has consistently decried Western sanctions on Russia and has blamed the United States and the West for starting the conflict.
Putin said Beijing's plan could form the basis of a peace settlement in Ukraine, but noted that he saw "no such readiness" by the West and Kyiv to take up the plan.
Experts have warned that Xi is calling for peace talks to divert attention from its domestic challenges and the regime's aggression in the Indo-Pacific.
Xi is expected to talk with Ukraine President Volodymyr Zelenskyy after the three-day trip in Moscow. Iryna Vereshchuk, Ukraine's Deputy Prime Minister, in an interview on March 21, said Kjiv is watching whether a telephone call between its president and Xi would take place.
'Xi Wants Putin to Win'
Prior to the latest Sino-Russian announcement, several U.S. lawmakers criticized Xi's trip and the partnership between the two neighbors. Among them was House Foreign Affairs Committee Chairman Michael McCaul (R-Texas).
"Chairman Xi's visit to Moscow is further proof the Chinese Communist Party has chosen to side with Russia, doubling down on the 'no limits' partnership Xi and Putin established before the full-scale invasion of Ukraine," McCaul wrote in a March 20 statement.
"Make no mistake: Xi wants Putin to win and cannot serve as a neutral peace broker."
McCaul warned that Xi's assistance comes with strings attached.
"And the world should expect Xi to call on Putin to return the favor if China invades Taiwan by providing military, economic, and diplomatic support," the congressman added, "Increased CCP support of Russia should not be tolerated–by the United States or our allies and partners."
Rep. Raja Krishnamoorthi (D-Ill.), ranking member on the House's select committee on China, dismissed China's proposed peace plan.
"The CCP claims they want peace in Ukraine, but on Vladimir Putin's terms, not those of the people of Ukraine," Krishnamoorthi wrote on Twitter on Monday. "This is a non-starter."
Rep. Mike Lawler (R-N.Y.), who sits on the House Foreign Affairs Committee, labeled China a "bad" actor.
"The fact that Xi would give Vladimir Putin the international diplomatic recognition he so desperately craves indicates how bad of an actor China is on the global stage," Lawler wrote in a statement.
"Xi and Putin are a pernicious pair who are busy plotting dominance of Eurasia," he continued. "The United States and our allies must continue to apply diplomatic pressure to ensure that the entire Eurasian region does not fall under their control and influence."
'We Ain't No Idiots'
When Putin and Xi declared their "no limits" partnership in February last year, Russia said it endorses China's position on Taiwan—"an inalienable part of China" and opposition to "any forms of independence of Taiwan."
Taiwan is a self-ruled island with its own democratically-elected government, military, and currency. However, the Chinese regime views the island as part of its territory that must be united with the mainland, by force if necessary.
During a Chinese Communist Party meeting in October last year, Xi reiterated that China will never "give up the use of force" to take over Taiwan.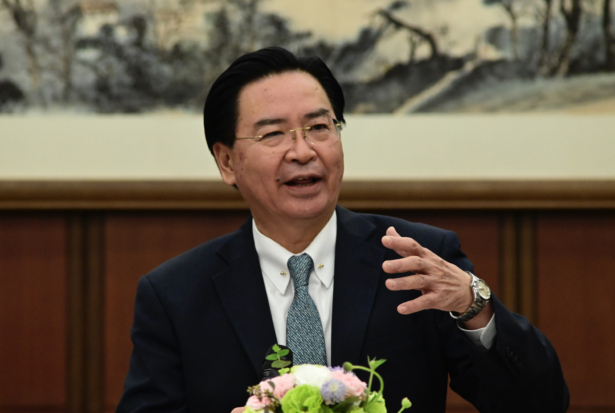 On Tuesday, Taiwan's Foreign Minister Joseph Wu took to Twitter to criticize China's attempt to play the role of a peacemaker.
"[China] threatens war against #Taiwan & others, but wants to propose a peace plan to #Russia, who initiated the war against #Ukraine. We ain't no idiots," Wu wrote.
"Want peace? Both autocrats should immediately stop their threats, aggression & expansionism," Wu added.
In Taiwan, Wong Ming-hsien, director of the Institute of International Affairs and Strategic Studies at Tamkang University, told The Epoch Times ahead of the summit that Xi made the trip with the aim of elevating bilateral ties since China is dealing with increasing U.S. trade and technology restrictions.
In October last year, the Biden administration announced a sweeping set of export controls, including a measure that denies China access to advanced semiconductors made with U.S. technologies—dealing a blow to the regime's economic and military ambitions.
China's bid to advance its semiconductor industry was further stymied earlier this month, when the Dutch government agreed to block Beijing from buying advanced semiconductor equipment.
Going forward, Wong predicted that Russia and China would enhance their economic ties in Eurasia, particularly by linking Beijing's Belt and Road Initiative, a trillion dollar infrastructure investment initiative, with the Eurasian Economic Union, a Moscow-led bloc that includes Armenia, Belarus, Kazakhstan, and Kyrgyzstan.
Luo Ya contributed to this report.
From The Epoch Times