Rep. Adam Schiff (D-Calif.) announced Thursday he is running for Senate in 2024, opting to replace Sen. Dianne Feinstein (D-Calif.).
"We're in the fight of our lives for the future of our country. Our democracy is under assault from MAGA extremists, who care only about gaining power and keeping it. And our economy is simply not working for millions of Americans, who are working harder than ever just to get by," Schiff, a former House Intelligence chairman, said in a statement to news outlets. "And at this moment, we need a fighter for our democracy and our families, which is why I'm launching my campaign to be the next U.S. Senator for California."
Other than Schiff, Rep. Katie Porter (D-Calif.) announced she would run for the Senate seat in 2024. Rep. Barbara Lee (D-Calif.) has also reportedly told colleagues that she will run.
As for Feinstein, it's not clear if she will seek reelection. Feinstein, 89, has not announced her retirement from Congress, but reports have indicated that she will.
Schiff told Fox11 in Los Angeles that he told Feinstein of his intention to run for Senate before he made his announcement. The lawmaker said Feinstein was "more than comfortable with my announcing. I wouldn't be doing that without that kind of blessing."
Neither Feinstein nor Porter issued public comments after Schiff's Thursday announcement.
Schiff, who led the first impeachment against former President Donald Trump, has been a top target for Republicans and Trump. Both Trump and Schiff have, for years, publicly sparred, have accused one another of lying, and criticized each other for doing damage to the country's institutions.
Earlier this week, House Speaker Kevin McCarthy (R-Calif.) announced he was removing Schiff and Rep. Eric Swalwell (D-Calif.) from the House Intelligence Committee, accusing Schiff of leaking information and lying. Schiff, who has reportedly fundraised off the move earlier this week, has contended it's merely political retaliation for trying to impeach Trump.
Top House Democrats have signaled that they will likely stay out of the battle for California's Senate seat.
"I think there are a few members of the caucus who are running for the United States Senate and I wish all of them well," House Minority Leader Hakeem Jeffries (D-N.Y.) told Politico on Thursday about Schiff's decision. "We're going to miss them, but I wish all of them well in their political endeavors."
First elected to the House in 2001, Schiff also served on the House Select Committee investigating the Jan. 6, 2021, Capitol breach. There, he was also accused of presenting a doctored text message between Rep. Jim Jordan (R-Ohio) and former White House chief of staff Mark Meadows.
Feinstein Decision
During a recent interview with Raw Story, Feinstein provided a timetable about whether she will run for reelection or retire.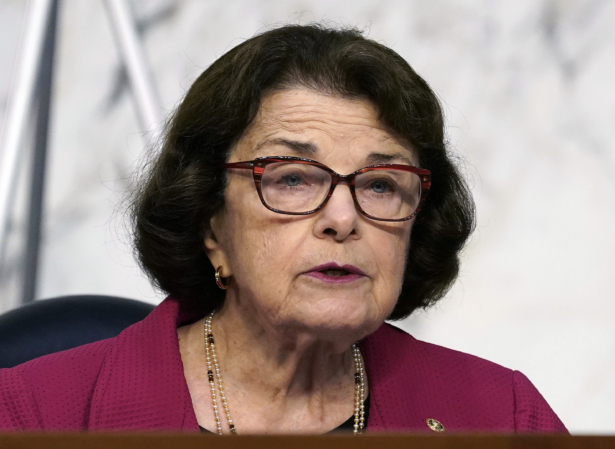 "I need a little bit of time, so it's not this year," Feinstein told Raw Story on Wednesday about a decision.  The senator is the oldest sitting senator and member of Congress.
But she recently said in a separate interview that a decision would be coming in several months.
"Probably in a couple of months. My husband passed away not too long ago. And so I'm still going through that … want to get through it. He had cancer and this is always a hard death. … I think I'll just take some time," she said, reported Fox News's Chad Pergram on Jan. 25.
She has already filed preliminary paperwork to run for reelection in 2024. If she's re-elected, Feinstein will be 91 years old upon taking office in January 2025.
"In short, all senators must maintain a campaign committee, whether they plan to run again or not," a spokesperson, Tom Mentzer, told SFGate in 2021. "In order to keep that account active, the senator has to maintain current filings with the FEC. The situation you wrote about was in fact a change-of-address form for the campaign committee that had already been established. It doesn't speak to the senator's future plans at all."
Over the past several years, left-wing commentators have called on Feinstein to retire, claiming she's experiencing cognitive decline due to her advanced age.
"It's time for Sen. Feinstein to retire," wrote UC Irvine law professor and CNN contributor Rick Hasen. "She did some great work in Senate. But it's been clear for last few years that her cognitive decline is serious. Let Gov. [Gavin] Newsom appoint someone who can fully represent CA's interests until election."
From The Epoch Times