During a recent interview, Rep. Tim Burchett (R-Tenn.) addressed two concerns about the Biden administration's reactions to current events. The lawmaker said he believes there is still a lot to learn about the Ohio train derailment and that the Biden administration should be more transparent about the Chinese spy balloon.
Burchett spoke to NTD's Steve Lance on Feb. 16 for a "Capitol Report" interview. The lawmaker said he and his colleagues are still trying to figure out the cause of the derailment or even if the chemicals that spilled were correctly labeled.
The lawmaker spoke to both his concerns about the train derailment and unresolved questions swirling around the Chinese spy balloon, saying the administration adds to the confusion with its lack of transparency.
"Was it terrorist? Was it something else? Or was it just poor timing?" Burchett, who sits on the House Oversight Committee, said of the train derailment.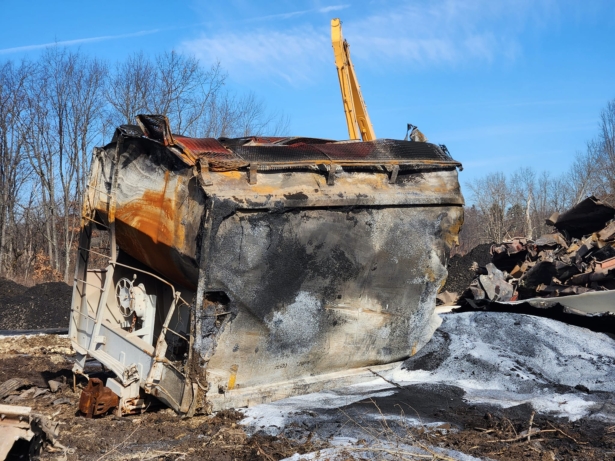 The Republican also pushed back against Transportation Secretary Pete Buttigieg's assertion that the Trump administration was to blame for the crash, saying that if there were issues with regulation that began under Trump in 2018, as Buttigieg asserted, they should have been reconciled in the five years since then.
When questioned about the government's response to the spill, Burchett said he believes the federal government could have moved more quickly to deal with the problem. "That's what the hearing will be about, I'm sure," the lawmaker said, referencing his committee's upcoming meeting.
According to Burchett, dealing with a chemical spill is a complicated issue due to chemical fires not responding to attempts to extinguish them in the same way as traditional fires. He voiced his concern about negative impacts that the spill will likely have on residents and local wildlife and vegetation.
The lawmaker, who also sits on the House Foreign Affairs Committee, also addressed the issue of the Chinese spy balloon, saying he believes President Joe Biden's treatment of the aircraft was a "complete capitulation to the Chinese."
"It feels like we've been compromised at some level," Burchett said, referencing both Hunter Biden's connection to the Chinese and Gen. Mark Milley, who advised the president not to shoot down the balloon.
"There's so many questions that need to be answered," the lawmaker said. "We have satellites that can read the data off a coin, sitting on the mound at Yankee Stadium … we need some answers. And this administration is not very transparent at all and it's causing more and more confusion."
NTD reporter Steve Lance contributed to this report.
From The Epoch Times