Rep. Andy Biggs (R-Ariz.) is calling on House Republican Leader Kevin McCarthy (R-Calif.) to step aside in the race for the next House speaker, arguing that a new candidate is needed.
"I don't think he's going to get to 218," Biggs said on Newsmax on Nov. 18, referring to the number of votes needed to secure the speakership.
"I think if it's not going to be me, we need to have a consensus candidate who's going to decentralize authority and power away from leadership and put it back in the committee process and allow legislators to legislate," Biggs added.
Biggs also said in a statement on social media that he "cannot vote for Kevin McCarthy as House Speaker," adding, "I do not believe he will ever get to 218 votes, and I refuse to assist him in his effort to get those votes."
Biggs, a member of the House Freedom Caucus, challenged McCarthy for the speaker nomination during a closed-door meeting Republicans held this week. McCarthy emerged as the victor, winning 188 votes, with 31 opposed.
But McCarthy will face his second test when the full House votes on speaker in January 2023, after new members are sworn in. Republicans will only hold a slight majority, around 222 seats. And Biggs isn't the only member who has vowed not to support McCarthy.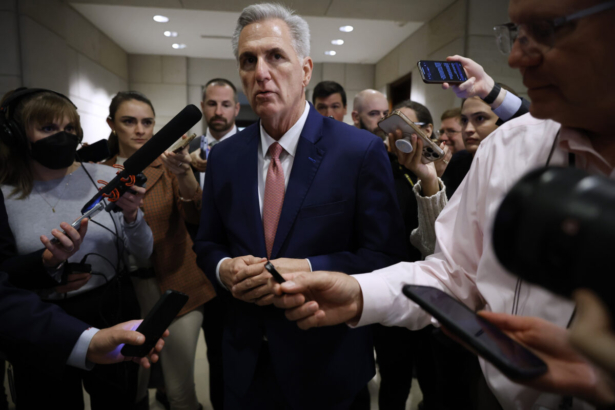 Rep. Matt Gaetz (R-Fla.), Bob Good (R-Va.), and Matt Rosendale (R-Mont.) have said they will not or likely will not back McCarthy.
The quartet allege that McCarthy is refusing to make key rule changes that will empower individual members, and question his ability to lead the fight against Democrats.
"We need a leader who can stand up to a Democrat-controlled Senate and President [Joe] Biden, and unfortunately, that isn't Kevin McCarthy," Rosendale said in a statement.
The minority party in the House typically votes en masse against the majority party's speaker candidate. If enough Republicans oppose McCarthy, The Democrats nominee could win the vote.
Some Republicans, including Rep. Marjorie Taylor Greene (R-Ga.), have warned against that scenario playing out if the GOP does not unify behind McCarthy. They have suggested Rep. Liz Cheney (R-Wyo.), who will leave office in January after losing in her primary, could be the Democrat pick.
Some allies of former President Donald Trump have suggested Republicans nominate him as speaker.
McCarthy has said he's not concerned about the opposition, pointing to how the GOP flipped the House under his leadership and have gained seats in 2020 and 2022.
Joseph Lord contributed to this report. 
From The Epoch Times