Republican lawmakers are calling on Attorney General Merrick Garland to appoint a special counsel to investigate President Joe Biden over his handling of classified materials after leaving the vice presidency.
One of the leading Republicans making the demand is Sen. Josh Hawley (R-Mo.), who sent a letter to Garland on Jan. 11, criticizing the Department of Justice over what he called an "astounding" double standard.
"In August of last year, FBI agents raided the Mar-a-Lago residence of former President Donald Trump, supposedly to secure classified documents dating back to President Trump's time in office," Hawley wrote. "President Biden appears to have done exactly what President Trump did—only he didn't get his home raided by the FBI over it."
FBI agents raided Trump's Mar-a-Lago resort in Florida in August 2022, seizing over 11,000 documents and photographs without classified markings and around 100 documents marked classified or top secret. However, Trump has said he declassified the materials when he left office.
In November, Garland appointed Jack Smith as special counsel overseeing DOJ probes related to Trump.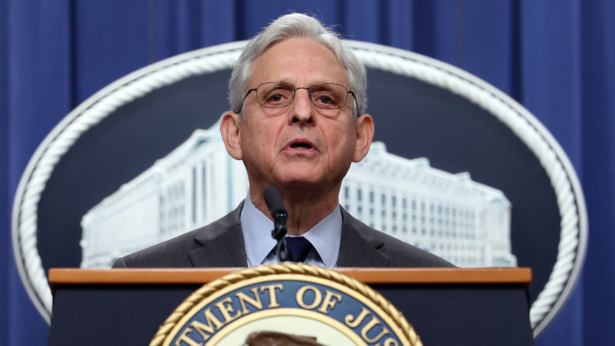 "The double standard here is astounding. The underlying behavior at issue—a President's retention of old classified documents dating back to a past presidency—is materially the same in both cases," he added. "But in President Trump's case, that retention triggered an unprecedented raid on the home of a former president, rationalized with a thicket of partisan doublespeak.
"President Biden has not experienced anything remotely similar."
A "small number" of classified documents were found by Biden's personal lawyers on Nov. 2, 2022, when they were clearing out his office space at the Penn Biden Center for Diplomacy and Global Engagement, according to a Jan. 9 statement from Richard Sauber, special counsel to the president. The Washington-based center is affiliated with the University of Pennsylvania, where Biden was an honorary professor from 2017 to 2019.
Sauber said the documents were in a "locked closet" at the center and the materials were turned over to the National Archives and Records Administration (NARA) a day after they were found.
Hawley questioned why it took months for news of the documents to surface, suggesting that "the Biden Administration and its allies in the media did their best to bury the story," given the discovery happened just days before the 2022 midterm elections.
"Your Department's apparent disparate treatment of these two cases thus far isn't especially surprising, because today's FBI leadership is growing more partisan by the day," Hawley wrote, pointing to the DOJ's 2021 decision to create a threat tag label tracking cases of parents who protested at school board meetings over opposition to the teaching of critical race theory.
The senator ended his letter asking Garland to provide "full responses" to several questions, one of them being "at what point" he was "notified that these documents existed."
"Why was the fact that President Biden apparently improperly retained classified documents from a prior administration not divulged until long after the 2022 midterm elections?" another question says.
Special Counsel
Another Republican calling for a special counsel to investigate Biden's handling of the documents is Sen. Lindsey Graham (R-S.C.), a senior member of the Senate Judiciary Committee.
"I think if you believe a special counsel is necessary to assure the public about the handling of classified documents by Donald Trump, you should apply a special counsel to the mishandling of classified documents by President Biden when he was vice president," Graham said in an interview with Fox News on Wednesday.
If Garland chooses not to take action, Graham argued that it will "hurt the country."
"If there's not a special counsel appointed to find out how this happened with President Biden regarding classified information, there is going to be a lot of angst—it will hurt the country," he added.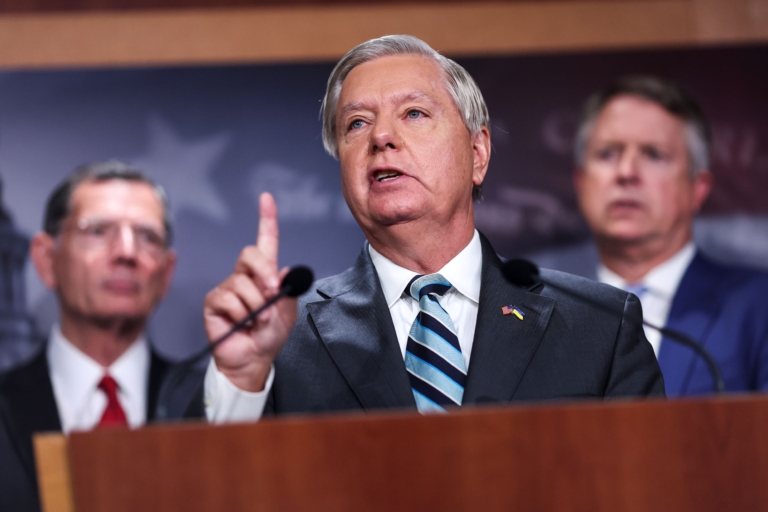 On Jan. 10, Biden said he was "surprised to learn" to learn that classified documents were found in his former private office.
"I've turned over the boxes—they've turned over the boxes to the Archives," Biden added. "And we're cooperating fully—cooperating fully with the review."
"Garland, if you're listening, if you thought it was necessary, attorney general, to appoint a special counsel regarding President Trump, then you need to do the exact same thing regarding President Biden when it comes to handling classified information," Graham said.
Rep. Jeff Duncan (R-S.C.) has also raised the issue of double standards.
"[W]ill the Biden DOJ appoint a special counsel for the president as they did for Trump? Or will we continue to see a politicized, two-tiered justice system?" Duncan asked on Twitter on Jan. 9.
More Republicans pressed Garland to appoint a special counsel, after NBC News reported on Wednesday that Biden's aides found another batch of classified documents citing an anonymous source.
"Attorney General Merrick Garland must appoint a special counsel," Rep. Troy Nehls (R-Texas) wrote on Twitter.
The House Judiciary GOP wrote on Twitter, "Looking forward to Democrats calling for a Special Counsel."
From The Epoch Times