Republican senators have criticized President Joe Biden over his handling of the Chinese spy balloon, but Democrats in the Senate said the criticism is unfounded.
The balloon was shot down off the coast of South Carolina by a U.S. fighter jet on Feb. 4, after having flown over several Midwest states. According to the Pentagon, the balloon first entered the U.S. air defense zone north of the Aleutian Islands of Alaska on Jan. 28, then entered Canadian airspace on Jan. 30, before reentering U.S. airspace over Idaho on Jan. 31. It was spotted above Montana on Feb. 2—the day the Pentagon first revealed the existence of the balloon.
President Joe Biden issued the order to shoot down the balloon but had wanted to take it down earlier, on Feb. 1. However, he was advised against shooting it down over land since doing would pose undue risk to civilians on the ground.
On Feb. 5, the day after the balloon was brought down, Senate Republican Leader Mitch McConnell (R-Ky.) issued a statement criticizing Biden for reacting too slowly.
"As usual when it comes to national defense and foreign policy, the Biden Administration reacted at first too indecisively and then too late. We should not have let the People's Republic of China [PRC] make a mockery of our airspace," McConnell said.
He added, "It defies belief to suggest there was nowhere between the Aleutian Islands of Alaska and the coast of Carolina where this balloon could have been shot down right away without endangering Americans or Canadians."
"This was a reminder of the PRC's brazenness and President Biden missed the opportunity to defend our sovereignty, send a message of strength, and bolster deterrence," McConnell said.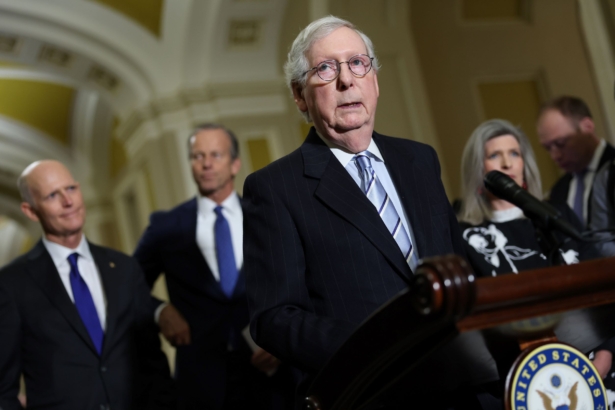 Several Republican senators also criticized the Biden administration for waiting too long to take action.
Sen. Ted Cruz (R-Texas), in an interview with CBS' "Face the Nation" on Sunday, said it shouldn't take a week to shoot down the balloon.
"I want to start by doing something that I don't do very often, which is commending Joe Biden for actually having the guts to shoot this down," Cruz said. "That was the right thing to do. That is absolutely what the president should have done."
"Unfortunately, he didn't do that until a week after it entered U.S. airspace," Cruz continued. "He allowed a full week for the Chinese to conduct spying operations over the United States, over sensitive military installations, exposing not just photographs but the potential of intercepted communications."
Sen. Marco Rubio (R-Fla.) told CNN's "State of the Union" on Sunday that Biden should have gone on TV to inform the public about the situation.
"I think the dereliction of duty begins with this," Rubio said. "Why not, on Tuesday or Wednesday—you know people are going to see this. At some point, you're going to have to disclose it. And they probably didn't want to, because they didn't want to have their hand forced on canceling this [Secretary of State Antony] Blinken visit."
"Presidents have the ability to go before camera, go before the nation and basically explain these things early on," Rubio continued. " I don't understand why he wouldn't do that. And that is the beginning of dereliction of duty."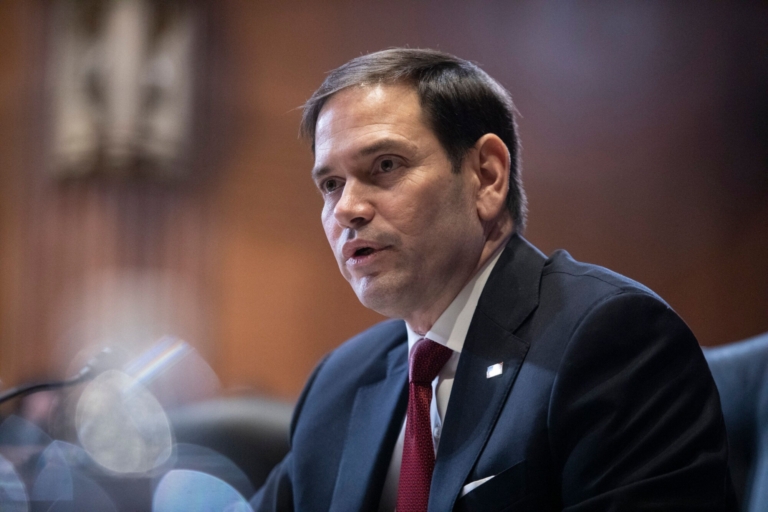 Blinken was originally scheduled to arrive in China on Feb. 5 for a two-day visit. He postponed the trip, telling China that its action was "irresponsible" and a "clear violation of U.S. sovereignty."
Sen. Tom Cotton (R-Ark.), in an interview with Fox News on Sunday, said the Chinese spy balloon was a test and Biden "failed."
"What began as a spy balloon has become a trial balloon, testing President Biden's strength and resolve. Unfortunately, the president failed that test, and that's dangerous for the American people," Cotton said. "The president was paralyzed for an entire week by a balloon. We should have shot this balloon down over the Aleutian Islands; we should never have allowed it to transit the entire continental United States."
Democrats
Senate Majority Leader Chuck Schumer (D-N.Y.) held a press conference in New York on Sunday, during which he defended Biden from GOP criticism.
"Republican critics were breathless, political, and premature. President Biden and his team were calm, calculating, and effective," Schumer said.
The New York lawmaker applauded Biden's leadership for choosing to take down the balloon over water to ensure the safety of all Americans.
"The bottom line here is that shooting down the balloon over water wasn't just the safest option, but it was the one that maximized our intel gain," Schumer added.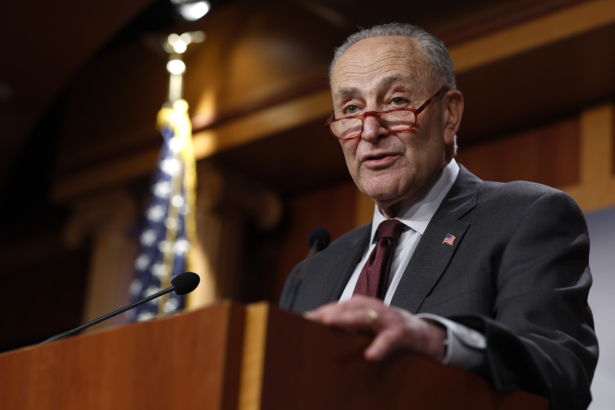 Also on Sunday, Sen. Cory Booker (D-N.J.) told NBC's "Meet the Press" that Republicans were being "hypocritical" in their criticism of Biden.
"It's problematic for a Democrat or Republican to have one standard for one president, another standard for another president," Booker said.
He added, "We should remember that this is now known to have happened under the Trump administration multiple times. And so to create another standard for Biden when Trump, it seems, allowed this to go over the United States is just a bit hypocritical."
A senior defense official said on Saturday that Chinese spy balloons transited over the United States "at least three times" during the Trump administration. However, the claim has since been refuted by former President Donald Trump and some former Trump officials.
"They are putting out that a Balloon was put up by China during the Trump Administration, in order to take the 'heat' off the slow moving Biden fools," Trump wrote on his Truth Social account.
"China had too much respect for 'TRUMP' for this to have happened, and it NEVER did. JUST FAKE DISINFORMATION!"
From The Epoch Times