Republicans say that after the end of Title 42, the Biden administration changed how illegal entries into the United States are reported to the American people.
During a June 6 hearing of the House Border Security and Enforcement Subcommittee—a satellite of the Homeland Security Committee—Chairman Clay Higgins (R-La.) said that immigration officials were changing the way illegal aliens entering the United States are counted in a way that's "misleading by design."
Ranking Member Lou Correa (D-Calif.), other Democrats, and administration-friendly witnesses argued that illegal crossings are down since the end of Title 42, an immigration authority that allowed for rapid expulsion of illegal aliens from the United States on public health grounds.
But Republicans say that this is in part because the administration is playing "a shell game" with the numbers.
"Despite what [Department of Homeland Security Secretary Alejandro Mayorkas] and other officials at DHS are advising the American public, regarding the numbers being down, what we've come to observe is rather a shell game in the way numbers are documented and reported," Higgins said.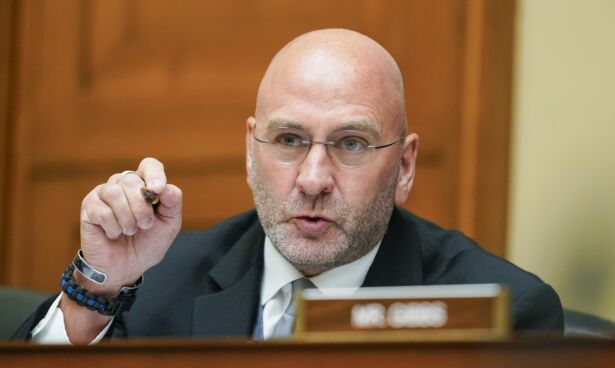 "The numbers of human beings crossing into America without appropriate documentation are indeed still at the record levels that we saw prior to the end of Title 42—it's the classification of those human beings and the way they're brought into the country that are cleverly changed by the administration," he said.
Specifically, the administration has redefined some illegal crossings as "those that have entered by legal pathway"—a process that Republicans accuse the administration of aiding and abetting through the CBP One app.
The CBP One app allows illegal aliens to schedule an appointment to meet U.S. officials at the border and gain entry to the United States on the basis of asylum claims. The controversial application allows illegal aliens to cross the border in a way the administration defines as a "legal pathway," and was heavily criticized by Republicans during the hearing.
"This is misleading by design," Higgins said.
After illegal aliens answer a few questions at the border and are granted entry to the United States, Higgins said, "[the administration] tells America that the numbers of illegal migrants are down. It's a shell game."
In an earlier interview with National Public Radio (NPR), Blas Nunez-Neto, assistant DHS secretary for border and immigration policy, applauded the administration's new policy.
"What we have done is really obviously a historic increase in lawful pathways to the United States, including at our ports of entry through CBP One app," Nunez-Neto said. "What we're really trying to do here is incentivize migrants to safe, lawful, and orderly pathways that, again, we have expanded dramatically over the last few years."
Executive Overreach
Higgins said the move was an overreach by the executive branch against Congress.
He acknowledged, "In a broad perspective, the executive branch is required to have rule-making [authority] whereby laws are interpreted and the means by which the enforcement of those laws shall be established across the country. That's reasonable and understandable."
But he said, "Federal law enforcement, especially when it comes to something as clear as enforcement of border and immigration law, is much less of a gray area. Our current administration, if it doesn't like an existing law, it uses executive authority to find a way around it."
Higgins said this overreach, through failure to enforce the express will of Congress, is responsible for "the incoming wave upon human wave of illegal migrants."
"The federal immigration laws that have been established by Congress have been essentially replaced by immigration policy that legalizes illegal entry into our country," he said. "And they tell you the numbers of illegal entry are down because this executive branch has redefined what an illegal entry is."
Republicans have long become increasingly frustrated with President Joe Biden's expansive interpretation of asylum claims.
Democrats have marketed the influx along the border as being driven largely by genuine asylees, but previous testimony given to Congress claims otherwise: Immigration officials from President Donald Trump's administration have noted that as many as 90 percent of asylum applications were denied.
Greene Blasts CBP One App
During the hearing, Rep. Marjorie Taylor Greene (R-Ga.) blasted the CBP One app, giving a live tutorial of how the app works.
"If someone does illegally come into our country … they can go to the app store, and all they have to do is download CBP One and come into Mexico," Greene said.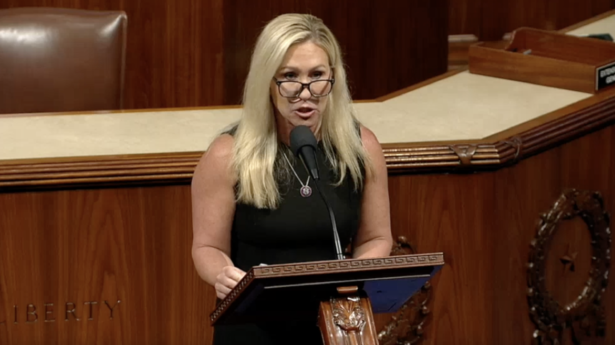 She demonstrated that once in central or northern Mexico, an illegal alien could schedule an appointment to surrender themselves to U.S. immigration officials in a way that's "convenient" for their schedules.
An individual or family coming into the United States, Greene demonstrated, can choose a time and processing facility to turn themselves in on the app. The app allows aliens to report how they will be coming, and even advises them about the times that will be most and least busy.
"[Illegal aliens] can find a wait time that fits their schedule," Greene said. "All they have to go do is go on here and I can pick Calexico East, and I only have a five minute wait at a port of entry. And then I can look at this neat little graph that somehow tracks what time of the day is busier or less busy."
Most concerning, Greene said, is that the app tells asylum-seekers that "passports are optional," which she said is in direct contravention of U.S. law.
Meanwhile, Greene noted, the commercial truck driver function of the app "doesn't work yet," which she called "a complete failure."
"You would think that this app would want to keep track of imports coming into our country by truck—agricultural goods, whatever is being brought into the country," she said. "That's a really important figure to keep track of."
From The Epoch Times