A Dutch researcher accurately predicted that there would be a 7.5 magnitude earthquake in the region around South-Central Turkey, Jordan, Syria, and Lebanon just days before it happened.
Frank Hoogerbeets works at the Solar System Geometry Survey (SSGEOS), a Netherlands-based institute that monitors geometry between celestial bodies related to seismic activity.
On Feb. 3, Hoogerbeets wrote on Twitter: "Sooner or later there will be a -M 7.5 #earthquake in this region (South-Central Turkey, Jordan, Syria, Lebanon)," alongside a photo pinpointing the areas where the earthquake was likely to hit.
Meanwhile, SSGEOS noted in a separate bulletin on Feb. 2 that larger seismic activity may occur from Feb. 4 to Feb. 6 which would most likely measure up to mid or high 6 magnitudes.
"There is a slight possibility of a larger seismic event around 4 February," the website said.
Turkey is in one of the world's most active earthquake zones and Hoogerbeets' prediction came just three days before two giant earthquakes measuring 7.8 in magnitude and 7.6 in magnitude respectively, hit Southern Turkey and northern Syria, with the quakes being felt as far as Lebanon.
The first earthquake struck at 4:14 a.m. local time and sent entire apartment buildings collapsing and left thousands of people injured or homeless in the Pazarcik district of Turkey's southern Kahramanmaras Province; the epicenter of the quake.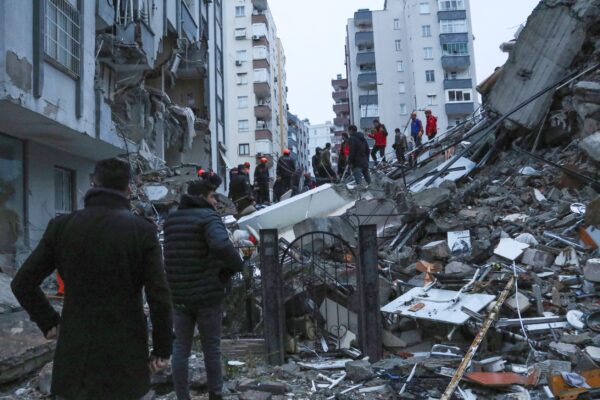 Death Toll Expected to Rise
It also impacted additional areas including Sanliurfa, Diyarbakir, Adana, Adiyaman, Malatya, Osmaniye, Hatay, Kilis, bringing down buildings, wrecking hospitals, and causing extensive damage to roads. In Gaziantep, the historical Gaziantep Castle, used by Romans and Byzantines, also collapsed.
The earthquake, which was followed by a series of aftershocks, was the biggest recorded worldwide by the U.S. Geological Survey since a tremor in the remote South Atlantic in August 2021.
A second earthquake occurred nine hours after the first one and struck the same region as rescue efforts were underway, culminating in yet more casualties.
According to local reports citing officials, the death toll in Turkey has risen to 3,419 while more than 20,000 have been injured and 5,775 buildings have been destroyed.
In Syria, at least 1,444 people have died and around 3,500 sustained injuries, according to local reports.
Meanwhile, search and rescue efforts in Turkey, aided by disaster agencies as well as locals, are currently being hampered by heavy rain, snow, and freezing temperatures.
The World Health Organization has warned the toll from the quakes may rise dramatically, possibly eightfold, as rescuers continue to find more victims.
"We always see the same thing with earthquakes, unfortunately, which is that the initial reports of the numbers of people who have died or who have been injured will increase quite significantly in the week that follows," the WHO's senior emergency officer for Europe, Catherine Smallwood, told AFP.
Hoogerbeets shared his condolences with the victims of the earthquakes in a tweet on Monday, writing: "My heart goes out to everyone affected by the major earthquake in Central Turkey. As I stated earlier, sooner or later this would happen in this region, similar to the years 115 and 526. These earthquakes are always preceded by critical planetary geometry, as we had on 4-5 February."
The researcher also noted that "lunar geometry may cause some strong seismic activity in the coming days," particularly around Feb. 8 which he said could possibly see earthquakes of up to 5 to 6 in magnitude.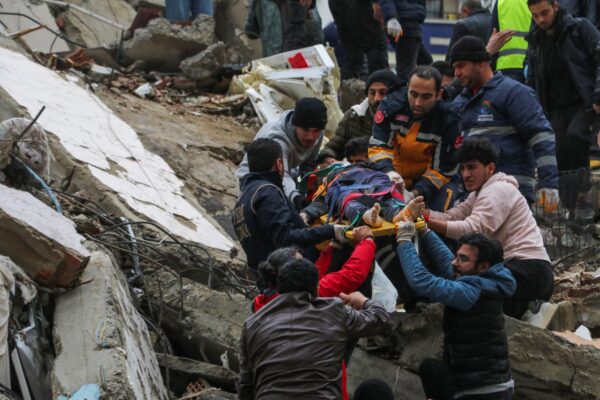 Scientists Say No Way to Predict Earthquakes
"There is a slight possibility of a larger seismic event. Aftershocks will continue in Central Turkey and it [sic] could reach higher M 5 to 6," the researcher wrote.
According to the SSGEOS, their monitoring activities are based on evidence that "specific geometry in the Solar System may cause larger earthquakes."
"The specific geometry between celestial bodies that is associated with larger earthquakes is generally referred to as 'critical planetary geometry' and 'critical lunar geometry' if the Moon is involved," SSGEOS says.
"However, critical geometry does not always result in larger earthquakes. Sometimes only some seismic increase is observed, up to about magnitude 6.0. Sometimes there seems to be no seismic increase at all. From this, we conclude that the key is the condition of Earth's crust, i.e. the amount of stress between tectonic plates and whether or not a fault section has reached its strain budget."
"This would logically indicate a direct relationship between the build-up of stress in Earth's crust and electromagnetic charge from critical planetary geometry," the institute states.
While Hoogerbeet's prediction quickly went viral on social media, scientists have noted that they cannot predict earthquakes before they happen.
The US Geological Survey (USGS) states that "neither the USGS nor any other scientists have ever predicted a major earthquake" and that the agency does "not know how" to do so and does "not expect to know how any time in the foreseeable future."
"USGS scientists can only calculate the probability that a significant earthquake will occur (shown on our hazard mapping) in a specific area within a certain number of years," the agency says.
Reuters contributed to this report.
From The Epoch Times