Speculation that Robert F. Kennedy Jr. will soon declare his run as an independent escalated further on Sept. 29 when he released a video announcing an event in Philadelphia on Oct. 9 when he will share "our path to the White House."
"I'm going to be in Philadelphia on October 9, to make a major announcement at the very birthplace of our nation. I'm not going to tell you right now, exactly what that announcement will be. I can say, though, that if you've been waiting to come to one of my public events, this will be the one to come to," Mr. Kennedy said in the video that appears on his campaign website.
"I'll be speaking about a sea change in American politics and what your part and my party is in that change," he added.
"A lot of Americans who had previously given up any hope and real change come through the American electoral process have begun to find new hope in my candidacy."
Later in the video, Mr. Kennedy noted, "Our government may be broken, but our people are kind, brave, and caring that goodness is stronger than the divisions that are keeping us all apart. I see it every day on the campaign trail, and the more I see it, the more I trust it. And the more I trust that, the more the path to victory becomes visible."
Mr. Kennedy's campaign is planning attack ads against the Democratic National Committee to "pave the way" for what will be an announcement on Oct. 9 that he will run as an independent, Mediaite reported on Sept. 29, citing a text from a campaign insider.
Anthony Lyons is co-chairman of the American Values 2024 PAC, which is working to get Mr. Kennedy elected president. He told The Epoch Times on Sept. 29 that a poll they commissioned with Zogby International will be released on Oct. 2 and shows that if Mr. Kennedy runs as an independent or third-party candidate in a race against President Joe Biden and President Donald Trump, he will start at 19 percent compared to "37 percent to 38 percent" for President Biden and President Trump.
The results indicate that Mr. Kennedy is "pulling equally from Biden and Trump," Mr. Lyons told The Epoch Times.
"Critics of independents and third-party candidates always claim that they split the vote and serve as a spoiler, but what we are seeing is that people are disillusioned with both major parties and they are tired of partisan politics," Mr. Lyons said.
"People are tired of being told what to do, what to think, and who to vote for by the Democrat and Republican parties, and they are open to an alternative candidate."
For months after announcing his candidacy in April to challenge President Biden for the 2024 Democrat nomination, Mr. Kennedy told media outlets and supporters, "I'm a Democrat" when asked if he would consider running as an independent or third-party candidate.
During an interview with The Epoch Times in Columbia, South Carolina, in August, he reiterated that stance when asked if he would serve as President Trump's running mate or run as an independent or a third-party candidate.
"I'm a Democrat. The Democrat party has lost its way, and I want to return it to its traditional ideals," Mr. Kennedy said.
"I'm hoping to run in the Democratic Party. If it's possible to have a fair election in the Democratic Party, I will run in the Democratic Party, and I haven't made any kind of plans other than that," he said.
Yet Mr. Kennedy has faced what he deems as multiple roadblocks to "fair primary elections" from the DNC. Earlier this year, the organization voted to give President Biden its full support. At the same meeting, the DNC voted to replace New Hampshire with South Carolina as the first-in-the-nation primary state. The organization has warned that New Hampshire will face potential penalties if that state's Democrat primary does not comply with new primary calendar plans.
At a town hall in New Hampshire earlier in September, Mr. Kennedy told supporters that he would have to make a decision before Oct. 15 to run as an independent and that it would require around $15 million in funds to get on the ballot in all 50 states.
Under the proposed plan, New Hampshire must hold its primary on the same day as Nevada on Feb. 6 or face possible sanctions.
South Carolina will conduct its primary on Feb. 3.
Georgia and Michigan would follow, according to the new schedule.
Iowa, which holds caucuses, was removed from the list of early-voting states.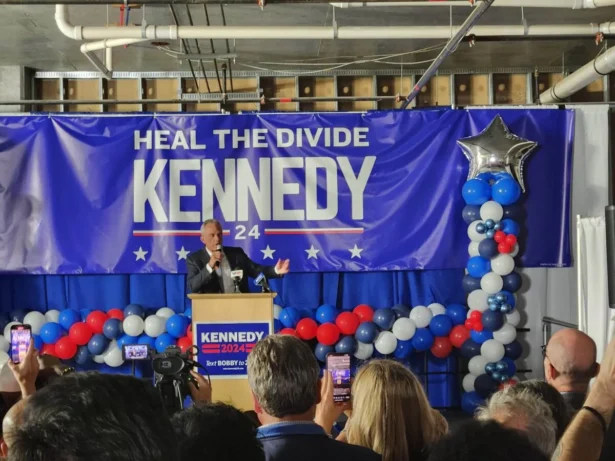 Keeping Options Open
In 2020, President Biden lost in Iowa and New Hampshire to Vermont Sen. Bernie Sanders before winning South Carolina.
"They're trying to make sure that I can't participate at all in the political process, and so I'm going to keep all my options open," Mr. Kennedy said earlier this month at a town hall in South Carolina.
"It's pretty clear that the DNC does not want a primary. Essentially, they are fixing the process so that it makes it almost impossible to have democracy function," he added. "They're effectively disenfranchising the Democratic voters from having any choice in who becomes president, the Democrat nominee."
If New Hampshire is found non-compliant, the state could lose half of its delegates to the August 2024 Democratic National Convention, where the party's 2024 presidential candidate will be nominated.
An unsanctioned primary would likely keep President Biden off the ballot.
Mr. Kennedy continued to tell attendees at town halls in Texas last week and New Jersey on Sept. 28 that he is "keeping his options open."
Supporters who attended Mr. Kennedy's opening of his New Jersey office in Elizabeth on Sept. 28 told The Epoch Times they will continue to back him if he decides to run as an independent or third-party candidate.
Philip Nicosia is a 28-year-old plumber who drove two hours from Pennsylvania to attend the event. He said he was a registered Republican who previously voted for President Trump and changed his affiliation to the Democrat party so he could vote for Mr. Kennedy in the primary.
"I was an independent, and then I changed to Republican to vote for Donald Trump in 2016 and 2020. I am voting this time for Kennedy because I believe he will do what he says he will do and not be divisive. Trump is exhausting," Mr. Nicosia said.
Mr. Nicosia admits that he worries that Mr. Kennedy's candidacy as a third candidate could draw voters away from President Trump and lead to another term for President Biden.
"We need anybody but Joe Biden, but I'm still gonna vote on principle," Mr. Nicosia told The Epoch Times. "I am voting for who I believe in, and that is Robert F. Kennedy Jr."
Lauren Hanley is an attorney who lives in New York City. She is also a registered Republican who voted for President Trump and has shifted her support to Mr. Kennedy.
"There are people who back him because of his stance against (COVID) vaccine mandates, and there are people who support him because he stands up against corporate corruption. I think that, in this election, people are going to vote for the candidate who most resonates with them because they are tired of the fighting and the divisiveness," Ms. Hanley told The Epoch Times at the Elizabeth, New Jersey event.
'Surge of People Power'
In his video he released on Sept. 29, Mr. Kennedy said that he can win against the Washington establishment by rewriting "the assumptions" and changing "the habits" of American politics.
"We're going to tap into a mighty surge of people power and reclaim an honest peaceful, just, and prosperous America," he continued before inviting potential voters to join him in Philadelphia on Oct. 9.
Mr. Kennedy has drawn interest from conservatives, moderates, independents, and liberals for his vow to "heal the divide" and unify the country" by fighting corporate corruption, ending the Ukraine war, addressing the border crisis, and protecting Second Amendment rights, among other focuses.
He has also said that he will offer 3 percent mortgages for Americans funded by tax-free bonds, ban pharmaceutical advertising on television, and "work on changing the tax code to make it more difficult for large corporations to buy single-family homes."
At every town hall and campaign stop, Mr. Kennedy rails against BlackRock, State Street, and Vanguard, which he notes owns more than 80 percent of the companies on the S&P 500.
If Mr. Kennedy chooses to run as an independent, Mr. Lyons noted that the candidate will have almost 13 months to "amplify his message."
"Bobby Kennedy has been censored more than any other political candidate. I think a big percentage of the American public still doesn't know about him and what his platform is. A big reason for that is the DNC … a result of the DNC censoring him and vilifying him with untruthful attacks," Mr. Lyons told The Epoch Times.
"They are terrified of what would happen if there was a fair primary process and real debates between Bobby Kennedy and Joe Biden," Mr. Lyons added.
"Bobby Kennedy believes in free speech, ending the Ukraine war, and a strong border, so he is a classic Democrat like his father (Robert F. Kennedy) and uncle (President John F. Kennedy). That is the opposite of what the DNC represents. This is not his father's Democrat party."
From The Epoch Times