The mayor of Rochester, New York, and the city's police union president on Wednesday called on each other to resign over the handling of the March death of Daniel Prude.
During a press briefing Wednesday, Rochester Police Locust Club President Mike Mazzeo called on Mayor Lovely Warren to resign, saying that there's a "need for change."
"When we have a command staff walk out the door, something is wrong," he told reporters. "I think too many people are involved in this that know the truth, and I hope the others learn soon."
Mazzeo in his statement referred to the resignations of the city's top police leaders earlier this week. Police Chief La'Ron Singletary, Deputy Chief Joseph M. Morabito and a commander retired, while two more leaders gave up command positions on Tuesday.
Their resignations came days after Warren announced that the city's police department will undergo a series of reforms, starting with moving crisis intervention out of the department, and shifting its budget and team to Rochester's department of youth and recreation services.
Warren last week also suspended the seven Rochester police officers involved in the March 23 arrest of 41-year-old Prude, a black man who a medical official said was under the influence of PCP earlier this year.
The mayor responded to Mazzeo's call for her to resign shortly afterwards, calling his methods of policing "archaic."
"For 30 years, the problem with policing in Rochester are cops like Mike Mazzeo that watch the video of Daniel Prude's death and see nothing wrong," Warren said in a statement.
"Who believe there is nothing wrong with driving Mr. Prude's head into the street. Who believe there is nothing wrong with other officers standing by, joking and failing to intervene while Mr. Prude is dying. Who think it's fine to just casually ignore him as he takes his last breath, and then callously and falsely inform his brother who begged for him not to be harmed," she continued.
"Mike Mazzeo and his ilk exist only to protect and serve themselves, and certainly not the people of the City of Rochester."
The mayor concluded her statement by calling on Mazzeo to step down from his position, because his "ways of policing are no longer wanted in the City of Rochester."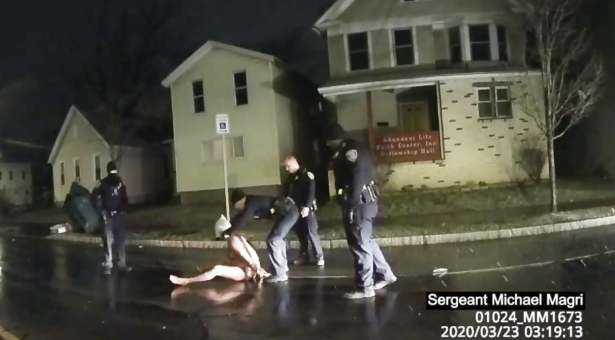 Prude, from Chicago, died a week after an encounter with Rochester Police Department officers. Video footage of the incident was released last month in the midst of nationwide unrest and riots.
Prude's relatives had called the police for help when he was suffering a mental episode. Officers found him running naked in the street. He initially complied when officers asked him to put his hands behind his back to be handcuffed. Later, Prude sat up and began spitting at the officers while saying he had contracted the CCP (Chinese Communist Party) virus, also known as the novel coronavirus.
Officers put a spit guard on Prude and pinned him to the ground face down for about 2 minutes to restrain him, after which he stopped breathing. Prude received CPR on the scene and was taken to the hospital. He died 7 days later, on March 30, after being taken off life support.
A medical examiner concluded that Prude's death was a homicide caused by "complications of asphyxia in the setting of physical restraint." The report listed excited delirium and acute intoxication by the recreational drug phencyclidine, or PCP, as factors contributing to his death.
The incident is being investigated by the New York Attorney General's office.
"City councilmembers are calling our people murderers," Mazzeo said Wednesday. "They don't have knowledge or experience. I can't recall any councilmen reaching out to me to say, 'what can we do to help?'"
"What they have done is shut the door in our face, refuse to hear our concerns, or hear from the people who do the job. On how to get to a better place? They're on for some other agenda, not to serve the city or the people who elected them.
"There's a lot of conversation right now about working together, changing policing, getting someplace better. OK, we're ready. Tell us what you want us to do, we'll do it. That's our job. Police don't determine what policing is, the communities do," he added.
The mayor and Police Chief Singletary are set to hold a public briefing with the city council on Thursday.
Mimi Nguyen Ly contributed to this report.
From The Epoch Times