Russia's Ministry of Defense on Sunday warned that Ukrainian forces would use a "dirty bomb" and blame Moscow in a significant escalation of the monthslong conflict, which Ukraine has denied.
In phone calls with French, UK, and Turkish counterparts Sunday, Russian Defense Minister Sergei Shoigu warned about "about possible provocations by Ukraine with the use of a 'dirty bomb,'" according to the Russian Ministry of Defense in a statement.  Later, the ministry warned about a possible Ukrainian false-flag attack on its own civilians to "accuse Russia of killing the civilians."
A dirty bomb uses conventional explosives laced with radioactive material. Russia's Defense Ministry did not provide evidence for its claims against the Kyiv government.
Reports indicated that Shoigu also held a phone call with U.S. Defense Secretary Lloyd Austin, the second such phone call since the start of the conflict in February. Hours after the call, Austin told Shoigu that he "rejected any pretext for Russian escalation," according to a Pentagon statement.
And the White House National Security Council also rejected Shoigu's claims. "The world would see through any attempt to use this allegation as a pretext for escalation," read a statement from the Council.
Britain's Defense Ministry, in a statement, said it denies claims that Western nations want to escalate the conflict and "cautioned that such allegations should not be used as a pretext for greater escalation."
Ukraine Denies
After Shoigu's statement was issued, Ukrainian President Volodymyr Zelenskyy denied the dirty bomb claims and accused Russia of staging a provocation.
"And there's only one subject who can use nuclear weapons in our part of Europe, and this subject is the one who ordered comrade Shoigu to call somewhere," the Ukrainian leader said Sunday.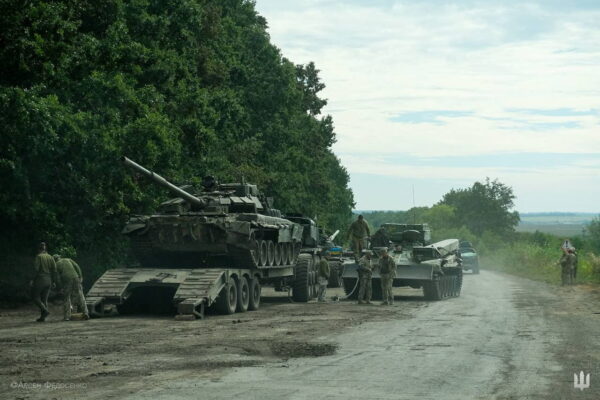 Hours before on Saturday, Zelenskyy escalated the rhetoric by saying that Western powers need to strike Moscow's command center if Russia hits the Ukrainian presidential office with airstrikes. Ukraine is neither a member of NATO nor the European Union.
It comes as strikes continue to rain down on the Dnipropetrovsk, Khmelnytsky, Kirovohrad, Mykolaiv, Odessa, Rivne, Volyn, and Zaporizhia regions, it has been reported.
"We continue eliminating the aftermath of today's terrorist attacks on our infrastructure," Zelenskyy stated. "The geography of this new massive strike is very wide."
Russian troops have withdrawn from parts of the front in recent weeks and occupation authorities are evacuating civilians deeper into Russian-held territory before an expected battle for Kherson, the regional capital on the west bank of the Dnipro River. Kherson is a gateway to Crimea, which Russia annexed in 2014.
"The situation today is difficult. It's vital to save your lives," Russian Education Minister Sergei Kravtsov said in a video message. "It won't be for long. You will definitely return," he added of the evacuation.
At the same time, Russian officials confirmed that Moscow has hit Ukraine's power grid and military command centers, according to the state-run TASS news agency.
Russian forces have continued to "deliver strikes with long-range high-precision air-launched weapons on the military command and energy systems of Ukraine. All designated targets were hit," Defense Ministry spokesman Igor Konashenkov said.
Reuters contributed to this report.
From The Epoch Times