Senate Majority Leader Chuck Schumer (D-N.Y.) said U.S. officials believe the two objects that were shot down over U.S. and Canadian territory were balloons.
Citing a briefing from White House national security adviser Jake Sullivan, Sullivan told ABC News' "This Week" that the administration believes the objects were "much smaller" than the Chinese spy balloon that was taken down near the South Carolina coast earlier this month.
"They believe they were, yes," Schumer responded to a question about whether the objects were balloons. "But much smaller than the first one."
The U.S. shot down an object flying in Alaskan airspace on Friday, Feb. 10, and another was shot down by a U.S. fighter jet in Canadian airspace a day later, officials have confirmed. Details about the nature of the objects, including what country was operating them, have not yet been disclosed.
Schumer told ABC on Sunday that both objects were flying at around 40,000 feet, which officials have said would pose a risk to commercial flights. The suspected Chinese surveillance balloon that transited over much of the United States this month was flying at a much higher altitude.
"We're [going to] probably be able to piece together this whole surveillance balloon," Schumer told the outlet. "And know exactly what's going on. So that's a huge coup for the United States."
Separately, Schumer asserted that the shooting down of the suspected Chinese surveillance balloon last weekend was a net negative for the Chinese regime. The regime, he added, may have to end its balloon program.
"I think the Chinese were humiliated," the senator said during the interview. "I think the Chinese were caught lying. I think it's a real step back for them."
Schumer added that "they're not just doing the United States … this is a crew of balloons. We saw one in South America." He was referring to a balloon that was spotted over Colombia and Venezuela earlier this month, later confirmed by Chinese Communist Party officials.
Incident
For the latest object that was shot down, Canadian Prime Minister Justin Trudeau said Saturday that he ordered it taken down. Trudeau said an American F-22 "successfully fired at the object" over the Yukon Territory, located adjacent to Alaska.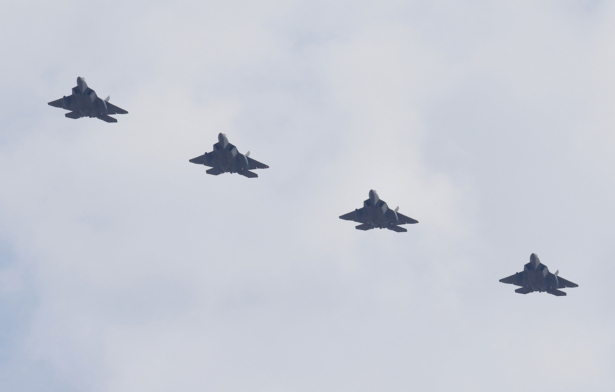 "I spoke with President [Joe] Biden this afternoon. Canadian Forces will now recover and analyze the wreckage of the object," he wrote. "Thank you to NORAD for keeping the watch over North America."
And NORAD, known as the North American Aerospace Defense Command, confirmed in a statement that a "high-altitude airborne object" was located over northern Canada this weekend. Based in Colorado, NORAD is jointly operated by the United States and Canada.
"Military aircraft are currently operating from Alaska and Canada in support of North American Aerospace Defense Command (NORAD) activities," the NORAD statement said. "NORAD confirms that we have positively identified a high-altitude airborne object over Northern Canada."
"While we cannot discuss specifics related to these activities at this time, please note that NORAD conducts sustained, dispersed operations in the defense of North America through one or all three NORAD regions," its statement said.
Canadian Defense Minister Anita Anand told a news conference in Ottawa that the object, flying at around 40,000 feet, had been shot down at 3:41 p.m. ET, approximately 100 miles from the Canada-U.S. border in the central Yukon. A recovery operation was underway involving the Canadian Armed Forces and the RCMP.
F-22 fighter jets have now taken out three objects in the airspace above the United States and Canada over seven days, a stunning development that is raising questions on just what, exactly, is hovering overhead and who has sent them.
Anand said she should not speculate on whether the object shot down over Canada came from China.
"We are continuing to do the analysis on the object and we will make sure that analysis is thorough," she said, according to The Associated Press. "It would not be prudent for me to speculate on the origins of the object at this time."
In another incident, NORAD said that it, U.S. Northern Command, and the U.S. Federal Aviation Administration shut down a portion of Montana's airspace for a short period of time on Saturday. NORAD detected a "radar anomaly" and sent jets to investigate, although no object or objects were located.
The Associated Press contributed to this report.
From The Epoch Times