The second Tennessee Democrat ousted from his House seat last week in the Tennessee General Assembly was reappointed to serve until a special election can be held later this year to fill the seat for the rest of his term.
Justin Pearson, who represents parts of Memphis in Shelby County, was reinstated in a vote of 7–0 in a special called meeting of the county commission on Wednesday afternoon, April 12. On Monday, the other expelled Democrat, Justin Jones, was reinstated to his seat by the Metro Nashville Council.
Jones and Pearson will serve in their seats until a special election is held later this year. Both Jones and Pearson are eligible to run in the special elections.
Tennessee's constitution calls for special elections in the event of vacancies if there are more than 12 months until the next general election. It is up to the governor to call for the special election and state law provides it must be scheduled within 55 to 60 days and a general election to fill the seat must be held within 100 to 107 days.
Governor Bill Lee, a Republican, has not yet announced plans for the special election.
Commission Votes
The Shelby County Commission is made up of 13 members, nine of them Democrats. Two of those Democrats were out of the country during the vote. No Republicans were present at the meeting.
Pearson, 29, was one of the two black Democrat lawmakers expelled by the Republican-controlled Tennessee General Assembly over their participation in a gun control protest on the House floor in the days that followed a deadly school shooting. A third Democrat, Gloria Johnson, was spared expulsion by one vote.
Commission Chairman Mickell Lowery, a Democrat, called for a vote to be held immediately, skipping a public comment portion and the nomination of other candidates.
"What you see right now is a vote," he said. "After this there is a lot of paperwork that needs to be done. We need to get that to Nashville as soon as possible. Also remember in this chamber it's thumbs up or thumbs down [to express opinions]. However, do understand that you'll be speaking to the choir here, because we're all with you."
Pearson addressed the commission after the vote.
"Nashville thought they could silence democracy, but they didn't know the Shelby County Commission," he said. "Filled with some courageous leaders, who through threats of not giving us resources would not stop. Their threats about withdrawing or stopping funding wouldn't stop. They didn't know that Justin J. Pearson was only standing with the moral courage of people who he came from. Only standing with the moral courage that was built in Memphis, Tennessee."
Pearson went on to say there is a problem in Nashville and "gun violence" in the state.
"We've got a problem in this state," he said. "We've got a proliferation of gun violence because of policies and practices and legislation coming from the state legislature of Tennessee … We've got a problem in Nashville and it's called a promise that they're holding onto with this status quo. See, their allegiance is to the way things are. Their allegiance is to business as usual. Their allegiance is to the National Rifle Association. Their allegiance is to the Tennessee Firearm Association."
Pearson met with supporters earlier in the day at the National Civil Rights Museum, marching with them to the Shelby County Commission building. Hundreds of his supporters walked along with him, alongside Jones and Johnson.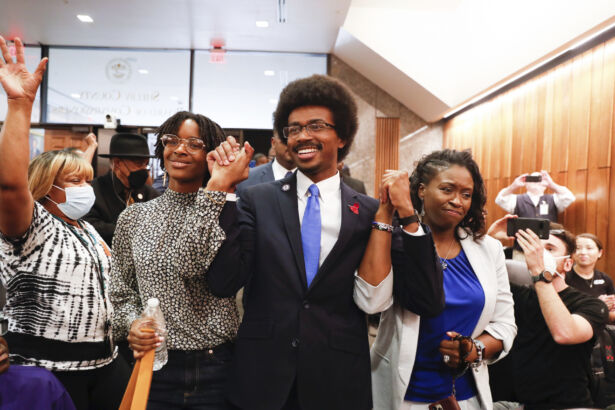 It is reported Jones will be sworn in in Nashville Thursday at the Tennessee State Capitol before the House goes into session for the day.
Pearson Expelled
Pearson gave an intense speech surrounded by his Democrat colleagues, speaking of a spirit of not giving up.
"My people have yet to quit," he said just before the vote to expel him. "They were witnesses, as you have been witnesses, to what has been happening in the anti-democratic state of Tennessee."
He added that while it may seem like "the NRA and gun lobbyists might win," he had good news—that "Sunday always comes; resurrection is a promise, and it is a prophecy that came out of the cotton fields, the lynching tree, and still lives in each and every one of us in order to make the state of Tennessee the place that it ought to be."
"I've still got hope because I know we are still here, and we will never quit," he said to raucous applause from the gallery.
He was also removed in a party-line vote and officially declared expelled from the chamber by House Speaker Cameron Sexton.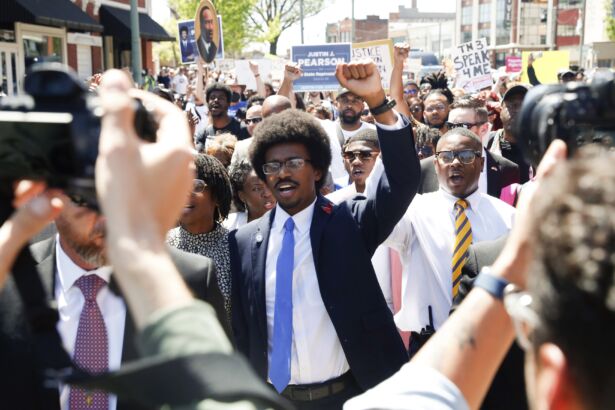 Pearson Clashed With House Leadership Previously
Pearson previously clashed with leadership and Sexton for breaking the House dress code by wearing a West African traditional outfit called a dashiki.
"Wearing this dashiki on the first day and being sworn in, wearing it is paying homage to the ancestors who made this opportunity possible," said Pearson on his first day in the legislature, according to a Memphis NBC affiliate.
Pearson, after being criticized on the floor, said in part: "a white supremacist has attacked my wearing of my dashiki. Resistance and subversion to the status quo ought to make some people uncomfortable," according to the outlet.
Tennessee House Republicans said at the time House decorum rules were unanimously approved by House members, adding on Twitter: "If you don't like the rules, perhaps you should explore a different career opportunity that's main purpose is not creating them."
From The Epoch Times