SAN FRANCISCO—A reporter for The Epoch Times' sister media outlet NTD was attacked on the street while covering protests spotlighting human rights abuses in China during the Asia-Pacific Economic Cooperation (APEC) summit.
The incident unfolded on Nov. 15 near the intersection of Fourth and Market streets, a few blocks from the Moscone Center, where many APEC events were taking place. The attack, targeting NTD's Jason Blair, was captured on his phone.
In an interview with The Epoch Times on the evening of Nov. 15, Mr. Blair said a man, likely in his 20s, attacked him for recording a video as the man tried to disrupt a demonstration held by adherents of Falun Gong, a spiritual discipline involving meditative exercises and moral teachings that has been the target of a brutal persecution campaign in China since 1999.
With Chinese Communist Party leader Xi Jinping in the city for the APEC summit, the adherents—who were among a number of groups that were holding protests near the event venue that day—were there to raise awareness of the regime's 24-year persecution against their faith.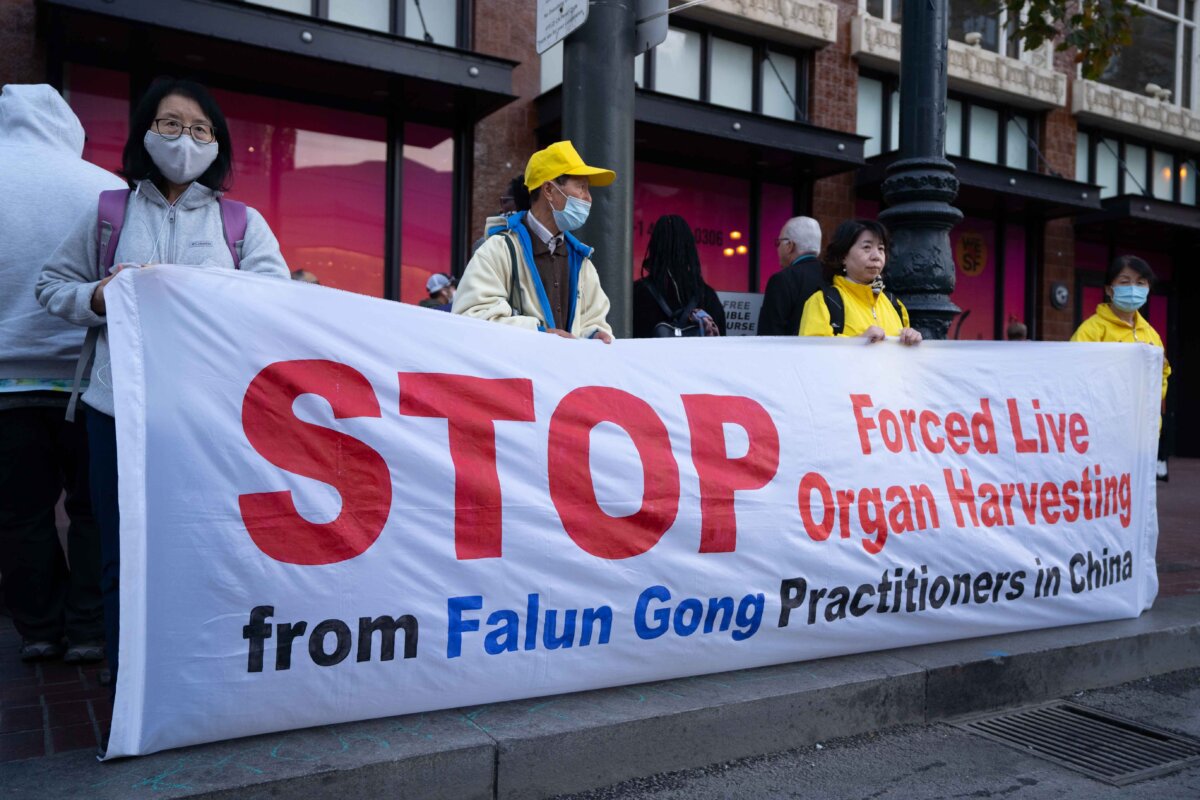 The man first kicked over an audio speaker belonging to the Falun Gong practitioners, Mr. Blair said, and batteries from the speaker fell out. Soon after, Mr. Blair started filming the man, who walked up to a banner and "tried to rip it down," Mr. Blair said.
As soon as the man realized that the NTD reporter was filming him, he turned to face him and made eye contact, the video footage shows.
The man then took a swing at Mr. Blair with his right hand while holding a metal-looking device.
"He got my arm and hand. He was aiming for my phone, very forceful swing. He mostly hit my arm. My phone fumbled but didn't drop," Mr. Blair said.
A plainclothes officer nearby then restrained the man.
The whole incident was "pretty intense," said Mr. Blair, because of "how fast" things were happening, and he wasn't sure what the man would do next. Nevertheless, he said he wasn't scared at all.
"I used to do combat sports like MMA [mixed martial arts] and Thai boxing. So I was totally not afraid," he said. "I was pretty calm the whole time."
'How Can They Be So Brazen?'
While the man's identity and his motivation are unknown, Mr. Blair didn't think the assailant was "just some random homeless, crazy guy."
The man carried a "very hateful energy" and seemed to have a target in mind, he said.
The Nov. 15 attack on the human rights demonstration and the reporter followed a number of similar incidents elsewhere targeting the faith group and other critics of the communist regime, incidents that analysts believe are part of Beijing's transnational repression campaign. In April, the Department of Justice charged 40 members of China's national police with crimes related to a coordinated campaign of targeted harassment of U.S. residents.
In the Flushing neighborhood of New York in February 2022, an ethnic Chinese man with tattoos on his arms and chest attacked information stands that sought to shed light on the CCP's persecution of Falun Gong.
Earlier this year, a 77-year-old man named Qi Zhongping was arrested after allegedly assaulting a Falun Gong practitioner who volunteers at an information booth in Flushing.
The Nov. 15 attack wasn't the only incident in which critics of the regime were targeted during the summit. A day earlier, petitioner Jia Junwei from northern China's Heilongjiang Province was beaten by communist-flag-waving, pro-CCP demonstrators while protesting outside San Francisco's St. Regis hotel, where Mr. Xi is staying during his trip.
Ms. Jia told Radio Free Asia that she fell to the ground after some pro-CCP demonstrators pulled her hair. "Then they kicked me hard in the head. While I was still lying on the ground, some beat me with their flag poles," she said.
Ms. Jia is seeking justice for her deceased father, Jia Ruifeng, a victim of the regime's land expropriations who died in Chinese detention in 2017 after repeatedly trying to seek redress over the forced demolition of his factory.
Ge Kaiying, a 61-year-old activist from Shanghai who had held banners alongside Ms. Jia, said the pro-CCP demonstrators recognized and surrounded her when she came close to the intersection where they gathered.
One woman stepped on her toe and then hit her in the head as another person took her luggage, only giving it back when she threatened to call the police.
"They are definitely agents for the Chinese government," Ms. Ge told The Epoch Times. "I've never offended them in any way. Why else would they hit me?
"They are on American soil. How can they be so brazen?"
From The Epoch Times