Sen. Catherine Cortez Masto (D-Nev.) is projected to beat Republican Adam Laxalt in the race for the seat Masto holds after election officials in Nevada on Nov. 12 reported the latest results from vote counting.
The Associated Press, Decision Desk HQ, and other outlets called the race on Saturday following a tally update, which saw Laxalt's lead of about 850 votes turn into a 5,000 vote lead for the incumbent.
"Thank you, Nevada!" Cortez Masto, 58, said in a statement.
Laxalt, 44, has not yet conceded. Earlier on Saturday, he said that for multiple days, ballots were breaking for Cortez Masto at higher margins than his team had calculated, which "has narrowed our victory window" and left the race up to the 20,000 to 30,000 ballots that were dropped off on election day in Clark County.
"If they are GOP precincts or slightly DEM leaning, then we can still win. If they continue to trend heavy DEM, then she will overtake us," he said. "Thanks for all the prayers from millions of Nevadans and Americans who hope we can still take back the Senate and start taking our country back."
In the latest update, Laxalt gained about 8,150 votes. Cortez Masto gained about 14,100.
Per state law, Nevada officials continued accepting mail-in ballots through Saturday evening, as long as they were postmarked on or before the day of the election. Voters have also been able to "cure" their ballots, or fix issues, and can continue to do so until Monday night.
Thousands of ballots were cured this week, Clark County Registrar of Voters Joe Gloria told reporters during a briefing before the latest results were posted. He also continued defending the county's delayed reporting, which primarily consisted of mail-in ballots that were received days before. People "have been working long hours," he said, calling it "a tough job."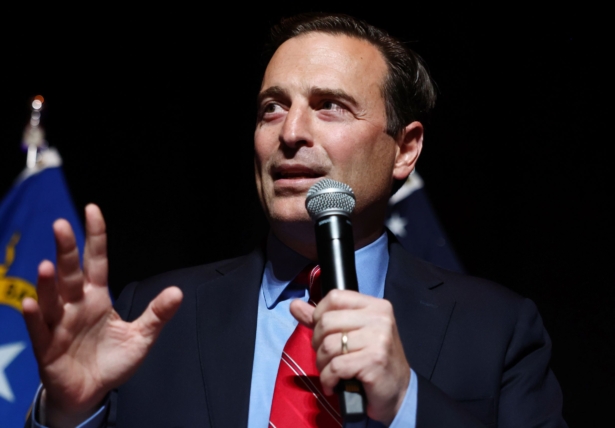 Republicans Won't Flip Senate
Laxalt's defeat ends Republican hopes of flipping the Senate.
Republicans widely believed they'd flip at least one seat in the midterms to deliver a Senate majority. Sen. Rick Scott (R-Fla.), chairman of the National Republican Senatorial Committee, said recently that the GOP could secure as many as 55 seats because "people are fed up with the Biden agenda."
But the GOP has failed to flip a single seat, and lost the one held by retiring Sen. Pat Toomey (R-Pa.) to Pennsylvania Lt. Gov. John Fetterman.
Fetterman, a Democrat, beat GOP candidate Dr. Mehmet Oz.
Former NFL player Herschel Walker could end up unseating Sen. Raphael Warnock (D-Ga.) in next month's runoff in Georgia. But even if Walker wins, that leaves Republicans where they were before the election—the minority party in a 50-50 Senate, due to Democrats holding the White House.
From The Epoch Times