Senate Minority Leader Mitch McConnell (R-Ky.) has called out China, Iran, and Russia as the new "axis of evil" nations that pose growing threats to the United States.
"You have to respond to conditions that actually exist that are a threat to the United States. The Iranians are a threat to us as well. And so this is an emergency. It's an emergency that we step up and deal with this axis of evil—China, Russia, Iran—because it's an immediate threat to the United States," he said in an appearance on "Fox News Sunday."
"So, in many ways, the world is more endangered today than it has been in my lifetime."
On Oct. 7, Hamas terrorists launched a surprise attack against Israel. Mr. McConnell immediately issued a statement criticizing the violence while alleging that the terrorists were "trained and equipped by Iran." Days later, the Kentucky senator urged the Biden administration and U.S. allies to impose new sanctions against Tehran.
"So the question is, is America going to lead?" he said. "I think the Biden administration sent a wrong signal when they had the disastrous withdrawal from Afghanistan. I think that was like giving a green light to [Russian President Vladimir] Putin to go into Ukraine.
"And we see … Iran, the principal sponsor of terrorism, sending drones to the Russians and attacking—Hezbollah and this particular situation, Hamas—attacking the Israelis with drones. So it's all connected, that you can't separate out one part of it and say, 'Oh, we're only going to deal with this.' It's all connected."
Last week, Cheng Chin-mo, an expert in Russia and international relationships at Taiwan's Tamkang University, told The Epoch Times in an interview that a new "axis of evil" has formed. According to Mr. Cheng, the new alliance consists of the Kremlin, the Chinese Communist Party (CCP), North Korea, and Iran.
Mr. Cheng came to such a conclusion based on public comments made by Chinese leader Xi Jinping and Mr. Putin, the latter having traveled to China to participate in a forum commemorating the 10th anniversary of Mr. Xi's flagship project known as the Belt and Road Initiative. At one point, the two leaders referred to each other as "old" and "dear" friends.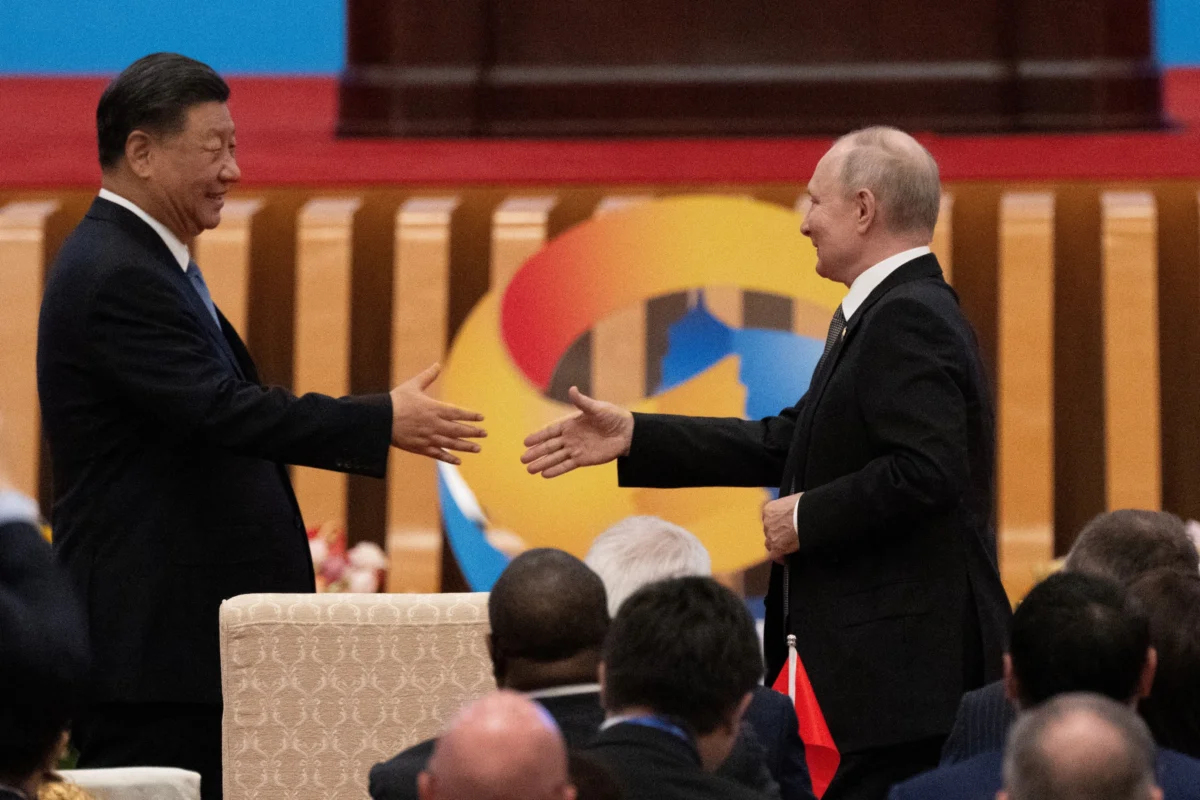 Following Hamas's Oct. 7 attack, the relationship between Tehran and the CCP has also come under scrutiny. A 2012 paper noted the close working relationship between the two sides, in areas such as trans-shipment to avoid U.S. sanctions and advanced weaponry.
The United States has sanctioned Chinese entities for helping Iran develop its ballistic missile and drone programs and for getting involved in Iran's petrochemical and petroleum trade. Last month, the U.S. Justice Department announced that it had seized nearly 1 million barrels of Iranian oil allegedly en route to China in April.
"It's an overall effort by Chinese or Russians, the Iranians to go after the free world. And the Israelis are feeling the pinch at the moment more than anyone else, and we need to stick with them," Mr. McConnell said.
"The Chinese made no reference to Israeli problems. They just talked about the Hamas. We know which side they're on. And we need to view this as a worldwide problem."
In a separate interview with CBS's "Face the Nation" on Oct. 22, he also mentioned the new "axis of evil," this time including North Korea.
"There's an axis of evil in the world: China, Russia, North Korea, and Iran," Mr. Mconnell said. "And we need to stand up to the axis of evil, not try to do business with them."
From The Epoch Times