The Senate, in a rare weekend session, voted 51-48 on Sunday along party lines to limit the debate on Judge Amy Coney Barrett's Supreme Court nomination.
The move sets up Barrett to be confirmed as soon as Monday, Oct. 26, handing President Donald Trump a decisive victory ahead of Election Day.
Democrats, meanwhile, now cannot hold a filibuster of her nomination this week. The vote limited debates over Trump's nominee to just 30 hours, which means the upper chamber can vote as soon as 7 p.m. Monday.
Senate Democrats on Twitter again voiced their opposition prior to voting against moving forward with Barrett's confirmation. She was nominated by Trump last month following Justice Ruth Bader Ginsburg's death.
All Democrats are expected to vote against Barrett's nomination, and on Sunday, Sens. Lisa Murkowski (R-Alaska) and Susan Collins (R-Maine), voted with Democrats to oppose Sunday's procedural vote. Murkowski over the weekend, however, signaled that she would vote to nominate Barrett after expressing skepticism, while Collins said she would not.
Collins has said she would not vote for Barrett, citing that it's too close to the Nov. 3 election.
"I believe that the only way to put us back on the path of appropriate consideration of judicial nominees is to evaluate Judge Barrett as we would want to be judged—on the merits of her qualifications," Murkowski said on the Senate floor Saturday, announcing she won't vote during the procedural vote. "And we do that when that final question comes before us. And when it does, I will be a yes."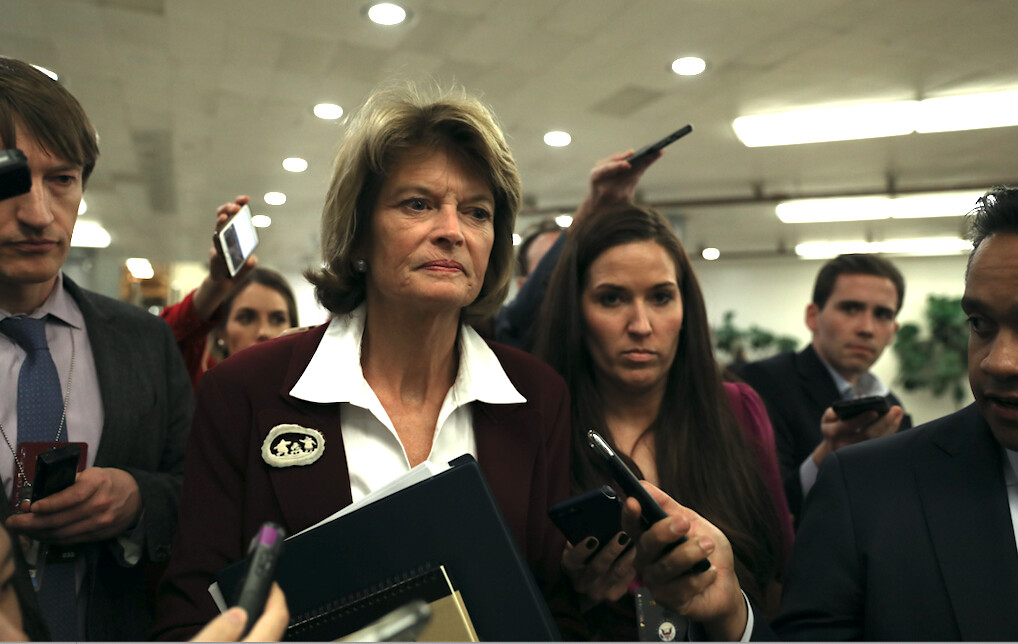 Sen. Joe Manchin (D-W.Va.), considered a moderate Democrat, said over the weekend that he would vote against Barrett's confirmation.
Republicans only need 51 votes to confirm a new justice, meaning that with a 53-member majority, the GOP can afford to lose up to three Republicans with Vice President Mike Pence able to cast the tie-breaking vote if a 50-50 split occurs. Pence's vote isn't expected to be required as Sen. Mitt Romney (R-Utah) has repeatedly said he would confirm Barrett.
Democrats have voiced opposition to Barrett's confirmation because they believe she would imperil former President Barack Obama's signature Affordable Health Act, known as Obamacare, when the Supreme Court convenes to rule on the landmark health care law in mid-November.
They have also accused Republicans of hypocrisy for moving to confirm a justice so close to an election, saying that when Justice Antonin Scalia died in 2016, the GOP-controlled Senate refused to vote on Obama's choice, Judge Merrick Garland, to replace him.
And last week, when the Senate Judiciary Committee voted on Oct. 22 to advance Barrett's nomination to the full chamber, Democratic senators boycotted the vote. Instead, they opted to place pictures of people who rely on Obamacare in their seats.
Trump has already successfully nominated two other justices, Brett Kavanaugh and Neil Gorsuch. If Barrett is confirmed, it would give conservatives a 6-3 advantage in the high court.
With few other options available, some Democrats in Congress have threatened to "pack the court" with presumably liberal justices if Barrett is confirmed. Democratic presidential nominee Joe Biden last week said he would form a bipartisan commission on court-packing, which is a term used to describe expanding the Supreme Court with more justices, and court reform.
From The Epoch Times