Senate lawmakers narrowly passed a Republican-led bill on Nov. 8 that would reverse the Biden administration's decision allowing it to waive some of the "Buy America" requirements for electric vehicle (EV) charging stations purchased using taxpayer dollars.
The Congressional Review Act (CRA) joint resolution, known as S.J. Res. 38, was introduced by Sens. Marco Rubio (R-Fla.), Roger Marshall (R-Kan.), Rick Scott (R-Fla.), and Kevin Cramer (R-N.D.) earlier this year.
The resolution, which passed in a vote of 50 to 48 on Tuesday, now heads to the U.S. House of Representatives.
The measure overturns a rule agreed to by the Federal Highway Administration (FHA) in February allowing temporary waivers on some domestic content requirements for federally funded electric vehicle charging stations.
Congress has set aside $7.5 billion to fund electric vehicle charging stations as part of the Biden administration's push toward green energy.
Under President Joe Biden's 2021 Bipartisan Infrastructure Law, federal infrastructure projects such as EV chargers are required to obtain at least 55 percent of their components including iron and steel, from domestic sources.
They must also be totally manufactured in the United States by 2024.
However, the FHA adopted the new rules in February following concerns among U.S. companies that increased global demand for EV chargers and supply chain issues were making it harder to meet the made-in-America standards.
The new rules mean the 55 percent requirement will not go into effect until July 2024.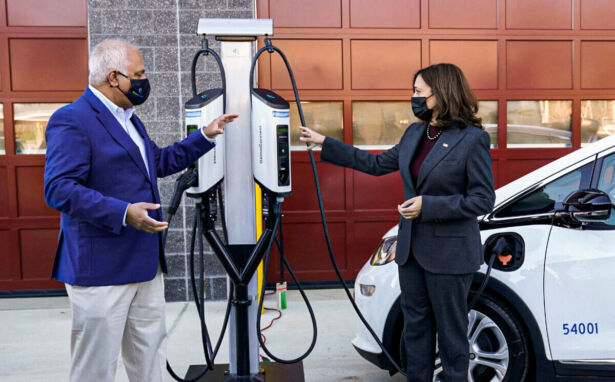 Concerns Over China
At the time the FHA granted the short-term waivers, the agency said it would enable "EV charger acquisition and installation to immediately proceed."
Republican lawmakers, however, raised concerns that the waiver would in turn make America more dependent on supply chains controlled by foreign adversaries, such as the Chinese Communist Party, and lead to American taxpayers' dollars being spent on Chinese companies making EV charging stations.
In a speech from the Senate floor prior to Wednesday's vote, Mr. Rubio said, "I think it's especially important when we're spending taxpayer dollars on propping up an industry that it have strong provisions that do so."
Mr. Rubio noted that President Biden's trillion-dollar Bipartisan Infrastructure Law earmarked $5 billion of American taxpayer funds to build EV charging stations in the United States.
"In that bill are very specific 'Buy American' requirements that those funds may be used only so that all the iron, the steel, the manufactured products, the construction materials that are used are produced in the United States. It's very simple. It's pretty straightforward. That's what the law reads," he continued. Now we are facing, under this waiver they're requesting, the real prospect that significant portions of the $5 billion that are going to go to electric vehicle charging stations are going to be spent on Chinese companies. Taxpayer dollars."
Mr. Rubio went on to question whether or not the federal government is "serious" when it comes to restoring America's industrial capabilities.
"The bottom line is this: If we're going to spend $5 billion of taxpayer money to build electric vehicle charging stations for the United States, it should be made by Americans in America using American products," the senator added.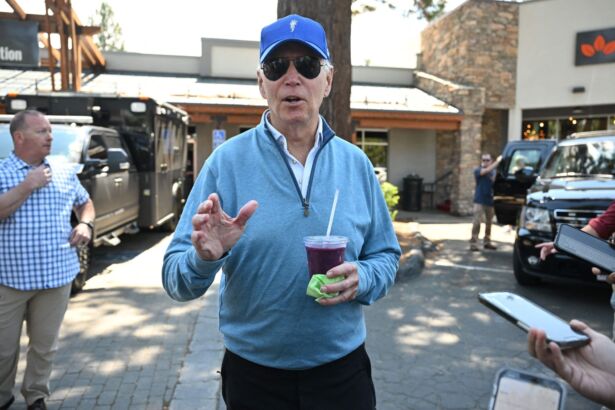 Biden to Veto Resolution
Separately, Mr. Cramer welcomed Tuesday's vote, which he said holds the Biden administration to its own standards.
"Somehow their electric-at-any-cost agenda supersedes their desire to support American producers and manufacturers. They haven't even attempted to explain their double standard," the lawmaker said.
The White House on Wednesday vowed to veto the resolution, arguing that it would instead hurt domestic manufacturing and American jobs.
If enacted, the resolution would also overturn the FHA decision to impose Buy America rules on EV chargers, the administration said.
This in turn would result in the 1983 Reagan administration decision to exempt manufactured products from Buy America requirements to apply again, meaning EV chargers would not be covered by any Buy America requirements, officials said.
The resolution would "weaken Buy America requirements by reverting to FHA's general waiver for manufactured products, allowing federal dollars – including $7.5 billion from the Bipartisan Infrastructure Law – to be spent on chargers made in competitor nations like the People's Republic of China," the White House said in a statement.
Additionally, the resolution, if enacted, would "undermine the hundreds of millions of dollars that the private sector has already invested in domestic EV charging manufacturing, and chill further domestic investment in this critical market."
"If the President were presented with S.J. Res. 38, he would veto it," the White House said.
Reuters contributed to this report.
From The Epoch Times