Senate Republicans on Nov. 16 reelected Senate Republican Leader Mitch McConnell (R-Ky.) as the top GOP senator, rejecting a challenge from Sen. Rick Scott (R-Fla.).
McConnell easily swatted back the challenge from Scott in the first-ever attempt to oust him after 15 years as GOP leader.
The vote was 37–10, senators said, with one senator voting present. Sen. Ben Sasse (R-Neb.) missed the vote.
"I'm not going anywhere," McConnell, 80, said after the vote.
Sen. Josh Hawley (R-Mo.) was one of the 10 who voted for Scott and against McConnell.
"Why do I think he won? Because the conference didn't want to change course," Hawley said.
The vote came after a majority of the caucus voted against a motion from Sen. Ted Cruz (R-Texas) to delay the election. Cruz, among others, had said the looming Georgia Senate runoff was one reason to push back the vote.
Scott, 69, was head of the National Republican Senatorial Committee for the midterms, and a former governor of Florida.
Scott had said he was challenging McConnell to better respond to voters' desire for a concrete plan if Republicans return to a majority in the upper chamber, asserting that McConnell has failed to provide such a plan and "elicits attacks" on those who do.
Scott had urged senators content with "the status quo" not to support him.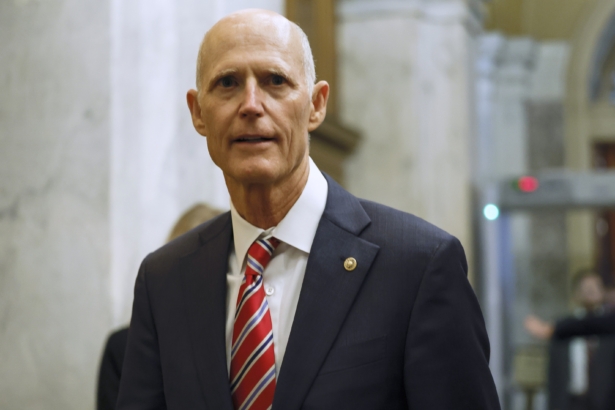 Disagreements
Scott and McConnell earlier this year clashed over a plan Scott unveiled that called for a modest tax increase for many of the lowest-paid Americans, while opening the door for cutting Social Security and Medicare. McConnell swiftly repudiated the plan even as he declined to offer an agenda of his own.
Scott and McConnell traded what colleagues said were "candid" and "lively" barbs during a lengthy private GOP senators' lunch the day before the vote that lasted several hours. They sparred over the midterms, the quality of the GOP candidates who ran, and their differences over fundraising.
McConnell said this week that the quality of the candidates in several states, including Arizona and New Hampshire, caused independent voters not to support Republicans.
Scott has castigated Senate Republicans like McConnell who spoke ill about Republican candidates ahead of the midterms.
During Wednesday's vote, some 20 senators made their individual cases for the two men. Some members directly challenged Scott in McConnell's defense, including Sen. Susan Collins (R-Maine), who questioned the Florida senator's management of the campaign arm, according to a person familiar with the meeting and granted anonymity to discuss it.
Scott and McConnell have been among those blamed for Republicans' poor performance in the midterms, which saw the GOP lose a Pennsylvania seat and fail to flip the Senate.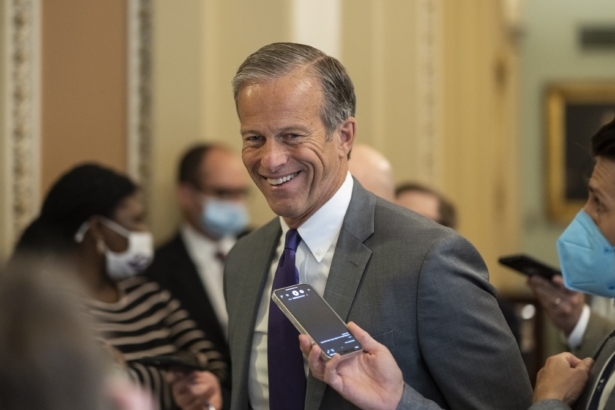 Other Positions
Sen. John Thune (R-S.D.), 61, was reelected as the GOP whip.
Sen. John Barrasso (R-Wyo.), 70, was reelected as the Senate GOP conference chair.
Sen. Joni Ernst (R-Iowa), 52, is shifting from vice chair of the conference to chairman of the Republican Policy Committee, replacing retiring Rep. Roy Blunt (R-Mo.).
Sen. Shelley Moore Capito (R-W.Va.), 68, is replacing Ernst.
Sen. Steve Daines (R-Mont.), 60, is replacing Scott, and will head the Senate campaign arm for the 2024 election.
"This team up here will be working on the priorities I think are important for the American people—that's their economic security, energy security, national security," Thune said.
Daines said his top goal is to "secure a strong, sustainable, lasting majority for Republicans in 2024."
In the House GOP elections, held earlier this week, House Republican Leader Kevin McCarthy (R-Calif.) was chosen as the GOP's speaker candidate, Minority Whip Steve Scalise (R-La.) was voted majority leader, and Rep. Tom Emmer (R-Minn.), chairman of the National Republican Congressional Committee, won the race for majority whip.
Joseph Lord and the Associated Press contributed to this report.
From The Epoch Times