A senior leader for the Hamas terrorist group has claimed that the bloody attack on Israel that killed more than 1,200 people was secretly strategized for two years, adding that only a handful of leaders knew the "zero hour" of the invasion.
Ali Barakeh, a member of Hamas's exiled leadership, told Russia Today in an interview translated by the Middle East Media Research Institute that Hamas deliberately refused to join the Palestinian Islamic Jihad in its fight against Israel for the last few years because it wanted to make Israelis believe it was busy "governing" the Gaza Strip.
"In the past couple of years, Hamas has adopted a 'rational' approach. It did not go into any war, and did not join the Islamic Jihad in its recent battle," Mr. Barakeh said. "We made [Israel] think that Hamas was busy with governing Gaza and that it wanted to focus on the 2.5 million Palestinians [in Gaza], and has abandoned the resistance altogether."
"All the while, under the table, Hamas was preparing for this big attack," he said, further pointing out that the "zero hour" of Hamas's destructive bombardment and ground assault on Israel was kept "completely secret."
"A limited number of Hamas leaders knew it," he added. "The number of people who knew about the attack and its timing could be counted on one hand. In order to keep the attack secret and successful, the different factions and our allies did not know the zero hour."
Mr. Barakeh also disclosed that one of the reasons American citizens are being held hostage in Gaza is because there are Palestinian prisoners sentenced to life in the United States.
"We demand that the U.S. free our sons from prisons," he said. "The U.S. conducts prisoner swaps. Only recently, it did one with Iran. Why wouldn't it conduct a prisoner swap with us?"
The U.S. Department of State confirmed on Wednesday that at least 22 Americans have been killed and 17 more remain unaccounted for, a smaller figure compared to Tuesday's announcement when national security adviser Jake Sullivan told reporters there are "20 or more Americans" unaccounted for.
Mr. Sullivan noted that the conditions of those who are missing are unclear, as he underscored that Americans who currently remain unaccounted for are not necessarily all taken as hostages.
Conflicting Messages
Within half an hour of launching its onslaught against Israeli citizens on Oct. 7, which began around 6:30 a.m. local time, Hamas contacted "all the Palestinian resistance factions," Mr. Barakeh said.
He went on to claim that they also held a meeting with the Hezbollah terrorist group and Iran at 9 a.m. on the day of the attack and notified "anyone who contacted us." He listed "allies" who were contacted as Turkey and Russia.
Turkish President Recep Tayyip Erdogan discussed the Israel-Hamas conflict with Russian President Vladimir Putin in a phone call on Tuesday, with the Kremlin saying the focus was on an immediate ceasefire and a resumption of talks.
A Kremlin statement deplored the "catastrophic rise in the deaths among civilians." It said the conflict could only be resolved on the basis of a "two-state" plan, with the creation of a Palestinian state with East Jerusalem as its capital, while the Turks said Ankara would maintain its efforts to ensure calm in the region.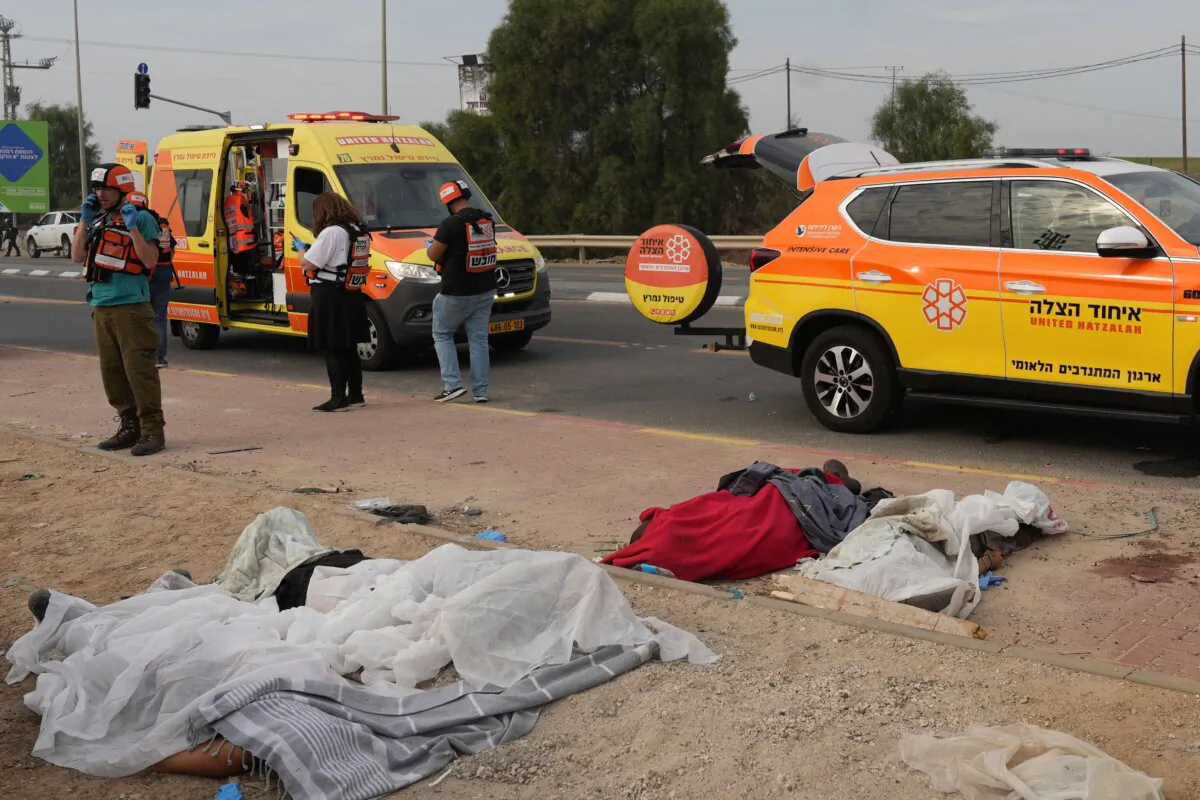 Meanwhile, Iran's mission to the United Nations has denied any direct involvement in the attack, saying the Islamic regime stands in "unflinching support of Palestine," but the attack was "solely by Palestine itself."
Ghazi Hamad, a Hamas spokesperson, told the BBC that the terrorist group received support from Iran to plan its unprecedented surprise attack on Israel, contradicting Tehran's comments.
Mr. Hamad also claimed that other countries and organizations conspired in the attack, but he failed to provide any names. He indicated that the violence was a response to attacks on Muslims by Jewish settlers in the West Bank.
Israel has long accused Iran's clerical rulers of stoking violence by supplying arms to Hamas. Tehran, which does not recognize Israel, says it gives moral and financial support to the designated terrorist group, which controls the Gaza Strip.
Meanwhile, the U.S. government says it still lacks sufficient evidence to link Iran to the attack, according to Mr. Sullivan, who said during a White House news conference on Oct. 10 that the U.S. is in contact with Israeli counterparts "on a daily basis about this question."
"But as I stand here today, while Iran plays this broad role—sustained, deep, and dark role—in providing all of this support and capabilities to Hamas, in terms of this particular gruesome attack … we don't currently have that information. We will continue to look for it. And if we find it, we will share that with you," he said.
Reuters contributed to this report.