Taxpayers in New York City face sharp cuts to services—including education and policing—because the city has to find ways to fill a massive budget gap due to expenses from the illegal immigration crisis.
New York City Mayor Eric Adams on Thursday released a financial plan update for the fiscal year 2024, including a cost-cutting scheme called the "program to eliminate the gap" or PEG that balances the budget at the expense of services—including slashing the number of cops to their lowest level since the 1990s.
Mr. Adams, a former New York Police Department (NYPD) captain who was elected on the promise of making city streets safer, said in a video address that the costs of the illegal immigration crisis have put a "great strain" on the city's budget and that the time has come for serious belt-tightening.
"For months, you've heard me talk about the fiscal challenges our city is facing as the costs of the asylum seeker humanitarian crisis have skyrocketed," he said, adding that the city budget faces added pressure as COVID-19 stimulus funding is sunsetting.
New York City has already spent $1.45 billion on the illegal immigration crisis in fiscal year 2023 and unless it gets federal and state aid, it's set to spend nearly $11 billion on the crisis over the next two years.
With the law demanding a balanced budget, Mr. Adams said "hard choices" have been made to cut services to keep the fiscal year 2024 budget of $110.5 billion balanced.
"While we pulled it off this time, make no mistake: Migrant costs are going up, tax revenue growth is slowing, and COVID stimulus funding is drying up," Mr. Adams said in a statement.
"No city should be left to handle a national humanitarian crisis largely on its own, and without the significant and timely support we need from Washington, D.C., today's budget will be only the beginning."
In order to meet the skyrocketing costs of the illegal immigration crisis, the city has added $6.2 billion over the fiscal years 2024 and 2025, bringing the total funds budgeted for the needs of the immigration crisis over two fiscal years to a whopping $10.8 billion.
The Cuts
Overall, the city has implemented a 5 percent across-the-board cut affecting every city agency, with the spending reductions in the PEG amounting to $3.7 billion over two fiscal years.
The cuts are, by most accounts, rather drastic. Most of New York City's public libraries will no longer stay open on Sundays, the city's universal pre-kindergarten program is being squeezed, and sanitation services will suffer.
"This is the most painful exercise I've ever done in my professional life," Mr. Adams said during a town hall for older adults on Thursday.
But it's perhaps in the area of public safety that the cuts will be most painful.
Mr. Adams' budget director said at a briefing Thursday that the next five classes at the police academy will be canceled and that the number of law enforcement officers will drop from 33,541 to roughly 29,000.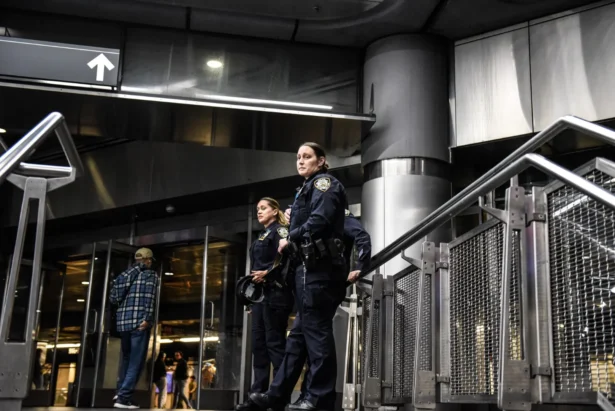 Police Benevolent Association President Patrick Hendry expressed shock and dismay at the deep cuts to policing, saying that they would wreck decades of progress on public safety.
"This is truly a disaster for every New Yorker who cares about safe streets. Cops are already stretched to our breaking point, and these cuts will return us to staffing levels we haven't seen since the crime epidemic of the '80s and '90s," Mr. Hendry said in a statement.
"We cannot go back there. We need every level of government to work together to find a way to support police officers and protect New York City's thirty years of public safety progress," he added.
The Department of Sanitation is facing a $5.5 million cut, leading to fewer sidewalk trash bins and less street cleaning.
The United Federation of Teachers said that around 43 percent of the school system—or 653 schools—would face budget cuts.
"I've never seen a mayor saying we're doing cuts when the revenue is up. We're past the revenue projections, taxes are coming in, they're making a fortune off of speed cameras," Michael Mulgrew, president of the teachers union, told CBS in an interview. "I've never seen this situation, ever, in my entire time in this job."
The cuts come as roughly 143,000 illegal immigrants have come to New York City since the spring of 2022, with over 65,000 still in the city's shelters.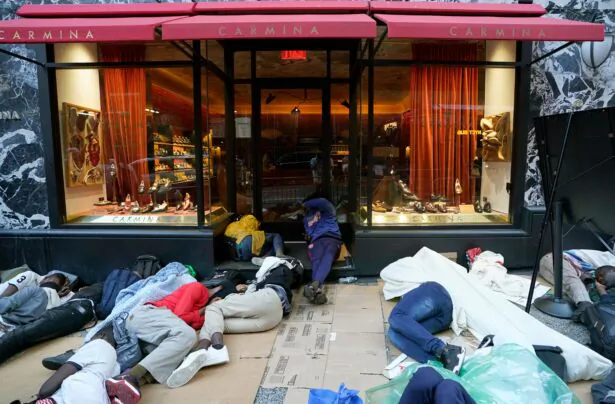 State authorities in Texas and other parts of the country most acutely suffering the burden of illegal border-crossers have been sending them to sanctuary cities such as New York.
Mr. Adams has been warning for months about the need for painful cuts due to the illegal immigration crisis, while publicly blaming President Joe Biden for not offering enough federal help.
Republicans have blamed President Biden for the border crisis, arguing that his "open borders" policies were encouraging people to enter the country illegally, regardless of public statements made by members of his administration that people should only use legal means to come to America.
From The Epoch Times