PERTH, Australia—More than 5,000 years of imperial Chinese history celebrated through Shen Yun Performing Arts received a very warm welcome back to Perth, Western Australia, on Feb. 19.
The first Shen Yun performance for the year at the city's Regal Theatre introduced the divine culture of China through dance, music and 3-D animated art. The classical Chinese dances told deep and profound legends from the time of kings and emperors, originally inspired by the divine and spanning thousands of years.
The venue also has its own connection to royalty, with the theater being named in honor of King George VI who ascended to the Britain's royal throne more than 80 years ago. A royal crown is prominently displayed above the entrance.
People from many walks of life who watched the performance and were amazed by the heart and soul of the performers.
Mining media publisher Jamie Wade said he felt very exhilarated after watching New York-based Shen Yun's authentic classical Chinese dances.
"It is quite a spectacle, you certainly feel a buzz, it is very engaging and there is lots to look at and lots of color and vibrancy, so it's very compelling," Wade said as he chuckled.
"[If you would like to] gain a little bit of an insight into traditional Chinese culture, which is something you would probably not see in China funnily enough, then come along and see the performance—it is highly recommended."
He found the dancing to be incredible and entertaining, while the bilingual emceeing in both Chinese and English throughout the show was informative and helped put China's long history and traditions into context for a wide audience.
Wade also interpreted an important message through the dance about the importance of protecting human rights, especially in China where many spiritual practices are being persecuted right now.
"I have heard stories and know of the persecution of Falun Gong (or Falun Dafa) followers in China. It is probably far greater than I had known about," he said. "It is great to be entertained but I think there is a serious message behind the performance as well … it is quite a compassionate message."
Nursing Lecturer Tracy Teale found the show to be very fun and educational way to learn more about Chinese history.
"It is a very beautiful experience [with] great stories that perhaps need to be told and it is a privilege to be here," she said with a big grin on her face. "Great dances, amazing choreography, amazing music, great orchestra and [a] lovely, colorful show."
Teale could clearly see the long history of China through the show's creative use of storytelling and expression through the dancers.
"They are obviously very deep-set [traditions in China] and it is all new to me, so it has been quite enlightening," she said.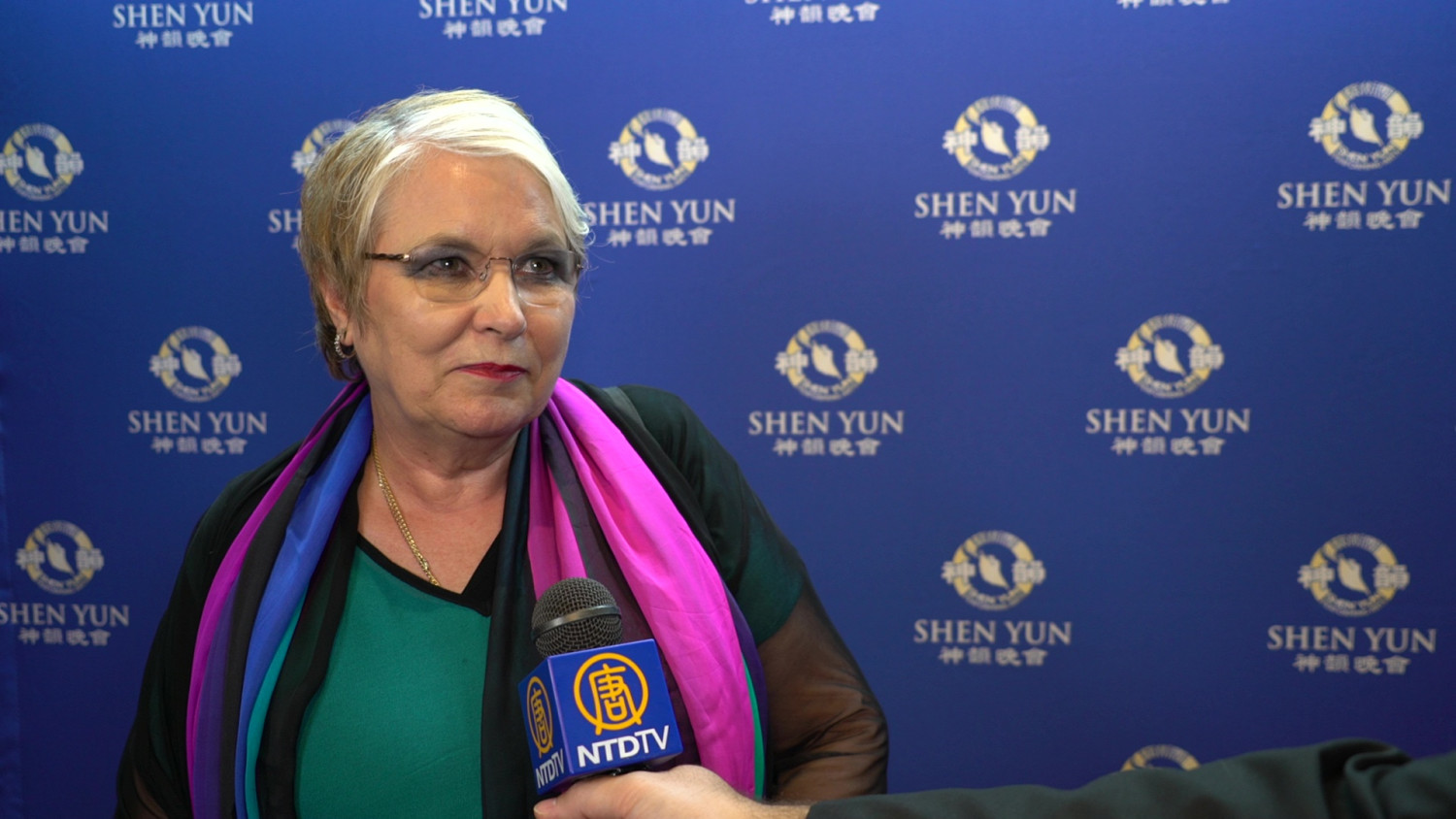 Belmont Business Enterprise Centre CEO Carol Hanlon has visited China many times and rearranged her home to attract a better Feng Shui balance. She loved Shen Yun's more tranquil theme compared to the "gusto" of modern opera in Mainland China.
"The messages of good spirits, living a good life, and being kind to others—I thought the messages in the presentation tonight were very good, and something that the world needs to live by," she said. "Consumerism has taken over. People need to get back to the basics and to take care of others more … sharing your skills and talents is what people in the world must do to make it a better place."
Hanlon described the show as a uniquely visual spectacle.
She said it was something of "movement and fluid and I just thought it was very special," she said. "A visual experience, something not to be missed."
Commercial Legal Secretary Teresa Haddow was pleasantly surprised to find the stories told through the performances were entertaining, enjoyable, and even a bit exhilarating.
"[It] wasn't something that I was quite expecting," she said. "I thought everybody looked beautiful on stage, you could see the craft of what they do … my daughter thoroughly enjoyed it right through and stayed awake for the whole performance, which was fabulous, and she's only 7, turning 8."
Haddow was completely taken away by the elegance of the performers and encouraged others to watch Shen Yun and experience their heart and soul first-hand.
"They were so structured and they were so on point, I thought it was fabulous," she said. "It was uplifting in many ways. In a way she [the soloist] had a lot of passion right up to the end, which was beautiful. Go and enjoy the experience, you'll never regret it and you'll never forget it."
With reporting by Richard Szabo.
NTD Television considers Shen Yun Performing Arts the significant cultural event of our time and has covered audience reactions since the company's inception in 2006.