President Joe Biden issued a statement late Saturday after he signed into law a stopgap measure to avert a government shutdown, saying, "we should never have been in this position in the first place."
Congress alone has the authority to approve government spending via annual appropriations bills. Twelve such bills are needed for each key federal department. Without renewed authorization, the spending power ends on Sept. 30, the close of the government's fiscal year.
Lawmakers had until Sept. 30 to pass either all 12 appropriations bills or a continuing resolution (CR). If they failed to do either, all nonessential government operations would have been suspended on Oct. 1.
"Tonight, bipartisan majorities in the House and Senate voted to keep the government open, preventing an unnecessary crisis that would have inflicted needless pain on millions of hardworking Americans," the president said in a statement on Saturday.
Before it reached President Biden's desk, the GOP-controlled House voted 335–91, with more Democrats than Republicans supporting the CR—H.R. 5860.  The Democrat-controlled Senate later approved the bill in an 88–9 bipartisan vote.
The CR signed by President Biden on Saturday extends government funding at the current rate for 45 days—until Nov. 17—while 2024 budget negotiations play out.
The CR also includes aid for natural disasters and a reauthorization of Federal Aviation Administration (FAA) funding through fiscal year 2028.
'Should Never Have Been in This Position'
If no deal had been in place before Sunday, federal workers would have faced furloughs, more than 2 million active-duty and reserve military troops would have had to work without pay, and various programs and services that Americans rely on would have begun to face shutdown disruptions.
The stopgap bill ends the threat of such disruptions for now, but lawmakers now have just six weeks to finalize the appropriations bills.
"This bill ensures that active-duty troops will continue to get paid, travelers will be spared airport delays, millions of women and children will continue to have access to vital nutrition assistance, and so much more. This is good news for the American people," President Biden said, adding: "But I want to be clear: we should never have been in this position in the first place."
"Just a few months ago, [House Speaker Kevin McCarthy (R-Calif.)] and I reached a budget agreement to avoid precisely this type of manufactured crisis," the president said. He added that "extreme House Republicans" have, for weeks, "tried to walk away from that deal by demanding drastic cuts that would have been devastating for millions of Americans," but failed.
McCarthy-Biden Deal
In June, following a prolonged impasse, Mr. McCarthy and President Biden had reached an agreement to suspend the nation's $31.4 trillion borrowing cap and keep spending levels relatively flat through Jan. 1, 2025.
The deal, officially called the "Fiscal Responsibility Act," (pdf) had set a limit of $1.59 trillion in discretionary spending in fiscal 2024. House Republicans are demanding a further $120 billion in cuts.
The deal put Mr. McCarthy at odds with more fiscally conservative Republicans, including lawmakers from the House Freedom Caucus, who said it would add $4 trillion to the national debt.
These fiscally conservative Republicans had spoken out against passing a CR, arguing that a temporary government shutdown should be leveraged to benefit Republican priorities. They believe that any CR would inevitably lead to additional delays in creating a full-year spending plan, which would result in the necessity of a last-minute catchall bill presented for an up-or-down vote—with no time to debate or offer amendments.
A total of 21 more fiscally conservative Republicans had, on Friday, joined Democrats in blocking a CR preferred by other Republicans.
That stopgap bill extended funding for only 31 days, but it contained 8 percent in cuts to non-defense discretionary spending, and a package of immigration and border restrictions.
But the 21 GOP holdouts insisted that their party should instead focus on completing the appropriations process, even if that meant a temporary suspension of non-essential government services.
The CR passed on Saturday includes neither spending cuts nor border security measures.
"Would I have wanted the bill we put on the floor yesterday that would secure our border and cut wasteful spending? Yes, I did," Mr. McCarthy told reporters shortly after the House vote on Saturday. "But I had some members in our own conference that wouldn't vote for that.
"At the end of the day, we kept the government open, kept paying our troops to finish the job we have to get done," he added.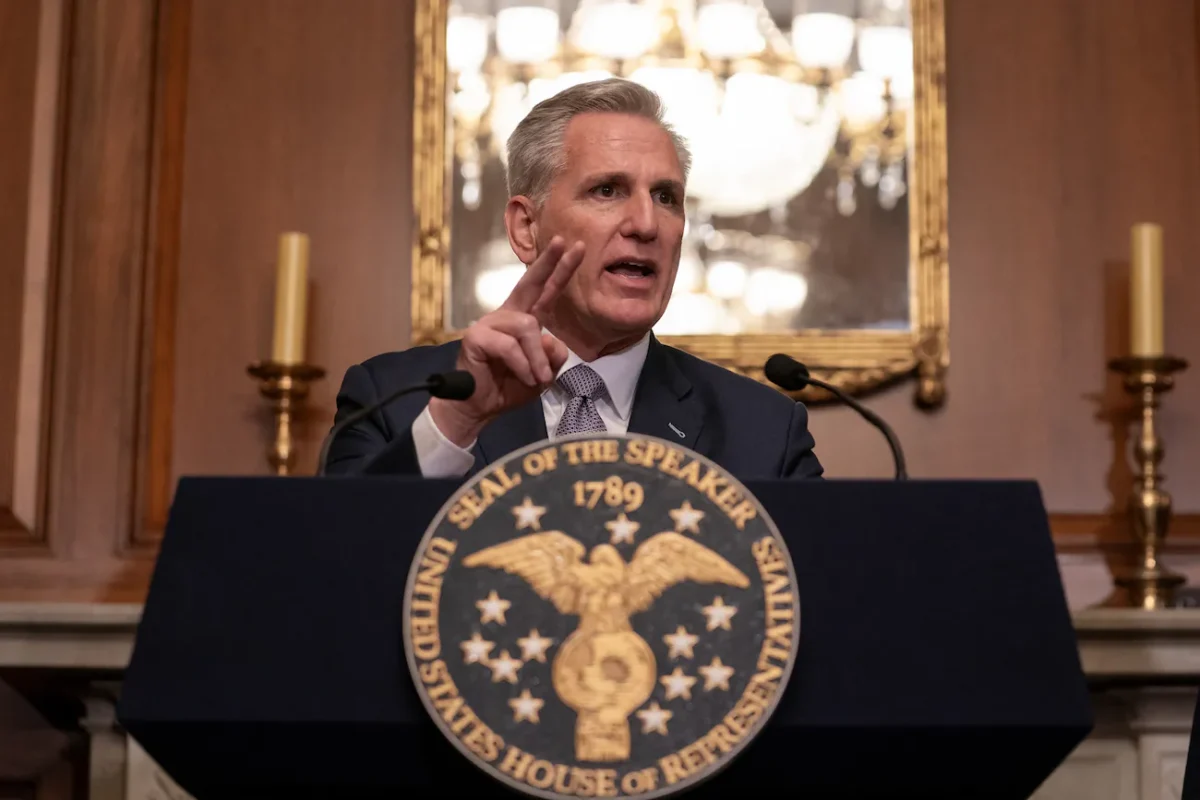 Mr. McCarthy had delayed bringing any CR to the House until Friday, hoping to convince holdouts that the House would continue working diligently on passing conservative appropriations bills.
On Thursday, 27 members of the House Freedom Caucus wrote Mr. McCarthy a letter asking for "basic information and a clear plan … on the path forward to pass appropriations." In a statement, the House Freedom Caucus explained that "Members need answers to these reasonable questions before even considering a stop-gap funding measure."
The House has so far passed four of the 12 required appropriations bills, representing about 70 percent of federal discretionary spending. The Senate has passed no appropriations bills.
Ukraine Funding
President Biden noted in his statement on Saturday that there is no new funding for Ukraine in the CR he signed on Saturday.
"While the [House] Speaker and the overwhelming majority of Congress have been steadfast in their support for Ukraine, there is no new funding in this agreement to continue that support," the president said. He added that the United States "cannot under any circumstance allow American support for Ukraine to be interrupted," and that he expected that Mr. McCarthy to "keep his commitment to the people of Ukraine and secure passage of the support needed to help Ukraine at this critical moment."
The lack of extra funding for the Ukraine war effort in the House version of the stopgap bill threatened its passage through Congress, but senators ultimately decided that financial assistance for Ukraine could be addressed in separate legislation.
Lawrence Wilson, Samantha Flom, and The Associated Press contributed to this report.
From The Epoch Times