Spam snatching has become such a problem in Hawaii that some shop owners are having to keep it under lock and key.
The meat—that is particularly popular on the island—is being increasingly targetted for the black market.
Several reports of Spam thefts have been springing up in the country.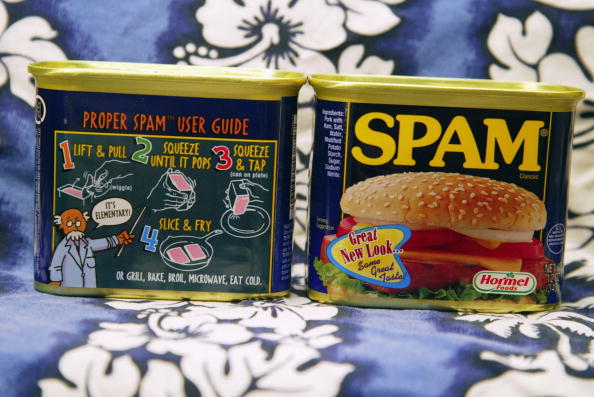 In early October, at a mall in downtown Honolulu, a man (and his apparent accomplice) allegedly grabbed a can of spam, then punched a security guard who tried to stop him. The Honolulu Police Department is offering a $1,000 reward for the man.
In September, three women attempted to steal 18 cases of spam at a store in Ewa Beach.
"When I was in the cereal aisle in the corner of my eye I saw a wagon full of Spam," eyewitness Kurt Fevella said to KITV.
"I didn't say anything. I just stood by the door and the person that was trying to steal all the Spam just pushed the wagon and said 'Here!'" he said.
The news outlet reported that the women didn't end up stealing the Spam, but did escape with other products.
About a week earlier, one customer was behind a man who stole eight cases of Spam from a Safeway store in Waimalu, Honolulu.
"That's when I thought, 'Okay, this isn't real. No, he's not going to take it, no, no. Next thing I knew once he passed the register, that's when I heard the intercom management to the front and it was really fast," Arlene Sua told KHON 2.
Executive Director of Retail Merchants of Hawaii Tina Yamaki told KITV that the stolen products are usually resold out of the back of people's cars. She said a thief typically tried to distract the security guard while the other thief runs off with the items.
It's not just Spam they're after. Other commonly stolen items include clothing, electronics, high-end liquor, and tobacco.
But spam is a staple food for Hawaiians, and they even have an annual Spam festival, called the Waikiki Spam Jam, where they celebrate the canned meat.
"People take Spam. We have to keep it locked up. We have to keep a lot of things locked up in this store," said Glenn Cabe, shift leader for a Walgreens store in the Kalihi district in Honolulu, per the Honolulu Civil Beat.
The store has a sign above a locked case of Spam that reads, "Items electronically monitored for theft."
Darlene Kauhi, manager of Tamura's Market in the town of Hau'ula also has to keep canned meat secure from thieves, per the news website.
"It's crazy. Just crazy. We have to keep corned beef up front at the customer service counter because people steal cases of corned beef. And they also steal Spam," he said.
From The Epoch Times