LOS ANGELES—House Speaker Kevin McCarthy met with Taiwanese President Tsai Ing-wen in California on April 5, in a rejection of saber-rattling by the Chinese communist regime.
McCarthy (R-Calif.) and a bipartisan congressional delegation welcomed Tsai at the Ronald Reagan Presidential Library in Simi Valley.
At the start of a meeting, McCarthy called Tsai "a great friend to America."
"I am optimistic we will continue to find ways for the people of America and Taiwan to work together to promote economic freedom, democracy, peace, and stability," he added.
The speaker later highlighted the democratic values that underlie ties between the United States and Taiwan.
"I believe our bond is stronger now than at any time in my lifetime," he said.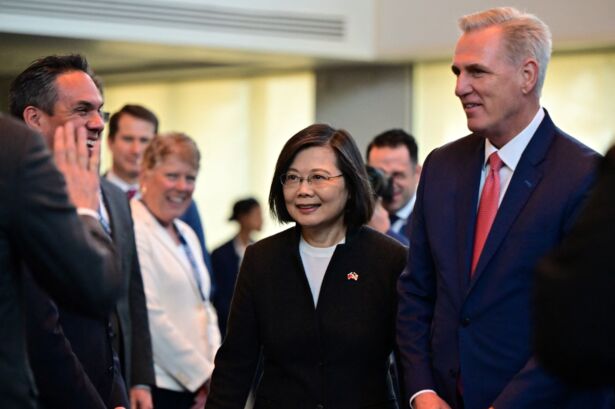 Tsai, in her remarks, alluded to the threat posed by communist China, saying, "We once again find ourselves in a world where democracy is under threat, and the urgency of keeping the beacon of freedom shining cannot be understated."
The Taiwanese president thanked Congress for its bipartisan support for Taiwan toward "enhancing Taiwan's self-defense capabilities, fostering robust trade and economic ties … and supporting Taiwan's meaningful participation in the international community."
"Taiwan is grateful to have the United States of America by our side as we confront the unique challenges of our time," she said.
After the meeting, McCarthy said it was clear that three actions were necessary. "First, we must continue the arms sales to Taiwan and make sure such sales reached Taiwan on a timely basis.
"Second, we must strengthen our economic cooperation, particularly with trade and technology. Third, we must continue to promote our shared values on the world stage."
Supporters waving Taiwan flags and pro-Taiwan and Hong Kong banners chanted "Jiayou Taiwan"—the equivalent of "Go Taiwan"—in the Reagan Library parking lot ahead of Tsai and McCarthy's arrival for the highest-level meeting for a Taiwanese president on U.S. soil since Washington switched diplomatic recognition to Beijing from Taipei in 1979.
#Taiwan President @Iingwen arrives for her historic meeting with House @SpeakerMcCarthy at Ronald Reagan Presidential Library in California's Simi Valley.

Both pro-Taiwan and pro-CCP protesters showed up for the arrival. pic.twitter.com/zczjncf5Gx

— The Epoch Times (@EpochTimes) April 5, 2023
Bipartisanship
Members of the delegation, speaking at a post-meeting press conference, highlighted that supporting Taiwan was a bipartisan focus of Congress.
Rep. Pete Aguilar (D-Calif.) chair of the House Democratic Caucus, said he told Tsai that "House Democrats will never abandon this relationship and will work hand in glove with the Biden administration to affirm our commitment because we understand the unique and vital role that Taiwan plays in the region."
Alluding to Chinese threats, Rep. Mike Gallagher (R-Wis.), chair of the House China Select Committee, said the bipartisan delegation intended to "send a simple message—And that is, we are not afraid."
"We support our friends in Taiwan," he said. "We're going to keep saying that whenever we have the opportunity, and we're going to turn those words into action … because Taiwan is a small, very bright candle burning at the edge of a vast authoritarian darkness."
CCP Threats
The historic meeting came amid escalating threats and military harassment of Taiwan by the Chinese Communist Party (CCP).
On the eve of the meeting, the Chinese Embassy sent a threatening email to members of the delegation, warning them to cancel the event.
"China will not sit idly by in the face of a blatant provocation and will most likely take necessary and resolute actions in response to the unwanted situation," the email read.
U.S. Secretary of State Antony Blinken said there was nothing new about a Taiwanese president transiting through the United States and Beijing shouldn't use that as an excuse to take action or ratchet up tensions.
Earlier in the day, Taiwan's Defense Ministry reported that a Chinese aircraft carrier group was in the waters off the island's southeast coast. A day earlier, the Chinese regime sent 20 Chinese aircraft and three naval vessels near the island, and nine aircraft crossed the Taiwan Strait, entering the island's Air Defense Identification Zone.
In response, Taiwan has deployed aircraft, navy vessels, and land-based missile systems to monitor the Chinese military's activities.
The CCP has vowed to respond with "resolute measures" over the McCarthy–Tsai meeting, according to Chinese Foreign Ministry spokeswoman Mao Ning.
Taiwan's Foreign Ministry dismissed Mao's statements as "increasingly absurd," stating Taiwan wouldn't back down in the face of China's authoritarian government and intimidation tactics.
In August 2022, the CCP staged a military show of force around Taiwan after then-U.S. House Speaker Nancy Pelosi (D-Calif.) visited Taipei, the island's capital.
John Kirby, spokesman for the U.S. National Security Council, told reporters on April 3 that Beijing's rhetoric was expected, but that "there's no reason for the Chinese to overreact."
Taiwan's Diplomacy
Tsai's U.S. stopover visits to Los Angeles and New York bookended her meetings with allies in Latin America over the past few days to strengthen Taiwan's foreign relations there.
Last week, Honduras became the latest county to cave to CCP pressure and break diplomatic ties with Taiwan. Nicaragua, El Salvador, the Dominican Republic, Panama, and Costa Rica also have switched diplomatic recognition to China from Taiwan in recent years. China is believed to have offered loans and heavy investments to some of those countries in exchange for their allegiance.
Meanwhile, European nations such as the United Kingdom, the Czech Republic, and Lithuania have aligned with the United States, Canada, and Australia in deepening their ties to Taiwan.
The Chinese regime views the island as part of its territory and has vowed to eventually unify Taiwan with the Chinese mainland, using military force if necessary. Taiwan, which has its own constitution, democratically elected leaders, media, currency, and military, says that Beijing's recent criticism has become increasingly "absurd."
While the United States doesn't have formal diplomatic links with Taiwan, it maintains robust ties under the Taiwan Relations Act, under which Washington is bound to supply Taipei with the means to defend itself from a CCP attack.
The California meeting was the first on U.S. soil between a U.S. House speaker and a Taiwanese leader, and Tsai's seventh transit of the United States since she took office in 2016.
Reuters contributed to this report. 
From The Epoch Times