UK Home Secretary Suella Braverman has been sacked by Prime Minister Rishi Sunak after she criticised the police's handling of recent pro-Palestinian protests in a newspaper article which Downing Street had not authorised.
She has been replaced by James Cleverly, the former foreign secretary, whose old job has been given to former Prime Minister David Cameron, who will be given a peerage.
Ms. Braverman's departure is expected to be part of a wider cabinet reshuffle which Mr. Sunak is carrying out as he gets ready for a general election campaign, which he could be ready to launch next spring, or, more likely, in the autumn.
Ms. Braverman, who has become the darling of the Conservative Party's right wing, said, "It has been the greatest privilege of my life to serve as home secretary."
"I will have more to say in due course," she added, opening the way for her to become a powerful critic of the prime minister on the backbenches.
Downing Street said Mr. Sunak wants to, "strengthen his team in government to deliver long-term decisions for a brighter future."
Dramatic Political Comeback for Cameron
Cleverly, seen as a safe pair of hands, has moved to the Home Office and Mr. Cameron is making a remarkable political comeback.
Mr. Cameron, who is now 57, resigned as prime minister after the Brexit referendum and resigned as MP for Witney in Oxfordshire.
Mr. Sunak took part in the Remembrance Sunday services but was already plotting to get rid of Mrs. Braverman, whose outspokenness in recent weeks has embarrassed the PM.
She branded pro-Palestinian protesters as "hate marchers" and then accused the Met of bias for allowing Saturday's protest to go ahead despite it being on Armistice Day.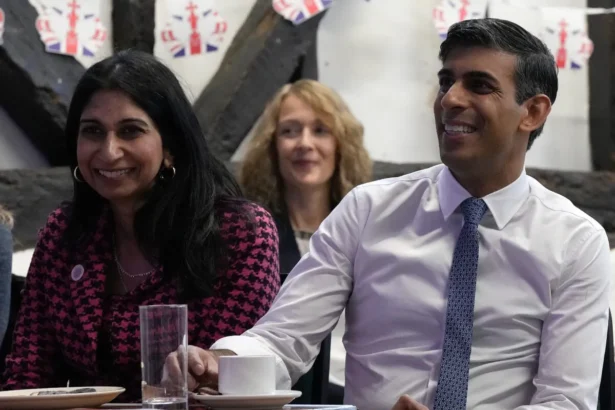 Her inflammatory rhetoric has been criticised by some for stoking up tensions and encouraging hundreds of self-styled "patriots" to turn up on Saturday, supposedly in order to protect the Cenotaph. In the event, they just ended up clashing with the police.
Defence Minister James Heappey was being interviewed on ITV "Good Morning Britain" and had been defending Mrs. Braverman when she was sacked.
An uncomfortable Mr. Heappey said,  "Your viewers will be enjoying my discomfort, but it is in this case difficult to offer commentary when I just don't know what is going on."
Ms. Braverman was originally appointed Home Secretary by Liz Truss, replacing Priti Patel, but she resigned within a month after it emerged she had leaked confidential Cabinet papers to backbencher Sir John Hayes.
An investigation found she had sent confidential documents to her personal email address.
Returned to Home Office After 6 Days
She was replaced by Grant Shapps but returned to the home secretary job only six days later after Ms. Truss was forced out as prime minister and replaced by Mr. Sunak.
But in the past 12 months, she has been prone to say things which have backfired on her.
In Oct. 2022, she was criticised by human rights groups after she told a fringe event at the Conservative Party conference it was her "dream" to deport people to Rwanda.
Later that month, a few days after a man threw firebombs at a migrant processing centre in Dover, she described the number of asylum seekers crossing the English Channel as an "invasion."
In May 2023 Mr. Sunak was urged to sack her after there were claims she had breached the ministerial code by asking civil servants to arrange a private driving awareness course for her after she was caught speeding in 2022.
Mr. Sunak chose not to sack her but admitted, "a better course of action could have been taken to avoid giving rise to the perception of impropriety."
Earlier this month, she triggered outrage from several charities when she said homelessness was often a "lifestyle choice" and suggested banning the sale of tents.
PA Media contributed to this content.
From The Epoch Times