A suspect in the killings of four University of Idaho students was arrested in eastern Pennsylvania, according to arrest papers that were filed Friday.
Arrest paperwork filed in Monroe County Court said Bryan Christopher Kohberger, 28, was being held for extradition to Idaho on a warrant for first degree murder, authorities told The Associated Press and other news outlets. The arrest papers were filed by Pennsylvania State Police in Monroe County Court, and the Moscow Police Department and Latah County Prosecutor's Office in Idaho.
Numerous unnamed law enforcement sources confirmed to AP, NBC News, ABC News, Fox News, and local outlets on Friday that Kohberger was arrested.
A Ph.D. student by the same name is listed in the Department of Criminal Justice and Criminology at Washington State University, which is a short drive across the state line from the University of Idaho. Messages seeking more information were left for officials at WSU.
The victims—identified as Kaylee Goncalves, Madison Mogen, Xana Kernodle, and Ethan Chapin—were stabbed to death at a rental home near the campus on Nov. 13. Investigators were not able to find a murder weapon or a suspect for weeks, triggering widespread online speculation.
Goncalves, 21, of Rathdrum, Idaho; Mogen, 21, of Coeur d'Alene, Idaho; Kernodle, 20, of Post Falls, Idaho; and Chapin, 20, of Mount Vernon, Washington, were members of the university's Greek system and close friends. Mogen, Goncalves, and Kernodle lived in the three-story rental home with two other roommates. Kernodle and Chapin were dating and he was visiting the house that night.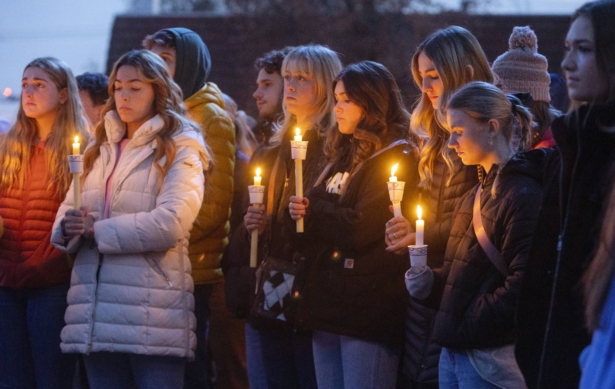 Officials have said that the four victims were asleep when the attack unfolded, although some had defensive wounds.
Latah County Coroner Cathy Mabbutt described the murders as an ambush and said that the slayings may have been "personal" as each victims was stabbed a number of times. "It has to be somebody that's pretty angry in order to stab four people to death," she said in mid-November.
Earlier this week, Moscow police chief James Fry released a video saying that a house where the four victims lived was being handed over to a team to remove biohazards such as blood and forensic chemicals.
"We've received a lot more tips here recently and we're continuing to investigate and follow up on those," Fry said in a video published Thursday. "We want to thank the community for all of their help and and thank all the people across the nation for all the help they have given us."
Previously, officials asked anyone with information about the murders to call 208-883-7180 or email tipline@ci.moscow.id.us.
The Associated Press contributed to this report.
From The Epoch Times