LAS VEGAS—A self-described gangster who police and prosecutors say masterminded the 1996 shooting death of Tupac Shakur in Las Vegas made his first court appearance Wednesday on a murder charge.
Duane "Keffe D" Davis, 60, stood shackled, wearing a dark-blue jail uniform and plastic orange slippers. He was scheduled to be arraigned on the charge Wednesday, but the hearing was cut short after he asked Clark County District Judge Tierra Jones to postpone the hearing while he retains counsel in Las Vegas.
Mr. Davis was arrested last Friday near his home in suburban Henderson. A few hours later, a grand jury indictment was unsealed in Clark County District Court charging him with murder. Mr. Davis denied a request from the AP for an interview from jail where he's being held without bond.
Grand jurors also voted to add sentencing enhancements for the use of a deadly weapon and alleged gang activity. If Mr. Davis is convicted, that could add decades to his sentence. In Nevada, a person can be convicted of murder for helping another person commit the crime.
Los Angeles-based attorney Edi Faal told the AP in a brief phone call after the hearing that he is Mr. Davis' longtime personal lawyer and is helping him find a Nevada attorney.
"I have worked with him for more than two decades," Mr. Faal said. "But at this point I do not have a comment."
Mr. Davis had been a long-known suspect in the case, and publicly admitted his role in the killing in interviews ahead of his 2019 tell-all memoir, "Compton Street Legend."
"There's one thing that's for sure when living that gangster lifestyle," he wrote. "You already know that the stuff you put out is going to come back; you never know how or when, but there's never a doubt that it's coming."
Mr. Davis' own comments revived the police investigation that led to the indictment, police and prosecutors said. In mid-July, Las Vegas police raided Davis' home, drawing renewed attention to one of hip-hop music's most enduring mysteries.
Prosecutors allege Shakur's killing stemmed from a rivalry and competition for dominance in a musical genre that, at the time, was dubbed "gangsta rap." It pitted East Coast members of a Bloods gang sect associated with rap music mogul Marion "Suge" Knight against West Coast members of a Crips sect that Mr. Davis has said he led in Compton, California.
Tension escalated in Las Vegas the night of Sept. 7, 1996, when a brawl broke out between Shakur and Mr. Davis' nephew, Orlando "Baby Lane" Anderson, at the MGM Grand hotel-casino following a heavyweight championship boxing match won by Mike Tyson.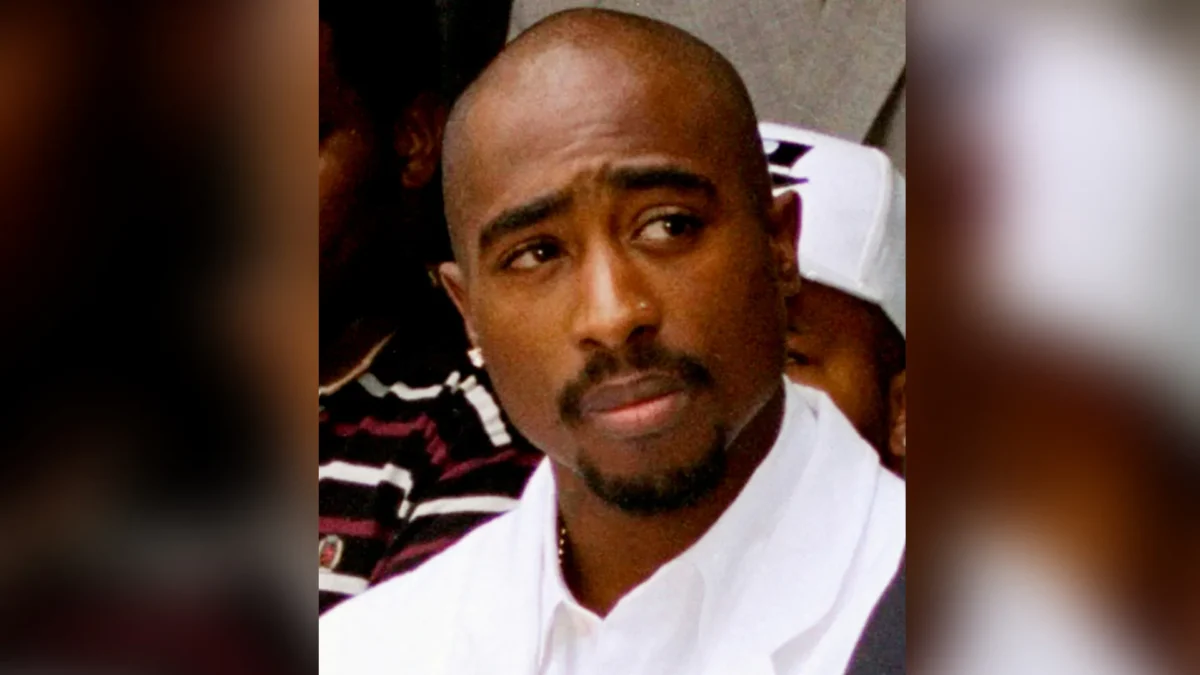 Mr. Knight and Shakur went to the fight, as did members of the South Side Crips, prosecutor Marc DiGiacomo said last week in court. "And [Knight] brought his entourage, which involved Mob Piru gang members."
After the casino brawl, Mr. Knight drove a BMW with Shakur in the front passenger seat. The car was stopped at a red light near the Las Vegas Strip when a white Cadillac pulled up on the passenger side and gunfire erupted.
Mr. Davis has said he was in the front passenger seat of the Cadillac and handed a .40-caliber handgun to his nephew in the back seat, from which he said the shots were fired.
Shot multiple times, Shakur died a week later at age 25. Mr. Knight was grazed by a bullet fragment but survived. Now 58, he is serving a 28-year prison sentence for running over and killing a Compton businessman outside a burger stand in January 2015.
Among the four people in the Cadillac that night, Mr. Davis is the only one who is still alive. Anderson died in a May 1998 shooting in Compton. Before his death, Anderson denied involvement in Shakur's death. The other backseat passenger, DeAndre "Big Dre" or "Freaky" Smith, died in 2004. The driver, Terrence "Bubble Up" Brown, died in a 2015 shooting in Compton.
Sheriff Kevin McMahill, who oversees the Las Vegas Metropolitan Police Department, has acknowledged criticism that his agency was slow to investigate Shakur's killing.
"That was simply not the case," Mr. McMahill said. He called the investigation "important to this police department."
By Rio Yamat and Ken Ritter