Chinese authorities imposed an extremely strict lockdown when most COVID-19 patients had mild or no symptoms but all of a sudden, they removed all the restrictions as the pandemic shifted into a rapid and severe phase.
Hospitals in large cities like Beijiing and Wuhan have filled up. What Chinese people are calling "white lung" syndrome has been observed in a large number of infected people.
Questions are being asked about whether this is a new COVID-19 variant, is the original strain coming back, or something else.
'White Lung'
"White Lung" has recently become the most searched phrase on China's Internet, and many CT images showing "white lungs" are circulating on the nation's social media.
The white lung syndrome refers to the alveoli in the lungs being filled with exudative or inflammatory cells that block the passage of rays of a CT scan or X-ray and thus show up as white areas, explained Dr. Dong Yuhong, chief scientific officer and co-founder of a Swiss biotech company and a former senior medical scientific expert for antiviral drug development at Novartis Pharma in Switzerland.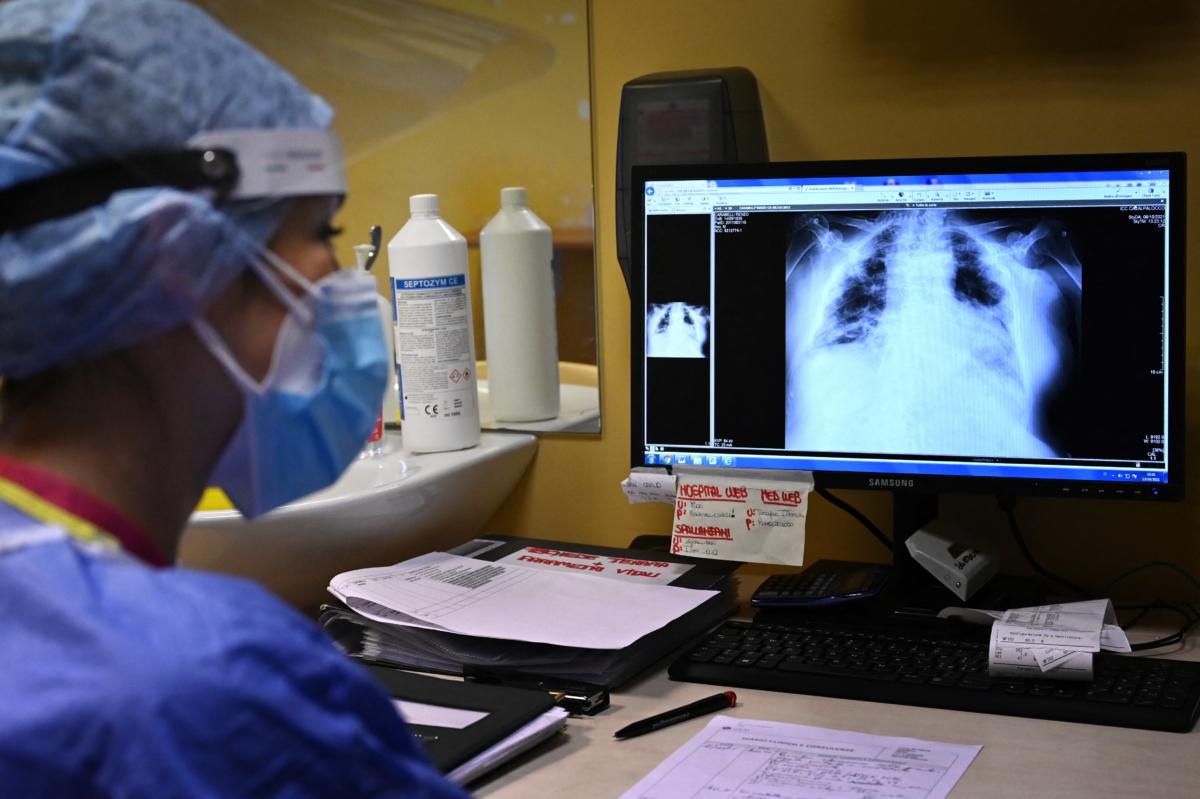 Fan Deng, a former CCTV host, shared about his father's case on Chinese language social media. Before his father was taken to the hospital, everything seemed normal—no fever, no soreness, and his appetite was also good. "He was just a little drowsy," Fan said. It was because Fan noticed that his father's blood oxygen level was only 88 percent—lower than the normal range of 95–100 percent—that he decided to take his father to a hospital on Dec. 20.
A CT scan revealed that Fan's father had a "big white region" in the lungs, indicating a serious case of pneumonia. Three days later, Fan told his friends on WeChat that his father had passed away.
Lin Bin (pseudonym), a female resident in Beijing, told The Epoch Times on Dec. 30 that many elderly people who developed "white lungs" had no symptoms in early stages of the disease.
She had taken her father to Beijing's 301 Hospital for the treatment of pneumonia due to COVID-19 a few days earlier, and she said she was shocked upon entering the hospital.
"Beijing 301 Hospital is now overcrowded. The emergency room and intensive care unit (ICU) are full, and yellow bags of dead bodies can be seen in the corridors. All hospital beds in all departments are now being used to receive patients with lung infections, and a large number of elderly people have developed white lungs. Some of the elderly who had contracted the disease had almost no symptoms in the beginning, but later became drowsy and were sent to the hospital for examination. They were found to have already developed white lungs by then," Lin said.
"White lung" is not unique to the elderly. Many cases shared on Chinese social media revealed that some young people in their 20s, 30s, and 40s have also developed the symptom.
A social media blogger in Chongqing told The Epoch Times on Dec. 30 that a friend of his also developed white lung during a COVID-19 infection. "The symptom in the early stage was mild, and it was after he tested negative that he got a lung infection. The thing is, he had no fever, even coughing was very light."
Chinese state media Global Times reported on Dec. 29 that Zhou Zhou (a pseudonym), a 12-year-old boy from Wuhan, had a cough but did not go to a hospital immediately because his parents were worried about cross-infection from other patients. His coughing didn't ease up after a course of medicine over a week, and he began to vomit and experienced tightness in his chest.  His parents then took him to the hospital, and a CT scan showed that one side of his lung had become white. Luckily, Zhou Zhou was able to make a recovery.
The deputy director of the respiratory care unit of the Shanghai Pulmonary Hospital of Tongji University, Zhang Li, told Shanghai-based media The Paper that the mortality rate of patients with severe white lung is over 40 percent.
Mutated Strain or Reemergence of Wildtype?
The white lung phenomenon has led to various speculations about the virus strains that are causing it.
In the early months of the COVID-19 outbreak in Wuhan in 2020, social media users commented about "white lung" infections in Wuhan. Therefore, some people in China have asked if the original strain has reappeared.
Under public pressure, Jiao Yahui, director general of the Medical Department of the National Health Commission, told a press conference on Dec. 27 that the emergence of white lung has nothing to do with the original strain in Wuhan or vaccination, and that the prevailing strain in China is still Omicron. On the same day, local officials in Beijing and Wuhan also denied that the original strain reappeared among Chinese patients.
However, given the CCP's lies and lack of credibility, most social media users expressed their distrust of these official statements.
Worries About Deadlier Variants
Due to the huge population of newly infected people in China and reports of seriously ill patients overwhelming Chinese hospitals, many scientists have raised concerns about the possibility of a malignant variant of the virus re-emerging in China.
"There will certainly be more omicron subvariants developing in China in the coming days, weeks and months, but what the world must anticipate in order to recognize it early and take rapid action is a completely new variant of concern," Daniel Lucey, a fellow at the Infectious Diseases Society of America and professor at Dartmouth University's Geisel School of Medicine, told Bloomberg. "It could be more contagious, more deadly, or evade drugs, vaccines and detection from existing diagnostics."
Dr. Stuart Campbell Ray, an infectious disease expert at Johns Hopkins University, told The Associated Press that due to China's large population and limited immunity, the combination of the two factors "seems to be the setting in which we may see an explosion of a new variant." Ray compared the virus to a boxer that "learns to evade the skills that you have and adapt to get around those."
Many countries have reintroduced COVID-19 test requirements for all travellers arriving from China, including the United States, the United Kingdom, France, Italy, Japan, South Korea, India, and Taiwan.
North Korea, communist China's "little brother," has gone a step further, declaring on the website of its China's National Immigration Administration that, "Chinese citizens are temporarily banned from entry," and that all those who recently visited China, including North Korean citizens, must be placed under 30 days of quarantine and observation.
From The Epoch Times