Taiwan's military responded to a Chinese incursion early on Wednesday after detecting 19 military aircraft crossing the country's air defense identification zone (ADIZ) amid continued pressure by the Chinese Communist Party (CCP) against the self-governing island.
The country's Ministry of Defense said in a statement that a total of 25 Chinese warplanes and three naval vessels were tracked by 6 a.m. local time on March 1, noting that 19 of those planes crossed Taiwan's ADIZ, while the warships and remaining aircraft continued to operate around the Taiwan Strait.
"R.O.C. Armed Forces have monitored the situation and tasked [combat air patrol] aircraft, Navy vessels, and land-based missile systems to respond [sic] these activities," the ministry stated.
A map of the incursion released by the ministry shows the fighter jets had flown into the southwestern corner of the island nation's ADIZ, flying a similar path to when the Taiwanese military responded to another incursion in early January.
25 PLA aircraft and 3 PLAN vessels around Taiwan were detected by 6 a.m.(UTC+8) today. R.O.C. Armed Forces have monitored the situation and tasked CAP aircraft, Navy vessels, and land-based missile systems to respond these activities. pic.twitter.com/XsvnjS01Me

— 國防部 Ministry of National Defense, R.O.C. ?? (@MoNDefense) March 1, 2023
The CCP claims Taiwan is a breakaway province that must be united with mainland China and vows to use military force to achieve this goal. Taiwan has been a self-governing democracy since the Chinese civil war ended in 1949 and has never been controlled by the CCP.
The CCP regularly stages such incursions on a near-daily basis, part of what is termed "gray zone" tactics, aimed at intimidation and wearing down Taiwan's equipment, exhausting its personnel, and degrading public morale. This also includes cyberwarfare and disinformation campaigns, along with a relentless drive to deprive Taiwan of diplomatic allies.
Wednesday's "intimidation" by the CCP was relatively modest compared to other incursions. On Christmas Day, the communist regime sent 71 warplanes and seven ships toward the island in its largest show of force since U.S. House Speaker Nancy Pelosi (D-Calif.) visited Taiwan in August last year.
During China's National Day weekend in 2021, Beijing dispatched 149 military aircraft southwest of Taiwan in strike group formations, a move that was derided by the White House as "destabilizing" and "provocative."
As the CCP continues to pressure the self-governing island, nearly doubling the number of military incursions in 2022 compared to 2021, Taiwan has upgraded its fleet of F-16 fighter jets and ordered 66 additional U.S.-made aircraft, while also buying a range of other weaponry and extending its mandatory term of military service for all males from four months to one year.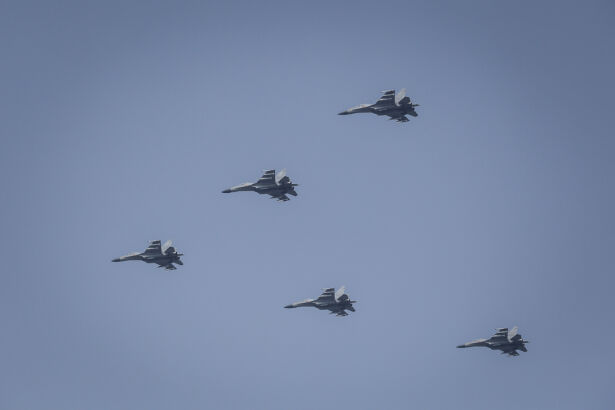 Relations between Beijing and Washington, Taiwan's primary ally and source of defensive weaponry, have spiraled over China's actions toward the island, trade, technology, and the South China Sea.
In memos and testimony, top U.S. officials have called for heightened preparations, saying the CCP sees a shrinking window for action and may move on Taiwan within a few years.
The CCP claims it prefers peaceful unification between the sides, but the Taiwanese public overwhelmingly favors the current state of de-facto independence.
Epoch Times reporter Aldgra Fredly and The Associated Press contributed to this report.