Taiwan's Defense Minister Chiu Kuo-cheng said Friday that China's recent military maneuvers around the island have been "abnormal" after Beijing sent a record-high 103 warplanes towards Taiwan this week.
In a recent update, Taiwan's military said that it spotted 32 Chinese warplanes and seven vessels near the island on Sept. 21, with 24 planes spotted entering the median line of the Taiwan Strait.
"Our enemy's recent movements are really quite abnormal," Mr. Chiu told reporters at parliament on Sept. 22.
"Our initial analysis is that they are doing joint drills in September, including land, sea, air, and amphibious," he added.
His comments followed the Defense Ministry's statement on Sept. 21 that it was monitoring the CCP's rocket forces' activities near Dacheng Bay in Fujian province. It is uncommon for Taiwan to disclose the location of Chinese military deployments.
The ministry also monitored the CCP's ground forces in the area and stated that it would coordinate the deployment of mission aircraft, ships, and shore-based missile systems to respond if needed.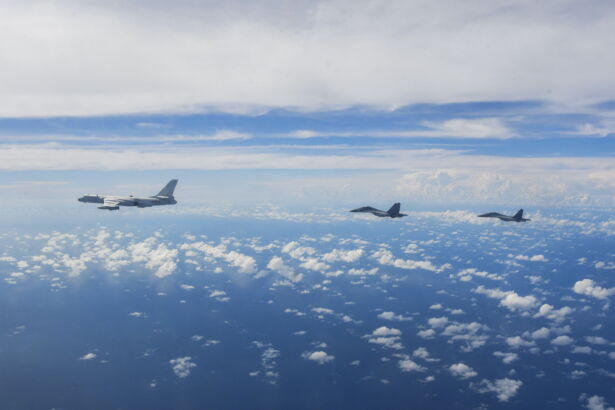 The ministry said the number of Chinese warplanes around Taiwan reached a "recent high" when the CCP sent 103 warplanes and nine vessels toward Taiwan within a 24-hour period on Sept. 17, with 40 aircraft spotted crossing the median line of the Taiwan Strait.
China Denies Existence of Median Line
Taiwan has urged Beijing to stop its "destructive unilateral actions" and warned that such actions could sharply increase tensions in the Taiwan Strait.
However, China's Foreign Ministry later declared that "there is no so-called median line in the Taiwan Strait."
Beijing has never formally recognized the unofficial line, which marks the halfway point between the Chinese and Taiwanese coastlines, although it has mostly acted in accordance with U.S. pressure not to cross the line, which was established during the Cold War in connection with the 1954 U.S.–Taiwan Mutual Defense Treaty.
The CCP regards Taiwan as a renegade province that must be united with mainland China by any means necessary, even as Taiwan has been a self-governing democracy since the Chinese Civil War ended in 1949 and has never been controlled by the CCP.
In August 2022, the CCP staged war games around the island after then-U.S. House Speaker Nancy Pelosi (D-Calif.) visited Taiwan, firing missiles over Taiwan and declaring no-fly zones along neighboring areas.
Beijing also staged a three-day military drill after Taiwanese President Tsai Ing-wen met with U.S. House Speaker Kevin McCarthy (R-Calif.) in California in April, sending 91 warplanes and 12 naval vessels toward the island on the final day of its drills.
Taiwan's Defense Ministry said in its annual report that these two major exercises by the Chinese military were focused on a blockade strategy against Taiwan, wherein the People's Liberation Army (PLA) sought to "encircle first and then attack."
"Based on its operational scenarios against Taiwan over the years, the PLA has been executing a variety of realistic operational training and exercises and is intended to use its cross-island chain long-distance flight and voyage activities to reinforce its potential operations against Taiwan and the capability to deny foreign forces' involvement," it says.
Ely Ratner, U.S. assistant secretary of defense for Indo-Pacific security affairs, told the House Armed Services Committee on Sept. 20 that China's blockade of Taiwan could prompt an international coalition to mobilize against the regime's actions.
"It would likely not succeed," he said. "It would be a huge risk of escalation for the PRC [People's Republic of China], where it would likely have to consider whether or not it was willing to ultimately start attacking commercial maritime vessels."
Eva Fu contributed to this report.
From The Epoch Times