Amid significant Taliban gains over the past week or so, which includes the capture of the second- and third-largest Afghan cities on Thursday, a top UK official has warned that the conflict could morph into a civil war.
"Britain found that out in the 1830s, that it is a country led by warlords and led by different provinces and tribes, and you end up, if you're not very careful in a civil war, and I think we are heading towards a civil war," Defence Secretary Ben Wallace told the BBC on Friday, referring to the British Empire's incursion in Afghanistan about 170 years ago that ultimately resulted in an Afghan victory.
"The Taliban," he added, "is not entirely a single entity" and "break down underneath the title into all sorts of different interests."
Fighters with the Taliban, a designated terrorist group, captured Kandahar—the second-largest city in Afghanistan—and Herat—the third-largest—on Thursday after taking numerous other cities and provincial capitals.
"The city looks like a front line, a ghost town," provincial council member Ghulam Habib Hashimi told Reuters, referring to Herat, which is located near the Iran-Afghanistan border. "Families have either left or are hiding in their homes."
Afghan Member of Parliament Gul Ahmad Kamin confirmed to CNN and other outlets that Kandahar fell to the terror group. The Taliban also confirmed the capture in a statement on Friday.
As in other areas, the Afghan army fled or surrendered to the Taliban, said Kamin.
Under the Taliban's 1996-2001 rule, women could not work, girls were not allowed to attend school and women had to cover their face and be accompanied by a male relative if they wanted to venture out of their homes. In early July, Taliban fighters ordered nine women to stop working in a bank.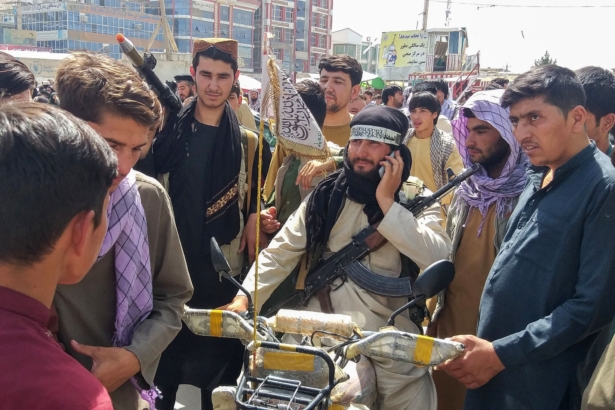 Of Afghanistan's major cities, the government still holds Mazar-i-Sharif in the north and Jalalabad, near the Pakistani border in the east, in addition to Kabul.
In response to the Taliban's victories, the Department of Defense and State Department said about 3,000 U.S. military forces would be sent to help evacuate U.S. Embassy staff in Kabul. Those troops, which includes Marine and Army battalions, will also be sent to the Kabul airport.
The UK, meanwhile, confirmed that it would send 600 troops to help its citizens leave Afghanistan.
The Taliban also issued a lengthy statement on Friday morning, calling on Afghans under their rule to "return to their homes," adding that the group will protect them and their private property.
"Our message to the businessmen, industrialists and capitalists is that they should carry out their business normally, serve their people, and the [Taliban] will provide a safe and conducive environment for their business," the statement said, according to a Pashto-to-English translation.
Meanwhile, Bill Roggio, a senior fellow at the Foundation for Defense of Democracies, told The Associated Press that the Afghan army was rotting due to corruption and rampant mismanagement, leaving troops with a lack of equipment and no motivation to fight against the Taliban.
The Taliban, Roggio added, have seized key infrastructure in urban areas by capitalizing on the Afghan army's poor morale.
"Whatever forces are left or remaining that are in the Kabul area and the provinces around them, they're going to be used for the defense of Kabul," Roggio said. "Unless something dramatically changes, and I don't see how that's possible, these provinces (that have fallen) will remain under Taliban control."
Reuters contributed to this report.
From The Epoch Times