Ted Lerner, owner of the Washington Nationals and a billionaire real estate developer, died in his home in Chevy Chase, Maryland, on Sunday at the age of 97.
The cause was complications from pneumonia, according to Jennifer Mastin Giglio, chief communications officer of the Nationals, The New York Times reported.
"It is with great sadness that we announce the passing of Founding Managing Principal Owner, Theodore N. Lerner," the Nationals said in a post to Twitter. "The crowning achievement of his family business was bringing baseball back to the city he loved—and with it, bringing a championship home for the first time since 1924."
"Mr. Lerner literally and figuratively built a legacy through his signature mix of tenacity and humility," the Nationals also said in a news statement. "Guided by love for his family and passion for his hometown, Mr. Lerner dedicated his life to the creation of a better city and a winning ball club."
Washington, D.C., hadn't won the World Series since 1924—a year before Lerner was born and when Calvin Coolidge was the U.S. president.
In 1971, the then-Washington Senators left the nation's capital for Texas to become the Texas Rangers, leaving Washington as "the country's largest metropolitan area without a big league team" for over three decades, The Washington Post reported.
That's where Lerner came in—he bought the Nationals from Major League Baseball for $450 million in 2006, about a year after the franchise moved to Washington from Montreal, where it had played for more than three decades as the Expos, according to the Associated Press.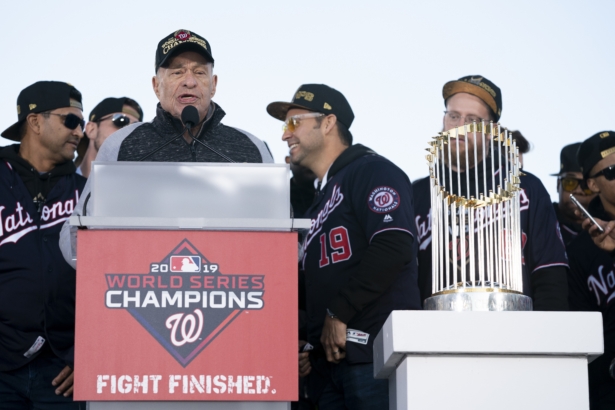 Under Lerner's ownership, the Nationals rose from one of the worst teams in baseball (the team endured crushing losses for its first six consecutive seasons) to World Series Champions in 2019, The Athletic reported.
Lerner's son, Mark, took the reins as managing principal owner for the Nationals in 2018, but Lerner remained around the team and involved.
"There were generations of baseball fans who grew up in D.C. without a team," Mark Lerner told The Times shortly after the Nationals defeated the Houston Astros in the 2019 World Series. "Now they have one, and one that won a World Series."
Nationals' Rags-to-Riches Story Mirrors Lerner's Personal One
Lerner was a second-generation immigrant. His father arrived in Washington, D.C., in 1920 from Palestine and worked as a clothing salesman before he eventually got into the business of buying buildings, remodeling them, and then reselling them, The Times reported. His mother came from Lithuania.
Five years later, Theodore N. Lerner was born on Oct. 15, 1925.
Lerner watched the Washington Senators at Griffith Stadium as a youth and later worked there as an usher "because he could seldom afford to buy tickets to watch the Senators," The Post reported.
"Owning a baseball team in my hometown had long been a dream of mine," Lerner said in a 2018 Lerner Enterprises statement when he stepped down as managing principal owner of the Nationals.
After serving in the Army during World War II, Lerner received both an undergraduate and law degree from George Washington University on the GI Bill while also selling real estate "on the weekends" to help support his mother (his father had died in 1946, the same year Lerner left the Army), Forbes reported. Two years later, in 1951, he married Annette Morris, whom he met in college.
After practicing law for a short time and not liking it, at age 25 he decided to get into real estate full-time. But he didn't have any capital. In order to get started, he told Forbes, he had to borrow $250 from his wife, who was working as a secretary for the State Department at the time.
"In 1952, he founded Lerner Enterprises, which went on to become one of the largest private real estate development companies in the D.C. area," the Nationals' news statement said.
Also known for his philanthropy, Lerner and his wife started the Annette M. Lerner and Theodore N. Lerner Family Foundation, which gave away "millions of dollars," according to The Post. The largest recipients included his alma mater George Washington University, Children's National Hospital, and Ohr Kodesh, a Conservative Jewish synagogue in Chevy Chase, Maryland.
Forbes estimates the Lerner family's net worth to be $6.6 billion, making him the 378th richest person in the world.
Lerner is survived by his wife, three children, nine grandchildren, and 11 great-grandchildren.