Rep. Tim Burchett (R-Tenn.) has called on police to publicly release a manifesto allegedly written by the former student of a Christian elementary school in Nashville, Tennessee, before she opened fire on children and staff members on March 27.
The 28-year-old woman, who identifies as transgender, killed three children and three adults at The Covenant School after allegedly planning the massacre by drawing out a detailed map of the school, which included potential entry points, and conducting surveillance of the building, police said.
Speaking to Fox News late on Monday, Burchett said, "Our trans youth are troubled."
"If they don't get the help they need they can grow up to have some serious issues, but I obviously don't believe they'll all grow up to be shooters like this," he said. "We need to know what was going through this person's head, and the manifesto should be made public."
Police identified Monday's shooter as Nashville resident Audrey Elizabeth Hale who they said had attended the school years prior. She was shot dead by authorities on site.
The shooter arrived on campus in her Honda Fit and was armed with two assault-type rifles, a 9-mm pistol, and a significant amount of ammunition according to authorities. At least two of the weapons were believed to have been obtained legally in the Nashville area, according to police.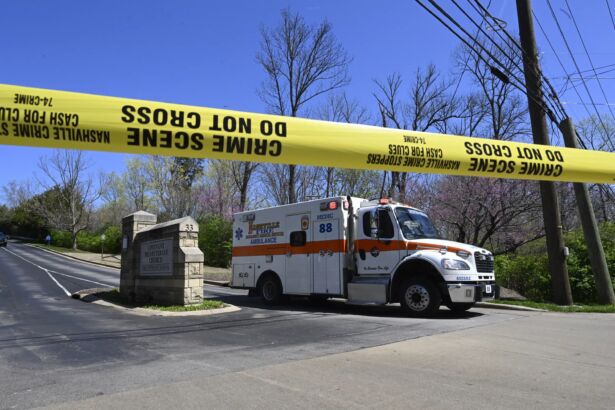 'Attack Was Calculated and Planned'
Surveillance video shows that Hale shot her way into the school through glass doors on the side of the building.
"The first call to 911 about shots being fired in the building came in at 10:13 a.m." police said. "Officers rushed to the campus, made entry, and began clearing the building. Shots were heard coming from the second level. It was on the second floor, in a common area, that a team of officers encountered Hale shooting (she had been firing through a window at arriving police cars)."
According to authorities, two police officers, identified as Rex Englebert, a four-year Metropolitan Nashville Police Department (MNPD) veteran, and Michael Collazo, a nine-year MNPD veteran, fired at Hale and fatally wounded her.
The officers had engaged the shooter by 10:27 a.m., roughly 14 minutes after receiving the first call, MPND spokesman Don Aaron said at a news conference on Monday.
"Writings recovered from Hale revealed that her attack was calculated and planned," police said. "A search warrant executed at Hale's Brightwood Avenue home resulted in the seizure of a sawed-off shotgun, a second shotgun, and other evidence."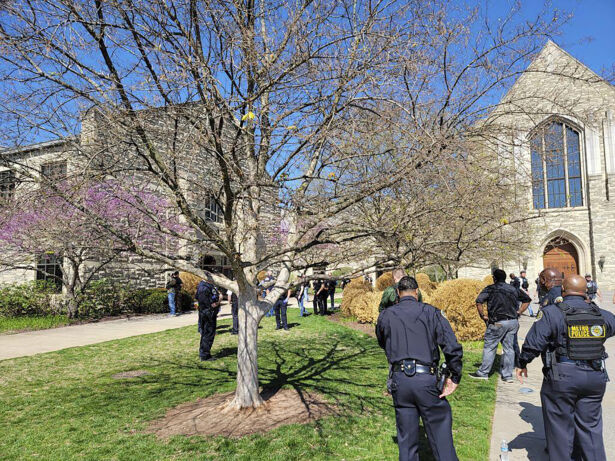 Victims Identified
Police on Monday identified the six victims as three nine-year-olds and three adults.
They were named Evelyn Dieckhaus, William Kinney, and Hallie Scruggs, all aged nine, and Mike Hill, 61, Cynthia Peak, 61, and Katherine Koonce, 60, who was the head of the school.
On Twitter late Monday, police said they had searched Hale's Honda Fit—which they said had been parked on campus prior to the shooting—and found additional material written by the shooter.
Authorities do not yet have a clear motive for the shooting but MNPD Chief John Drake told NBC News that investigators believed the shooting stemmed from "some resentment" Hale harbored "for having to go to that school" when she was younger.
In a post on Twitter late Monday, Burchett said he and his wife Kelly are "praying for everyone at The Covenant School, especially the families of the shooting victims."
"No one should have to go through that kind of horrific event or lose a loved one like that," Burchett said. "I'm so thankful to those brave folks who brought down the shooter and took care of the students and their families."
The Covenant School is a private Christian institution founded in 2001 and teaches children up to sixth grade, according to its website.
The Associated Press contributed to this report.
From The Epoch Times