A Texas Democrat on Sunday said that stricter gun control measures likely would not have curbed the mass shooting at an outlet mall in Allen, Texas, on Saturday that left eight people dead.
Rep. Henry Cuellar (D-Texas), whose district includes areas near the Texas-Mexico border, said that officials should first determine what led to the mass shooting. In an interview with Fox News, Cuellar stated that "there's always telltale signs before, there's indicators [we] should have looked out for."
But stricter gun laws probably would have done little, he argued, noting that Democrat-run states with more stringent gun-control measures have seen mass shootings in recent months.
"People talk about just making the laws stricter," Cuellar said. "You've got to look at, you know, in states that are blue—very strict laws—you still get this type of mass shooting. So, it does happen across the nation and we have to get to the bottom of this."
In New York state, which has some of the strictest laws in the country relating to firearms, a man opened fire at a supermarket in Buffalo, killing 10 and injuring three last year. Months later, in Highland Park, Illinois, another shooter opened fire at a Fourth of July parade, killing seven people. Illinois, like New York, has some of the strictest gun laws in the nation.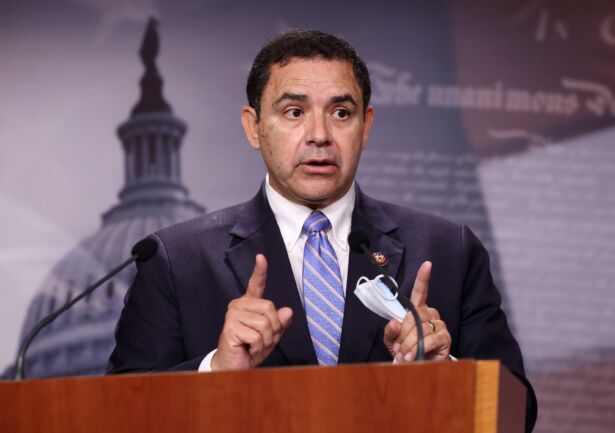 The Biden administration has made gun control a signature policy initiative as President Joe Biden has repeatedly called for Congress to pass more restrictive laws. In March, Biden signed an executive order to increase the number of federal background checks before firearm sales, while increasing the use of so-called "red flag" laws.
Biden made that announcement while in Monterey Park, California, after an elderly Chinese-American man shot and killed 11 people during a Chinese New Year event. Like New York and Illinois, Democrat-run California also has some of the most restrictive gun laws in the country.
"A large majority of Americans support background checks and agree it's common sense to check whether someone is a felon or domestic abuser before allowing them to buy a gun," said the White House in a statement earlier this year. "The President will continue to call on Congress to pass universal background check legislation. In the meantime, he is directing the Attorney General to do everything he can to ensure that firearms sellers who do not realize they are required to run background checks under existing law, or who are willfully violating existing law, become compliant with background check requirements."
Details of the Shooting
Allen Police Chief Brian Harvey said Saturday that the alleged shooter was "neutralized" by a city police officer who responded to an unrelated call at the outlet mall before he "engaged" the suspect. The name of the assailant was not immediately provided by authorities, nor were the victims.
Speaking at a Saturday evening news conference, Harvey told reporters: "We believe he acted alone and we don't believe that there's another threat at this time."
So far, details including the name of the shooter have not been released to the public. A motive also hasn't been established.
Dashcam video circulating online showed the gunman getting out of a car and shooting at people on the sidewalk. More than three dozen shots could be heard as the vehicle that was recording the video drove off. Another video appeared to show the aftermath of the shooting, showing the alleged suspect dead or wounded while laying on the ground.
Allen Fire Chief Jonathan Boyd told The Associated Press that seven people, including the shooter, died at the scene. Nine victims were taken to hospitals. Two of them died.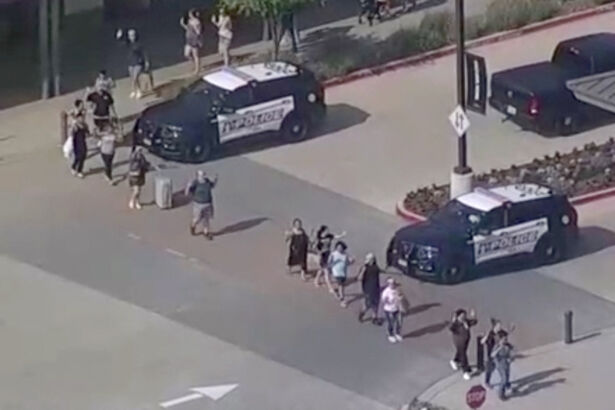 Three of the wounded were in critical condition Saturday evening, and four were stable, Boyd said.
An Allen Police Department officer was in the area on an unrelated call when he heard shots at 3:36 p.m., the department wrote on Facebook. "The officer engaged the suspect and neutralized the threat. He then called for emergency personnel," the post said.
Texas Gov. Greg Abbott released a statement expressing his condolences to the victims and said the state would provide assistance.
"Our hearts are with the people of Allen, Texas, tonight during this unspeakable tragedy," Abbott said in the statement. "I have been in contact with Mayor Fulk and DPS Director McCraw as well as other state and local leaders and offered the full support of the State of Texas to local officials to ensure all needed assistance and resources are swiftly deployed, including DPS officers, Texas Rangers, and investigative resources."
In an interview with Fox News, Abbott said Sunday that he will visit Allen.
"I'll be going up to Allen later today to begin the process of providing hope and healing," Abbott said. "There are questions that are lingering that the families want answers to and that is, 'Why did this happen? Why did the gunman do this? How did this happen?' And I know that those families need an answer as quickly as possible."
The Associated Press contributed to this report.
From The Epoch Times