The Texas Department of Public Security (DPS) apprehended 19 illegal aliens after stopping suspected human smugglers near the southern border.
The DPS worked with the Texas highway patrol and the U.S. Border Patrol in apprehending the illegal immigrants in Webb County on Thursday, FOX reported.
Three vehicles containing 15 illegal immigrants were stopped, and four more people were found in a stash at around 5 pm.
Agents detected suspicious activity between two vehicles in a parking lot in the city of Laredo situated on the north bank of the Rio Grande.
A Chevrolet SUV was found to have contained four illegal immigrants in the rear cargo area, while a Dodge SUV  contained seven. The third vehicle seen leaving a stash was chased and stopped—four illegal border-crossers were found inside. Four more people were discovered inside the stash.
In total, 19 illegal aliens from Mexico, El Salvador, and Guatemala were apprehended.
The alleged drivers of the Chevrolet and the Dodge SUVs, Merced Aguilar and Kilmar Alexander Garcia Portillo, were arrested for human smuggling.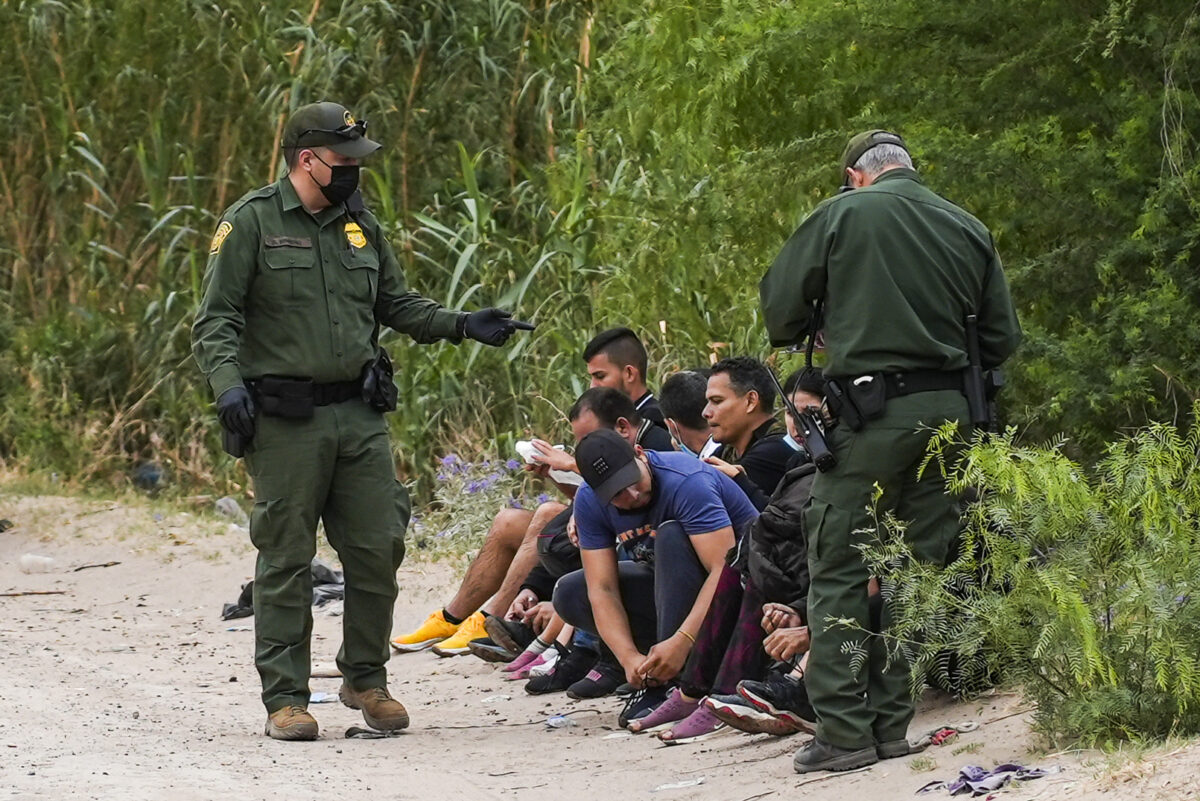 Armed Suspects
U.S. Border Patrol agents earlier encountered armed suspected smugglers during a routine patrol near the Mexican border on Oct. 25.
The agents were patrolling at around 4:50 p.m. deep in the San Ysidro mountains when they came upon a group of suspected illegal aliens, according to a U.S. Customs and Border Protection news release. Four of the group were heavily armed.
The incident took place 12.4 miles east of the San Ysidro port of entry and 0.3 miles north of the Mexican border.
After seeing the Border Patrol agents, the suspected smugglers dropped their weapons and fled south toward Mexico. The agents informed the Mexican government, which responded that it would assist with the matter.
The Border Patrol agents retrieved four AR-15-style rifles and 17 high-capacity magazines.
No arrests have yet been made, and a bi-national investigation is ongoing.
Less than a week after this incident, a U.S. Border Patrol Tactical Unit shot and killed an armed illegal migrant during an encounter in San Luis, Ariz., on Oct. 30, reported Fox 5 news.
Operation Lone Star
Since the launch of Operation Lone Star in Texas in March 2021, the multi-agency effort has led to over 323,000 migrant apprehensions and more than 21,600 criminal arrests, with more than 19,200 felony charges reported.
In the fight against fentanyl, DPS has seized over 350 million lethal doses of fentanyl during this border mission.
More than 2 million arrests of illegal immigrants were recorded in the fiscal year 2022, after a record-high 227,547 apprehensions in September, the highest number of arrests in a fiscal year in U.S. history.