The driver of a grain hauler was arrested in Texas this week after being accused of human smuggling, according to authorities, who say a trooper recovered 18 illegal immigrants hidden inside the truck's trailer.
The Texas Department of Public Safety (DPS) said the driver, identified as Osvaldo Garzo Saavedra, was stopped for a traffic violation on U.S. 77 in Kenedy County, Texas, Fox News reported.
A trooper interviewed the driver and asked whether he was traveling alone or if there were people inside the trailer.
Saavedra told officials that he was alone and gave DPS permission to search his truck.
Chris Olivarez, a DPS spokesman, shared video footage on Twitter that shows a trooper conducting the interview and an inspection of the truck. While searching, the trooper found more than a dozen illegal immigrants, nine men, eight women, and one child.
#VIDEO: A @TxDPS Trooper disrupts a human smuggling event & recovers 18 illegal immigrants, including a female child, from inside a semi-trailer. #OperationLoneStar https://t.co/CI9tRAe8Ek pic.twitter.com/fWWPgEef0n

— Chris Olivarez (@LtChrisOlivarez) December 29, 2022
The illegal aliens were handed over to the U.S. Border Patrol, Fox News reported.
"We are committed to enforcing compliance with safety standards and one of our department's primary functions is to ensure Texas roadways are safe for all Texans and visitors to our great state," DPS Director Steven McCraw said.
"Cartels do not care about the condition of the vehicles they send into Texas any more than they do about the human lives they cram into tractor-trailers or those lost to a fentanyl overdose," McCraw said.
The recovery was part of Gov. Greg Abbott's "Operation Lone Star," a multi-agency effort launched in March 2021 in response to a rise in illegal immigration with an aim to further secure the state's southern border with Mexico, preventing the smuggling of drugs, weapons, and people into the country.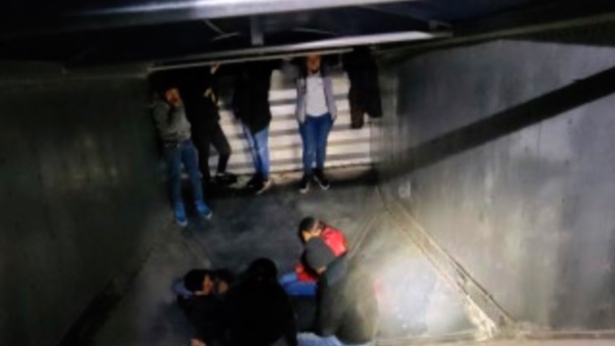 As part of that operation, Texas has also bused nearly 16,000 illegal immigrants to sanctuary cities this year, according to Abbott.
"We're providing relief to local communities overwhelmed by President [Joe] Biden's open border policies," the Republican governor wrote on Twitter on Dec. 27.
Since April, Texas has transported at least 8,900 illegal immigrants to Washington, 4,900 to New York City, 1,500 to Chicago, and 630 to Philadelphia, according to Abbott.
On Christmas Eve, Abbott also sent three buses of illegal aliens to Vice President Kamala Harris's residence, which the Biden administration branded a "cruel, dangerous, and shameful stunt."
Epoch Times reporter Katabella Roberts contributed to this report.