Texas Gov. Greg Abbott said he tested negative for COVID-19 on Saturday after having a "brief and mild" bout with the infection this week.
In video posted on Twitter, the Republican governor, whose office announced four days ago that he had tested positive for the virus but was not experiencing symptoms, said he had been told that his illness was short and mild because he was vaccinated.
His office added that he had received Regeneron's COVID-19 monoclonal antibody treatment on Tuesday. The treatment, containing the antibodies casirivimab and imdevimab administered through an IV or injection, has been reported to decrease the chances of hospitalization by 70 percent.
I am now testing negative for Covid.

I am told that my infection was brief & mild because of the vaccination I received.

I will continue to quarantine as recommended by doctors.

And, I will keep working on issues affecting Texas.

God bless you all.
And God bless Texas. pic.twitter.com/VOqpUCONKS

— Greg Abbott (@GregAbbott_TX) August 21, 2021
Abbott encouraged Texans who have yet to be vaccinated to consider taking the shots.
His office also said on Tuesday that the Regeneron treatment is "available at no cost to all Texans who get a doctor's referral."
The Trump administration in its last days signed off the deal with Regeneron Pharmaceuticals Inc. for 1.25 million doses at a cost to the taxpayer of $2.625 billion.
The FDA has authorized the treatment for non-hospitalized, non-oxygenated COVID-19 patients who doctors identify as at high-risk of becoming seriously ill. Possible side effects of the treatment include anaphylaxis and infusion-related reactions, fever, chills, hives, itching, and flushing, according to the FDA.
"It is recommended that Texans testing positive for COVID-19 seek this antibody therapeutic drug because of its effectiveness to help keep people out of hospitals," it stated.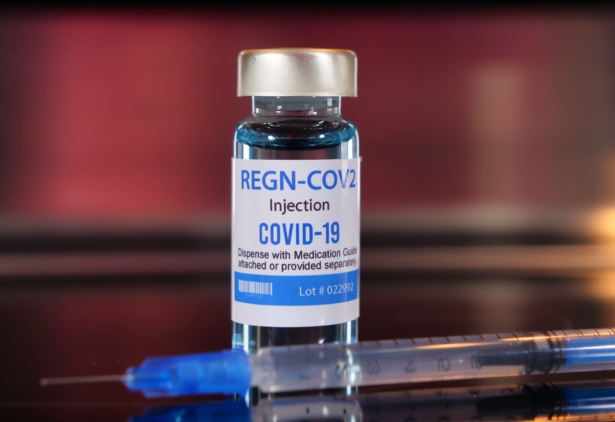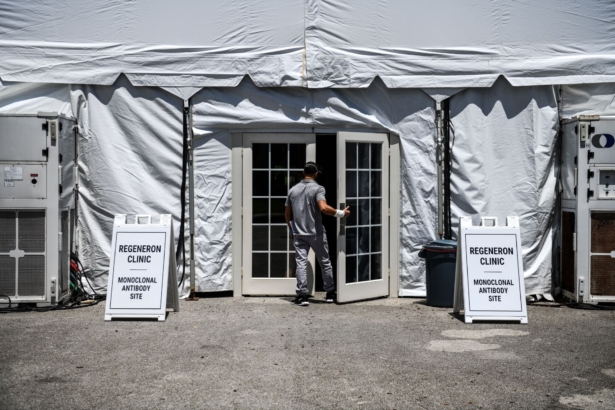 Abbott said he will continue to quarantine at the recommendation of doctors and will work to open infusion centers for antibody therapy treatment across Texas.
Reuters contributed to this report.
From The Epoch Times