Members of the Texas National Guard spent their Christmas holiday weekend building razor-wire border fencing near El Paso amid a surge in illegal aliens at the border.
A video posted to Twitter by the Texas Military Department on Christmas Day showed Maj. Gen. Ronald "Win" Burkett describing how over 400 soldiers had been airlifted and more than 40 vehicles had been placed in El Paso over just 72 hours as part of the effort to secure the border.
According to the major general, the soldiers began working at 4 a.m. as families across the United States were still asleep.
Burkett praised the work of the soldiers, noting that "they're focused on deterrence, they're focused on sending a message that unlawful crossing is not an option."
This morning, service members deployed to El Paso, Texas constructed a triple-strand concertina barrier near the border to secure the area from illegal crossings. pic.twitter.com/X6JUkr9iQV

— Texas Military Dept. (@TXMilitary) December 25, 2022
Nearly 16,000 Migrants Bused to Sanctuary Cities
The new barrier is part of Gov. Greg Abbott's "Operation Lone Star," a multi-agency effort aimed at securing the border, preventing the smuggling of drugs, weapons, and people into Texas, and preventing criminal behavior between ports of entry at the border.
As part of that operation, Texas has bused nearly 16,000 migrants to sanctuary cities this year, according to Abbott, a Republican.
"We're providing relief to local communities overwhelmed by President Biden's open border policies," Abbott wrote on Twitter on Dec. 27.
Since April, Texas has transported at least 8,900 migrants to Washington, 4,900 to New York City, 1,500 to Chicago, and 630 to Philadelphia, according to Abbott.
On Christmas Eve, Abbott also sent three buses of illegal aliens to Vice President Kamala Harris's residence, which the Biden administration branded a "cruel, dangerous, and shameful stunt."
Abbott's spokesperson, Renae Eze, defended the move, stating that "the White House is full of a bunch of hypocrites, led by the Hypocrite-in-Chief who has been flying planeloads of migrants across the country and oftentimes in the cover of night," noting that the government is processing and "dumping" illegal aliens in Texas border towns like El Paso.
"Instead of their hypocritical complaints about Texas providing much-needed relief to our overrun and overwhelmed border communities, President Biden and Border Czar Harris need to step up and do their jobs to secure the border—something they continue failing to do," Eze added.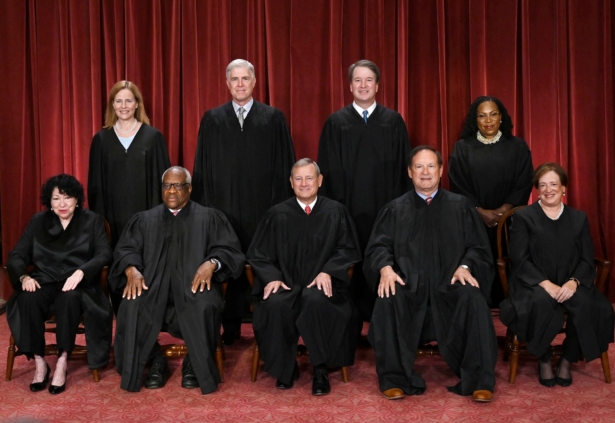 Supreme Court Keeps Title 42 Pending Review
On Tuesday, the Supreme Court voted 5–4 to allow immigration policy Title 42 to remain in place following an emergency request by 19 Republican-led states.
The decision puts on hold an earlier ruling by District of Colombia Judge Emmet Sullivan, an appointee of former President Bill Clinton, that allowed the rule to expire last week.
In a statement following the ruling, the Biden administration said it would comply with the order and prepare for the court's review.
"At the same time, we are advancing our preparations to manage the border in a secure, orderly, and humane way when Title 42 eventually lifts and will continue expanding legal pathways for immigration," the statement said.
"Today's order gives Republicans in Congress plenty of time to move past political finger-pointing and join their Democratic colleagues in solving the challenge at our border by passing the comprehensive reform measures and delivering the additional funds for border security that President Biden has requested," the White House added.
Thousands of migrants are waiting at the southern border with the hopes of entering the United States if Title 42 is lifted.
Caden Pearson contributed to this report.
From The Epoch Times