Many Thais lined up on Sunday in long queues to vote early in parliamentary elections scheduled for May 14.
More than 2 million Thais had registered for early voting out of 52 million eligible voters who are aged 18 and above, according to the country's election commission.
"I wish to see change and improvement in management," said 51-year-old Gosol Pungtaku, one of the 800,000 Bangkok residents who registered for one-day-only early voting in the capital.
Another voter, 34-year-old Siriporn Namphet, said she voted for change.
"Its like having seen what the previous government has done and now hoping for a new administration to take over and govern more effectively," she told Reuters.
The election could upset the status quo after more than eight years of a conservative pro-military government led by former army chief Prayuth Chan-ocha.
The election is for the 500-seat House of Representatives.
New Poll
Another opposition leader emerged as the favorite to be Thailand's next prime minister in a new opinion poll on Friday, just days out from an election that could see an end to nine years of military-backed government.
Pita Limjaroenrat, 42, the charismatic leader of the Move Forward party, jumped ahead of Paetongtarn Shinawatra of the main opposition Pheu Thai, with 29.37 percent support versus her 27.55 percent in a countrywide survey by Nation media group.
The outcome tracks that of the latest poll by the National Institute of Development Administration (NIDA) on Wednesday, which also put Harvard-educated Pita ahead of Paetongtarn for the first time, as Move Forward—a party popular among young Thais—sees a late surge in some surveys.
Both NIDA and Nation, which polled 2,500 and 114,000 people respectively, now show Pheu Thai, a populist juggernaut that has won every election since 2001, followed by Move Forward, as the clear leaders before the May 14 vote, each with roughly triple the support of Prime Minister Prayuth Chan-ocha's third-placed United Thai Nation party.
The surveys, the accuracy of which Reuters cannot independently verify, could be a boon for Thailand's progressive opposition and suggest parties in the ruling coalition with ties to the military and royalist establishment might struggle to gain traction in the upcoming parliamentary election.
Prayuth, 69, a former army chief who has led Thailand since his 2014 coup against Pheu Thai's last government, was third in NIDA's poll for prime minister, far adrift of his opponents, and fourth in Nation's survey on Friday.
Both polls showed the pro-military Palang Pracharat party, the Democrats and Bhumjaithai—current coalition partners—trailing the opposition by a large margin.
Political neophyte Paetongtarn, 36, the daughter and niece of two former Thai premiers ousted in military coups, led most polls this year but took leave from campaigning to give birth to her second child, who arrived on Monday.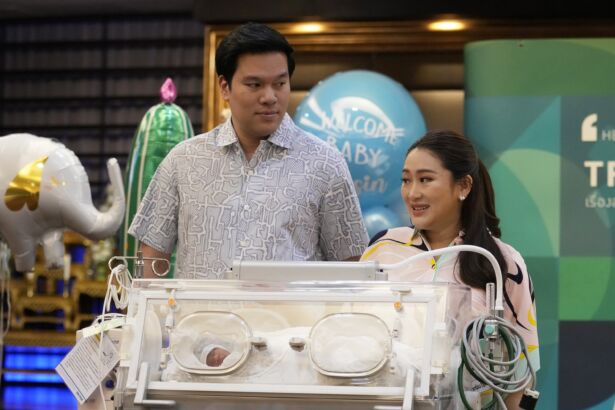 Most experts believe Pheu Thai will need to form an alliance to govern and Paetongtarn on Wednesday hinted it could partner with Move Forward and ruled out military-backed parties.
Separately, a Super Poll survey on parties released on Friday of 14,332 people also showed Pheu Thai leading with 139 of 500 parliamentary seats, followed by Bhumjaithai with 112 seats, and Move Forward with 63 seats.