Exactly 1,000 years ago this month, construction started on a magnificent island building off the coast of France that, as it rose improbably from the choppy waters of the Atlantic Ocean, would become a lasting symbol of national fortitude.
The medieval abbey atop Mont Saint-Michel, a cascade of walls and buttresses descending from a lofty central spire, was a spectacular creation which has played crucial roles in French history over the centuries.
Today, as it marks a millennium since work began, it's one of the country's most popular tourist attractions outside of Paris—at times overwhelmed by its own popularity to such a degree that its custodians have urged people to stay away.
The abbey, which lies off the coast of France's Normandy region, west of Paris, has pulled in legions of pilgrims over the centuries. Today, it attracts 1.3 million tourists each year.
"In the span of 1,000 years, its silhouette has become an emblem of French universalism," French President Emmanuel Macron wrote on Twitter on June 5 following an official visit to the site. "Its abbey, the symbol of what we are: a people of builders."
To celebrate the abbey's birthday, the Mont is hosting concerts, conferences, and a visual show called the "Millennium Solstice" on June 23 that will feature an unprecedented light show. Visitors can also enjoy an exhibition about its history and architecture until November 2023.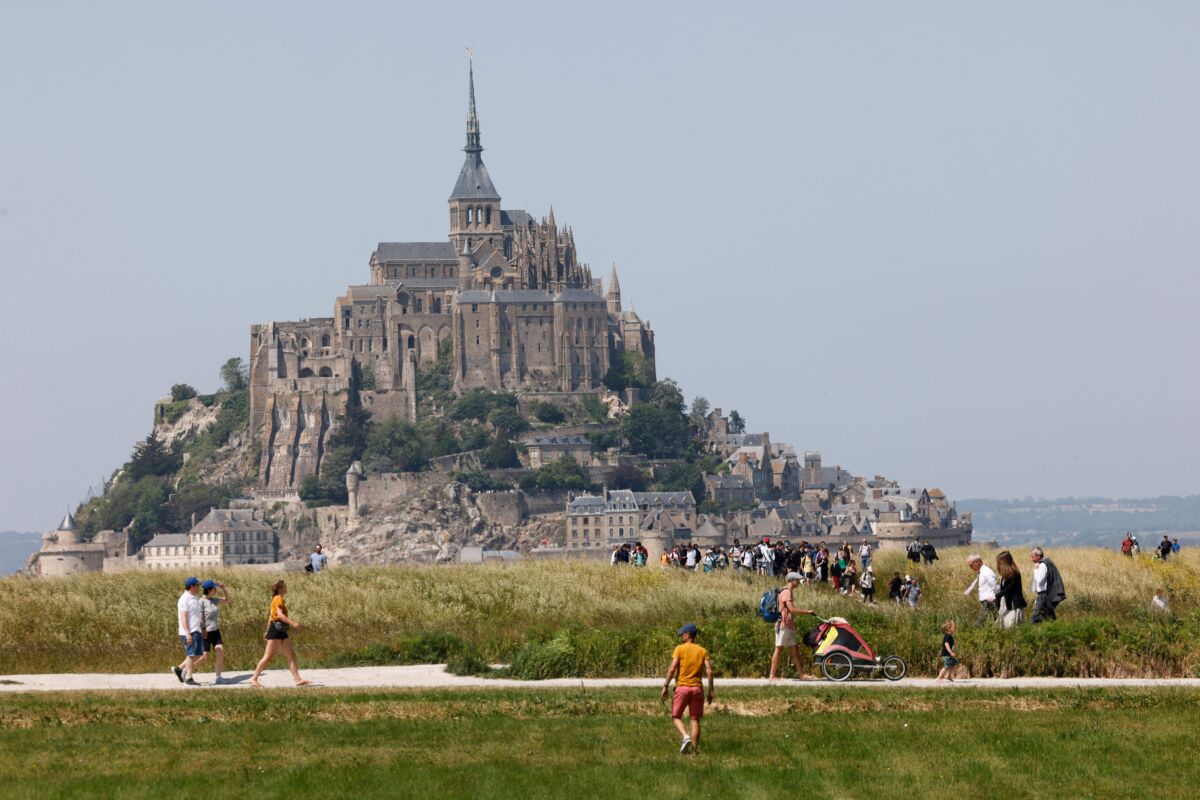 A Witness to History
Rising out of a bay flanked by the regions of Normandy and Brittany, surrounded by quicksand, the gothic Mont Saint-Michel abbey towers over its village and thick fortress walls.
When the tide rolls in, the Mont emerges out of the water like a French Atlantis, an architectural wonder set in a beautiful natural landscape. It became a UNESCO World Heritage site in 1979.
A "marriage of human genius and nature," President Macron commented in a speech celebrating the abbey's millennium.
Nicknamed the "wonder of the Western world," the Mont's history goes back to the year 709 when a sanctuary in honor of Saint Michael the Archangel was erected on the rock. It became a sacred site which continued to evolve from the 11th to the 16th century.
The abbey has witnessed key moments of French history, notably becoming a fortress during the Hundred Years' War of the 14th and 15th century and surviving a 30-year siege by the British.
It became a prison during the French Revolution of the 18th century. By 1863, 14,000 prisoners had spent time in the "Bastille of the Seas," where tides and quicksand made escape impossible. Prisoners' families replaced the pilgrims who had once strolled the village lanes.
It was during the Belle Époque prior to World War I that the monument gradually became the worldwide tourist attraction we know today. One of its popular landmarks is the famous Mère Poulard inn, named after its founder, the brilliant cook Annette Poulard, which has been hosting visitors since 1888.
In 1944, author Ernest Hemingway, at the time a war correspondent, reputedly sat at La Mère Poulard's table to describe the exploits of the D-day landings, including one of the decisive battles for the liberation of France and Europe, which took place a few kilometers from Mont Saint-Michel, near the completely destroyed town of Avranches.
Overtourism Concerns
Mont Saint-Michel has always been extremely popular, attracting millions of pilgrims throughout its history. "It was the biggest pilgrimage site in the West, centuries ago, ahead of Santiago de Compostela," Thomas Velter, managing director of Mont Saint-Michel National Public Establishment, told CNN.
Nowadays, around 3 million people visit the site every year, with some weekends busier than usual. Ascension weekend in May saw the site overwhelmed by visitors between 11 a.m. and 3 p.m.—a number which alarmed officials usually only expect in peak summer.
"We sold 10,500 tickets at the abbey, which is a record," Velter told CNN. "Ascension weekend is usually quite busy but in this case, it was a lot of people all at the same time."
In total, there were around 33,000 people on site, not a record in itself, but still a lot for the Mont, which usually expects this amount of tourists in August, the time of the high season.
"It's primarily the visitor who suffers because the visit of the Mont is less comfortable," Velter told CNN. "Ever since Covid, tourists have less tolerance for packed days like this because they were able to taste the joy of visiting sites with barely any visitors."
With millennium celebrations, initial figures for 2023 suggest that Mont-Saint-Michel will remain a very popular tourist attraction, which poses some problems for its dozen inhabitants, shops, and natural landscape.
"I don't think it's a good thing for the shopkeepers, hoteliers, and restaurants because they simply can't keep up with the customer demand. Mont Saint-Michel is a square kilometer in circumference, and one shopping street. When you put more than 5,000 people at a specific time on the street, I don't think it's very pleasant," Velter said.
In efforts to increase sustainability, buses connecting the site now run on biofuels rather than diesel. Meanwhile, visitors are urged to explore the wider bay area during the peak 11 a.m. to 3 p.m. hours, and to capitalize on free parking after 6.30 p.m.
"Take advantage of the nature and boat tours we've set up, for example. There are seals, eels, and Atlantic salmon here," Velter said. "What we often forget is that there is the largest colony of dolphins in Europe so it's also a chance to discover Mont Saint-Michel differently."
The-CNN-Wire
™ & © 2023 Cable News Network, Inc., a Warner Bros. Discovery Company. All rights reserved.